Peter Whittaker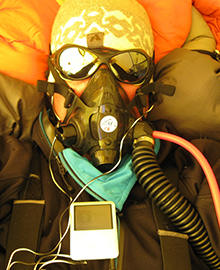 Clients find Peter Whittaker's passion for the outdoors contagious. But what else would you expect from someone who climbed Mount Rainier when he was only twelve years old? As a mountain guide for over twenty-five years, Peter has organized and led trips all over the world.
In 1995, Peter organized Expedition Inspiration, in which he led a group of breast cancer survivors to the summit of Aconcagua. The climb raised over 2 million dollars for breast cancer research. Peter also served as the guide for both the oldest man and the oldest woman to reach the summit of Mt. Vinson in Antarctica: the top of the bottom of the world.
Peter co-owns Rainier Mountaineering, Inc. the largest guide service in the United States. Peter also has been the host of Trailside: Make Your Own Adventure, an Emmy-nominated outdoor adventure series on National Public Television. Born into a mountaineering family, Peter's uncle Jim Whittaker became the first American to climb Mt. Everest in 1963. Peter's father, Lou Whittaker has led numerous expeditions to the Himalayas, including the world's three highest peaks. Peter is a member of the Whittaker Mountaineering guide team. View Peter Whittaker's gear suggestions on the Whittaker Mountaineering website.
Climbing Resumé
240+ Ascents of Mount Rainier, Washington (14,410')
2 Expeditions of Denali, Alaska (20,320')
14 Expeditions to "The Roof of Africa" Mt. Kilimanjaro (19,340')
6 Expeditions to the Ecuador Volcanoes: Chimborazo (20,703') and Cotopoxi (19,348')
4 Expeditions to Bolivia: Huayna Potosi (19,870') and Illimani (21,201')
9 Expeditions to the Mexican Volcanoes: Pico de Orizaba (18,701'), Popocatepetl (17,802')
3 Expeditions to Antarctica, Mt. Vinson (16,067')
1 Expedition to Huascaran, Peru (22,334')
8 Expeditions to Aconcagua, Argentina (22,841')
3 Expeditions to Mt. Kenya, Africa (17,068')
4 Expeditions to Russia's Mt. Elbrus (18,481')
Mt. Everest Summit on May 19, 2009 (29,035')
Member of the 1984 American Everest Expedition: Tibet/China (Reached 25,500')
Hiking and Skiing in the Dolomites, Italy
Member of the 1987 Snowbird Everest Expedition: Nepal/India (Reached 27,000')
Numerous ascents of major Pacific Northwest Peaks

Certifications
Wilderness First Responder
AIARE Avalanche Level II
AMGA Alpine Guide
Leave No Trace Master

Videos

Press