Posts for Kilimanjaro
Posted by: Dave Hahn | July 28, 2014
Categories: *Expedition Dispatches *Kilimanjaro
We've assembled in Tanzania for an ascent of Mount Kilimanjaro. More importantly, our baggage has accompanied us. All 10 climbers and their guide arrived safely at the tranquil Dik Dik Hotel on the outskirts of Arusha. We spent today organizing gear for the climb, meeting with our expedition staff and catching up on jet-lag-lost sleep. Starting early tomorrow, we'll climb aboard the fully loaded tricked out off-road-ready expedition vehicle and head for the hills. Conditions have been partly cloudy with comfortable temperatures and team members have been granted partial views of Kilimanjaro as reward for climbing the lofty water tower on the Dik Dik grounds.
We'll need to get walking tomorrow… The quality and quantity of excellent food served up in the dining room of the hotel will have us absolutely spoiled if we don't make a break for it.
Best Regards,
RMI Guide Dave Hahn
---
Posted by: Mark Tucker | July 28, 2014
Categories: *Expedition Dispatches *Kilimanjaro
Elevation: 15,000'
Hello from 15,000' on Mt. Kilimanjaro.
All our team is here at High Camp, Barafu Camp (15,000'), in great shape and ready to go. We left from Karanga Camp this morning and made it to our new camp in good time. We enjoyed another nice lunch from our mountain staff and spent time organizing and packing up to make our early morning departure quick and easy. Here at Barafu Camp life is good. There are a few clouds around but that is not unusual and we are in hopes of a clear windless night ahead. We had a relaxing afternoon with lots of tent time, putting our feet up and drying out the boots, reading, writing, and maybe a bit of cards. We are taking it easy and making sure everyone is rested and ready for our upcoming adventure.
We will try and give you a shout out from the Roof of Africa tomorrow.
On The Map
---
Posted by: Mark Tucker | July 27, 2014
Categories: *Expedition Dispatches *Kilimanjaro
Elevation: 13,000'
Hello!
We are checking in from high on Mt. Kilimanjaro. Here in the alpine desert there is a stark reminder that only the heartiest survive at this altitude. That is just what we are doing and in great style, mind you a hearty group we are. After a great climb of the famous Baranco wall early this morning led to the traverse below the southern side of the summit massive. We had intermittent clouds that made for nice climbing to the Karanga Camp. The Diamond, Balletto, Heim, Decken, and Kersten glaciers loom just above reminding us that we still have a ways to go. The team continues to do well, all is good
On The Map
---
Posted by: Mark Tucker | July 26, 2014
Categories: *Expedition Dispatches *Kilimanjaro
Elevation: 12,800'
Another very nice day on Mt. Kilimanjaro. We set out at 8 am after yet another delicious breakfast we are definitely not losing any weight on this trip. We left the moorland zone of vegetation and moved into the alpine zone meaning not much living up there. A couple of white necked ravens would visit us at our breaks thinking they may get a hand out but doing our best at the leave no trace policy they would have to rummage else where for a snack. Right at high noon we hit the high mark of just under 15,000' which was a new altitude record for most of the team. We then descend down to 13,000' where the Baranco camp is and home for the night. The whole team is feeling good and climbing with great style.
On The Map
---
Posted by: Mark Tucker | July 25, 2014
Categories: *Expedition Dispatches *Kilimanjaro
Elevation: 12,500'
The gnarled trunks of giant heather disappeared as we entered the area of the mountain called the Moorlands. We enjoyed nice weather conditions during our 5 hour climb to the Shira Camp at 12,500 ft. Situated on a plateau we are enjoying a great 360 view as we snack on peanuts and popcorn. Once again the team did fine and pulled into camp in great shape.
Our local staff continues to assist us in a seamless manor and we appreciate it very much.
RMI Guide Mark Tucker & Team
On The Map
---
Posted by: | July 24, 2014
Categories: *Expedition Dispatches *Kilimanjaro
Elevation: 9,800'
Hello from Mt. Kilimanjaro.
It was a great day for our team and a good start to our climb. We had a smooth departure from the lowlands of Arusha as we left the Dik Dik Hotel and headed to the mountain. Our local mountain staff and climbing team gathered at the Machame Gate of Kilimanjaro National Park (5,900') to register our climb and begin our ascent. We started climbing with low clouds above which remained for the majority of the day. It did not rain but we had our rain gear close just in case. We arrived at Camp One, Machame Camp, 9,800' and have finished dinner. We also had a special celebration for team member Brian's birthday. Our staff sang a fine version happy birthday and we all enjoyed a bit of cake.
It is nice to get on the trail, get our feet underneath us and start our mountain adventure. We are looking forward to more tomorrow.
On The Map
---
Posted by: Mark Tucker | July 23, 2014
Categories: *Expedition Dispatches *Kilimanjaro
Our team has gathered in Arusha, Tanzania and we are sorting our gear, weighing our mountain duffels and getting ready to climb Mt. Kilimanjaro! We also took a little time for golfing and goofing around. We need to get away from this lap of luxury we find ourselves in and start climbing, we are eating way to much.
Tomorrow we will wake early, enjoy our last restaurant meal for a while and then take a drive to the Machame Gate. Here we will register our team with the Kilimanjaro National Park, don our packs and begin our climb toward the Roof of Africa, Mount Kilimanjaro.
---
Posted by: | June 13, 2014
Categories: *Guide News *Kilimanjaro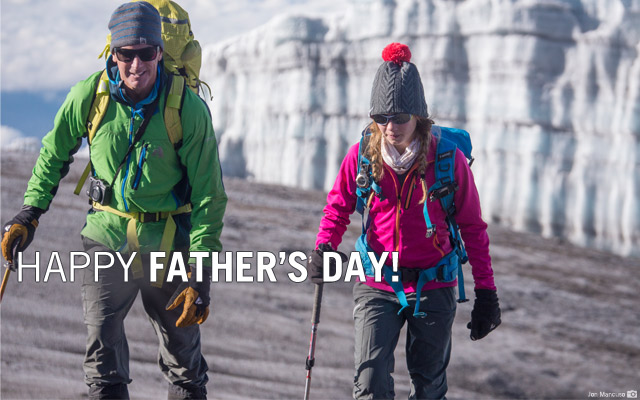 Happy Father's Day! See the video of Peter Whittaker's climb of Kilimanjaro, Africa's tallest mountain, with his daughter Gabriella and on sharing the experience of the mountains, presented by Eddie Bauer/First Ascent.
Whittaker Father-Daughter Kilimanjaro Climb from Eddie Bauer on Vimeo.
---
Posted by: Jeff Martin | February 20, 2014
Categories: *Expedition Dispatches *Kilimanjaro
Hello from Kikoti Camp,
It was another amazing day on safari. We left the Plantation Lodge this morning and headed south to the last park we will visit on our safari, Tarangire National Park. En route, we stopped at a few curio shops to get gifts for our family and friends back home. Wood animal carvings, Maasai blankets, African masks, carved bowls, and few paintings will all make the journey home.
Once we got into the park, the game viewing was a little slow at first. Our luck certainly changed after lunch. Not only did we see a leopard, we also saw a female cheetah with three cubs, several big elephant herds, giraffes, warthogs, and even a unicorn. Actually it was Thompson Gazelle that lost a horn, but from a distance, it definitely looked like a unicorn.We have seen a lot of animals the last few days and covered a lot of beautiful miles. We are now at our last lodge, a luxury tented camp right on the edge of Tarangire. The views are incredible and the sounds around camp remind us that we really are out in the African bush.
Unfortunately, all good things must come to an end, and what a perfect spot for our last night in Tanzania. Tomorrow, we drive back to Arusha, pick up our climbing gear and head to the airport for our flights back home.
From literally the snows of Kilimanjaro to the African plains, this has been a hell of a trip. Thank you again to those who checked in daily to read our dispatches and to everyone who left the motivating comments while we were on the mountain.
Best regards,
RMI Guide Jeff Martin & Team
---
Posted by: Jeff Martin | February 19, 2014
Categories: *Expedition Dispatches *Kilimanjaro
Hello from the Plantation Lodge,
The Ngorongoro Crater did not disappoint today. In fact, it was a five star day! We started off early so we could spend the whole day down in the Crater. The first sighting was a big bull elephant, followed by seeing 5 black rhinos, a pride of 7 lions, a lone male lion, many hippos including a hippo out if the water and three hippos that were 15' away from us at our lunch spot. Hyenas, baby jackals, and Grant and Thompson Gazelles, plus all the other animals we saw yesterday, but in even greater numbers.
The grass in the Crater is really green because of the recent rains, and the animals were everywhere. After we were almost cross-eyed from looking at all the animals, we headed up to the rim of the crater and went to a Maasai Village. The Massai are a tribe of 70 different clans, totaling almost 55,000 people. They inhabit the land around Ngorongoro and to the north into Kenya. They are trying hard to live in their traditional ways but still exist in a modern world. This was our opportunity to see first hand how they are doing it.
It was definitely a very full day. Now we are back at the lodge, just finished dinner and making our plans for tomorrow. We'll head south to Tarangire National Park for our final two days of safari. Still on the list of animals to see - a leopard.
Best regards,
RMI Guide Jeff Martin & Team
---
More Entries