Entries By steve gately
Posted by: Steve Gately, Geoff Schellens, Leon Davis | August 18, 2015
Categories: *Expedition Dispatches *Mount Rainier
Elevation: 14,410'
The Four Day Summit Climbs led by RMI Guides Steve Gately and Geoff Schellens reached the summit of Mt. Rainier at about 6:45 this morning. Steve reported winds of about 30mph at the crest, but overall a beautiful day. The team has started their descent and are en route to Camp Muir.
RMI Guide Leon Davis called at 7:30 AM this morning from the Expedition Skills Seminar - Emmons. He and the team are back at camp. They reached 11,600', then turned due to a large crack. Later today they will take a walk to spend more time training about 500' above Camp Schurman.
---
Posted by: Eric Frank, Steve Gately | August 01, 2015
Categories:
Elevation: 9,127'
Good morning. This is RMI Guide Eric Frank calling from the top of Mount Shuksan. Our team climbed up this morning from the Fisher Chimneys route, had a beautiful day. Now we're just hanging out on top. We're going to be up here for 20 or 25 minutes, enjoy the view, get some photos, then we'll work our way back down. Hope everyone's doing well, take care.

RMI Guide Eric Frank calls from the summit of Mt. Shuksan in the North Cascades, WA.
---
Posted by: Robby Young, Steve Gately | July 21, 2015
Categories: *Guide News
This spring, while another hot and dry winter in Utah began to wind to a close, my friend, and fellow RMI Guide, Steve Gately and I were desperate to find a real winter. The island country of Iceland, once an isolated and expensive island destination to visit, has made a big effort to attract foreign tourists, since the 2008 collapse of their economy, by subsidizing direct flights from Europe and N. America. Lucky for us skiers, this presented an opportunity to explore and ski the volcanic peaks and fjords that Iceland harbors amongst its wild and otherworldly landscape.
It being both of our first time to the island, Steve and I made our goal to ski as many of the coastal mountain ranges as we could. Arriving in the city of Reykjavik after a red-eye flight, we spent that first day battling heavy eyelids, touring the walkable capital city, sampling the wide array of fresh seafood and local brews, and beginning our feeble attempt to learn a few Icelandic phrases to help get us by for the next two weeks. "Tveir bjora, takk", meaning, "two more beers, thank you", was the only phrase we could retain well enough to use during that first day.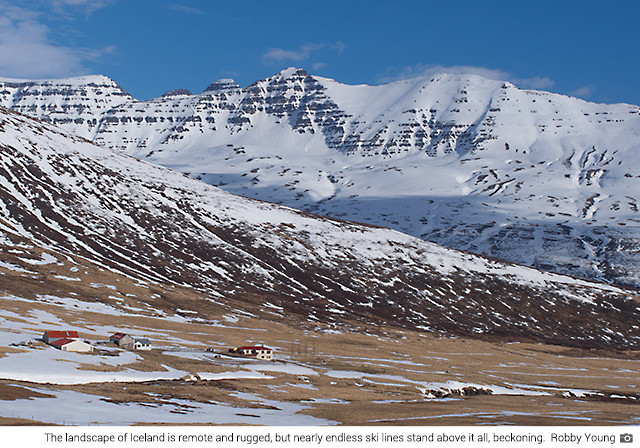 Car rentals are notoriously expensive, but we found a deal on an old Toyota Rav4 with decent tires that seemed to be held together well enough for half the price, and we were off. We drove the length of the main highway on the south side of the island, also known as the Ring Road, passing by the active and massively glaciated volcanoes along the southern coastline. Finally reaching the Eastfjords, we were a bit discouraged by the high snow levels in these broad fjords, but found charm and beauty in the tiny and isolated fishing villages. We spent a couple days skiing spring "corn" snow as it slowly softened with the warmth of the low angled sun of the springtime. An experience of a lifetime, the clear nighttime skies lit up with the Northern Lights like we could have never imagined. Domes of vibrant green and purple rocketed over our heads while we camped in the empty Neskaupstadur town campground, taking in the show in awe.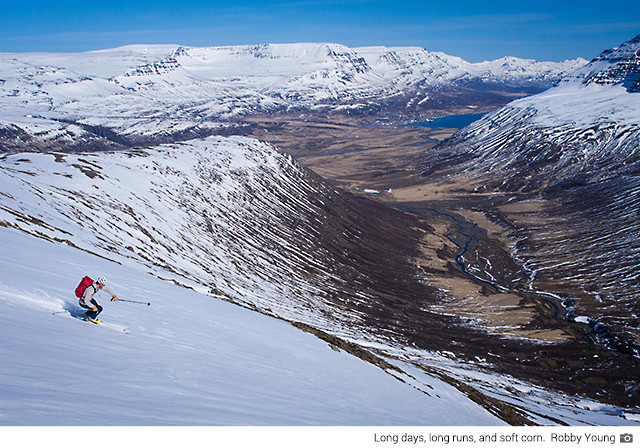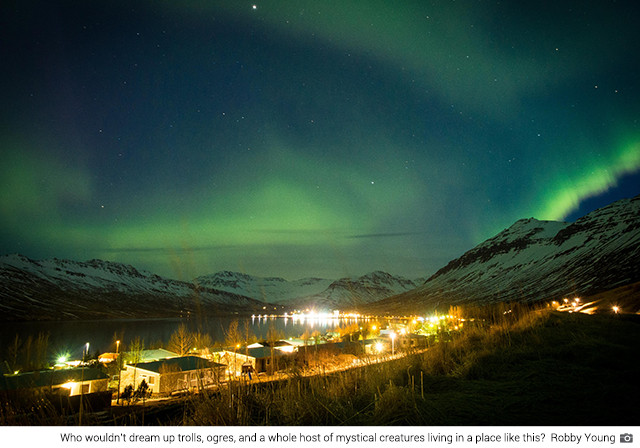 Moving northward and then west, we drove across the volcanically active rift valley where the Earth's crust was being created in real time, creating hundreds of miniature volcanoes, steam vents, and rugged lava fields. Eventually, we reached the Troll Peninsula, the skiing mecca of Iceland. In recent years, the "Troll" has increased in popularity with skiers through recent ski films and the presence of Arctic Heli Skiing. The popularity of this place was well justified; we found some of the best spring corn skiing we'd ever experienced, with the Arctic Ocean serving as our backdrop. The aesthetics and quality of skiing was only matched by the hospitality of the people we met in the small village of Dalvik. Our days here were spent skiing while evenings were filled mingling with locals and tourist skiers alike on the front steps of the local Kaffihaus (Coffeehouse), which doubled as a pub in the later hours of the evening. As with many of the small communities in Iceland, the owners of our hostel also ran this Kaffihaus, serving their own fish stew from their friends' fishing boats, and serving beer brewed a couple doors down the street.
Traveling onward, we drove the barren and isolated roads from Dalvik to the northwest corner of the island: a series of peninsulas collectively referred to as the Westfjords. We hunkered down in the town of Isafjordur, surrounded by hundreds of steep ski runs that plummet to the ocean, as the snow began to fall. We spent the next six days drinking coffee, while the snow pounded down outside, immediately jumping in the car as soon as the sun made one of a few brief appearances. In a neighboring fjord near the village of Flateyri, we found the siren that had drawn us to Iceland: a beautiful fjord that held the deepest and driest powder of the trip; a long series of steep chutes looming above the ocean. After a winter of scraping and scratching by in Utah, this mythical run made our ski season whole!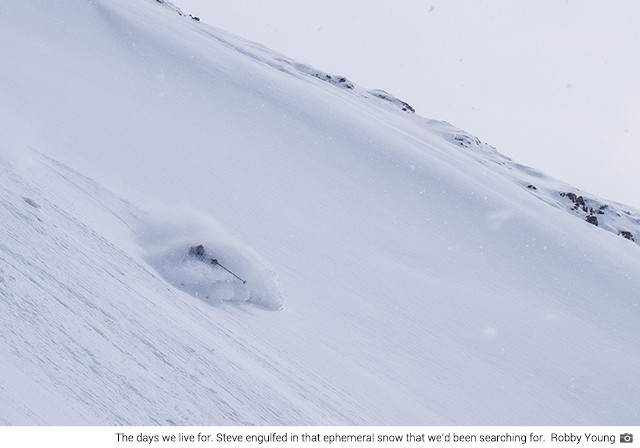 During these rare moments of sun the formula looked something like: drive around the fjords looking for ski runs (the best were steep rock-lined couloirs), climb up, ski right back down to the car, manage to drive our manual transmission Rav4 in ski boots to another ski run, and repeat.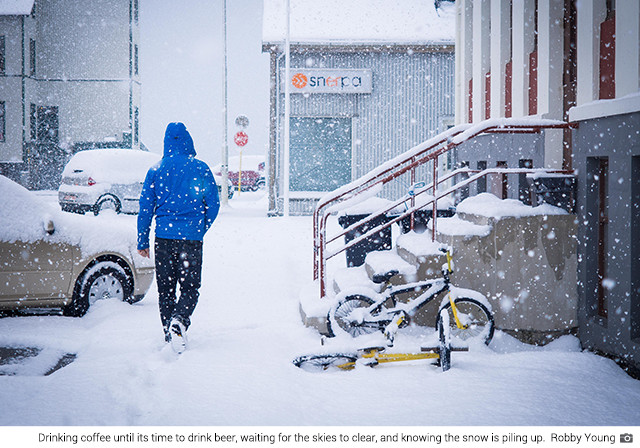 The snow in the Westfjords did not let up for days, even as our time to return to Reykjavik approached. The most hair-raising adventure of the trip was driving the fjords and passes back to civilization in southern Iceland. Over one particular pass, we had to put our rental to the test, busting through snowdrifts until we found a lineup of cars waiting to follow a supersized snowplow the rest of the way back to the main highway. Back in the capital, Steve and I celebrated the end of our trip just like we did at the start; enjoying the fresh fish and brews of Reykjavik, knowing that we had only scratched the surface of the skiing that this country has to offer.
_____

Robby Young is a senior guide at RMI Expeditions, leading trips in Washington, Alaska, and Peru. Robby calls Park City, UT home, where he is a ski patroller at the Canyons Resort. When not guiding, Robby is found chasing splitter crack climbing and perfect powder around the globe. He is also a talented photographer: view his images at www.robbyyoungphotography.com.
---
Posted by: Mike Haugen, Steve Gately, Bryan Mazaika | July 21, 2015
Categories: *Expedition Dispatches *Mount Rainier
Elevation: 14,410'
RMI Guide Mike Haugen and the Four Day Summit Climb team reached the crater rim of Mt. Rainier shortly after 7 am. Mike reported good conditions with a sustained 20 mph wind.
The team will enjoy some time on the summit before starting their descent. They will return to Camp Muir and then continue to Paradise. We look forward to seeing the team at Rainier BaseCamp this afternoon.
Congratulations to today's Summit Climb team!
---
Posted by: Dave Hahn, Steve Gately, JM Gorum | July 12, 2015
Categories: *Expedition Dispatches *Mount McKinley
Sunday July 12th 7:41 pm PT
The team woke at midnight to cloud and light snow at 11,000 ft. We got up and rallied anyway, packing and eating a hot breakfast. We set off into the murk at around 2:30 AM and snowshoed for several hours by Braille in the whiteout. Finally we got a little visibility down at 8000 ft, the base of Ski Hill. The glacier surface didn't freeze up last night and so we had some nervous moments crossing soft and saggy crevasse bridges. One of our team went neck-deep in a complicated hole just below Mt. Francis - one of the very last crevasses we had to deal with, actually. We plucked him from the ice, but not without a fair bit of grunting and cursing and straining at the ropes. Then it was a simple but strenuous uphill climb to the old site of basecamp (there is nothing there now -which is normal in late season). Quite literally, we'd just put our packs down, at around 11:40 AM, when two beautiful K2 Aviation ski otters landed and took us to Talkeetna. The afternoon was a busy one, drying and sorting everything around the K2 hangar and connecting to the world again. We'll have a victory dinner tonight at the West Rib, perhaps with a toast or two thrown in. And then we look forward to a comfortable night's sleep at the Talkeetna Motel. Tomorrow we'll leave each other and be out on our own for the first time in three weeks.
Thanks very much for keeping track of our climb.
Until Next Time,
RMI Guide Dave Hahn
On The Map
---
Posted by: Dave Hahn, Steve Gately, JM Gorum | July 11, 2015
Categories: *Expedition Dispatches *Mount McKinley
Elevation: 11,000'
July 11, 2015 7:58 pm PST
All enjoyed the "low" altitude sleep at 11,000 ft last night. Such a relief from the past few days at higher and colder locales. As was always the plan, we chose to stay in place today in order to get on a night-time schedule for exiting the lower Kahiltna Glacier. It was a fine day for resting, even as the weather seemed to deteriorate around us. Our hope was that clear skies and a cool night would make travel safer (from a crevasse standpoint) and easier. That might not happen tonight as there is still plenty of cloud, but we'll get up at midnight and head for our pickup point anyway. As usual, we'll need good luck and good weather to get down and off the mountain.
Best Regards
RMI Guide Dave Hahn
On The Map
---
Posted by: Dave Hahn, Steve Gately, JM Gorum | July 11, 2015
Categories: *Expedition Dispatches *Mount McKinley
Elevation: 11,200'
Saturday, July 11, 2015 - 2:50 am PT
What a difference 24 hours makes. Yet again, we all worked late, yet again it is 1:30 AM. But we've got plenty to show for our labor. We began the day at 17,000 ft, blessed again with perfect weather. We are ending the day down at 11,000 ft in the clouds. It was tough work and we had plenty of dangerous steps to get just right, but we negotiated each of them safely. There was the airy walk along the crest of the West Buttress, the steep and strenuous fixed ropes, the awkward side hill of Windy Corner, the new snow to plod through on the Polo Field and Squirrel Hill and a few well disguised crevasses to sidestep on Motorcycle Hill. Done. Almost. Now for some rest and a cruise out the lower glacier.
Best Regards,
RMI Guide Dave Hahn
On The Map
---
Posted by: Dave Hahn, Steve Gately, JM Gorum | July 10, 2015
Categories: *Expedition Dispatches *Mount McKinley
Elevation: 20,320'
Friday, July 10, 2015 - 2:14 am PT
Hey, This is Dave Hahn calling from 17,000 feet on Mt. McKinley. It's about 10 minutes after 1 in the morning. We had a big day yesterday, on the 9th of July. We summitted Mount McKinley! It was a beautiful day, start to finish, nice and calm and sunny, clouds down below. It was perfect climbing conditions, but it was hard climbing conditions, we had to break trail. We shared that work with a few of the other guided teams that were up here. That made all the difference; breaking trail through new snow and being able to trade off that job. But it still took a long time, I think we were out for 14 hours today. We were on the the top at 6:45 until 7:15. It was beautiful up there, really wonderful day, and all of our team made it. I believe that means that RMI is 100% for this season; all of the RMI summit teams have made it. That's just about it for the Denali season, the groups that we were going to the top with today were some of the last. I think there's maybe one more team that is a day from being in position. So far so good for us, we're up at 17k for now and we'll head off the West Buttress tomorrow. But, it really turned around, turned nice for us in these last couple days and we're very appreciative.

RMI Guide Dave Hahn calls from 17 Camp after reaching the summit of Mt. McKinley.
On The Map
---
Posted by: Dave Hahn, Steve Gately, JM Gorum | July 09, 2015
Categories: *Expedition Dispatches *Mount McKinley
Elevation: 17,200'
Wednesday, July 8, 2015 - 10:51 pm PT
No forecast could have predicted a day as nice as the one we just had, and certainly none did. They were calling for more snow, and perhaps it was snowing below the immense blanket of clouds that we looked down on all day. But right from our 6 am start at 14,200' Camp, it was nothing but calm, blue sky and sunshine - where we were and up above where we wanted to be. We got climbing just after 9 am and made excellent progress, reaching our previous high point in a little over three hours. We then worked up the crest of the West Buttress, climbing steep snow with a hand on perfect granite from time to time. There was plenty to concentrate on to ensure safe climbing, but there were also moments devoted to pure pleasure, gazing down at ridiculously steep drop offs and at the gigantic faces of neighboring mountains. We rolled into 17,200' Camp after about six hours and fifteen minutes on the route. This gave us plenty of time in the strong afternoon sunshine to build a strong camp and eat a good dinner. We are all ready to go climbing to the top tomorrow if the great weather continues.
Best Regards,
RMI Guide Dave Hahn
On The Map
---
Posted by: Dave Hahn, Steve Gately, JM Gorum | July 08, 2015
Categories: *Expedition Dispatches *Mount McKinley
Elevation: 14,200'
Tuesday, July 7, 2015 - 10:56 pm PT
Not surprisingly, this morning wasn't quite right for moving higher. It was socked in, snowing and a little blustery through the night. By morning, the blustery part was finished at 14 Camp, but we could hear the big winds still raking the crest of the West Buttress, a few thousand feet overhead. The team met for pancakes in the POSH and then dispersed to do camp chores and more wall building. In the afternoon, as the storm seemed to be losing a little energy, RMI Guides Steve Gately and JM Gorum raced up to 16,200' to fetch back some of our cached food. With the extended forecast being a little sloppy, we want more supplies at 14,000' just in case avalanche conditions should develop between here and the cache site. They were up and down again in less than two hours. As we ate dinner, the upper mountain weather continued to improve. By bedtime, there was plenty of optimism that despite the forecasts, we'd get the break we need for moving to high camp.
Best Regards,
RMI Guide Dave Hahn
On The Map
---
More Entries