Posted by: | July 24, 2014
Categories: *Expedition Dispatches *Kilimanjaro
Elevation: 9,800'
Hello from Mt. Kilimanjaro.
It was a great day for our team and a good start to our climb. We had a smooth departure from the lowlands of Arusha as we left the Dik Dik Hotel and headed to the mountain. Our local mountain staff and climbing team gathered at the Machame Gate of Kilimanjaro National Park (5,900') to register our climb and begin our ascent. We started climbing with low clouds above which remained for the majority of the day. It did not rain but we had our rain gear close just in case. We arrived at Camp One, Machame Camp, 9,800' and have finished dinner. We also had a special celebration for team member Brian's birthday. Our staff sang a fine version happy birthday and we all enjoyed a bit of cake.
It is nice to get on the trail, get our feet underneath us and start our mountain adventure. We are looking forward to more tomorrow.
On The Map
---
Posted by: Elias de Andres Martos | July 24, 2014
Categories: *Expedition Dispatches *Peru
Elevation: 17,880'
Hello everyone, this is Elias and the Alpamayo Climbing team Thursday the 24th. It is 9:45 local time and we are calling from Camp 2. Guess what? We just summited this morning. We didn't have a chance to call from the summit, it's a pretty gnarly ridge, pretty exposed and there were some winds. We were a six person team, all the climbers Tony, Kenzie, Parker and Peter made it up. So pulling the sat phone out was a little bit out of the question. But we are psyched. We had an awesome climb. These guys were super strong and climbed really, really quick and efficient. Like I said we are back at camp, safe and sound.
We are looking forward to starting our descent. The plan is now to take a couple hours rest here and pack it up and initiate our descent to base camp where our cook, Emile, we hopefully be waiting with a nice meal, really well earned.
That is pretty much it for now. As an antidote, we would like to share that, we had a chance, to high five reknown Swiss climber Ueli Steck who was climbing here in the Cordillera Blanca and happened to climb Alpamayo today. It was pretty nice to see him climb next to us and, of course, smoked us on the way up. But hey, he's a different league, and we feel pretty satisfied with the job done. We were the first one's out of camp, the first one's on the summit and the first one's down back to camp.
We are reporting incredible weather, incredible views and everybody is psyched.
And if you stay tuned we will be checking in tonight when we arrive back at Base Camp, out of the glacier and ready to return to Huaraz tomorrow. That's it from me right now and thanks to all of you who have been following us. We will check in tonight when we are out of the mountains.
RMI Guides Elias de Andres Martos

RMI Guide Elias de Andres Martos checks in after reaching the summit of Alpamayo.
---
Posted by: Jake Beren, Zeb Blais | July 24, 2014
Categories: *Expedition Dispatches *Mount Rainier
Elevation: 10,060'
The Four Day Summit Climb teams led by RMI Guides Zeb Blais and Jake Beren were unable to make a summit attempt of Mt. Rainier this morning due to weather conditions. Jake reported steady winds of 50 mph overnight with gusts to 70 mph. As of 7:30 am conditions had improved slightly with decreased winds and partial clearing. Snow accumulation at Muir was estimated at 6-10 inches.
The teams will depart Camp Muir around 9:15 en route to Paradise and then continue down to Rainier BaseCamp in Ashford.
---
Posted by: JJ Justman | July 24, 2014
Categories: *Expedition Dispatches *Elbrus Southside
Elevation: 12,000'
Hello from Mt. Elbrus! Our team awoke from a good nights sleep to a beautiful, clear sunny day. After a great Russian breakfast with great American Starbucks coffee we threw our spikes on and went for a walk.
The higher you get the slower things become. As our team approached 15,000 feet many of us began to feel the air getting just a bit thinner. However, we accomplished the goal and the high altitude was a great welcome for us to become stronger for summit day.
Everyone did a great job and even though towards the end it got a little tougher, everyone is having fun and in good spirits. However, no one is still laughing at any of my jokes!
On The Map
---
Posted by: Mike Walter | July 23, 2014
Categories: *Expedition Dispatches *North Cascades
Elevation: 5,700'
Hi Everyone,
Yesterday we hiked past Lake Ann and climbed 3rd and 4th class terrain to our bivy site at 5700'. The weather was generally cooperative, with light to moderate rain showers coming in and out.
The weather today is less accommodating; after a pleasantly dry breakfast we got back in our tents as heavy rain moved in. So, we're taking advantage of some down time to rest and hopefully we'll have a crack at climbing tomorrow.
This rain event is very unusual for July in the Cascades, and we're hopeful that we'll get back to the standard fare of sunshine.
RMI Guide Mike Walter & Team
---
Posted by: Mark Tucker | July 23, 2014
Categories: *Expedition Dispatches *Kilimanjaro
Our team has gathered in Arusha, Tanzania and we are sorting our gear, weighing our mountain duffels and getting ready to climb Mt. Kilimanjaro! We also took a little time for golfing and goofing around. We need to get away from this lap of luxury we find ourselves in and start climbing, we are eating way to much.
Tomorrow we will wake early, enjoy our last restaurant meal for a while and then take a drive to the Machame Gate. Here we will register our team with the Kilimanjaro National Park, don our packs and begin our climb toward the Roof of Africa, Mount Kilimanjaro.
---
Posted by: Elias de Andres Martos | July 23, 2014
Categories: *Expedition Dispatches *Peru
Elevation: 17,880'
Hello this is the Alpamayo climbing team and the word is we are climbing tonight. It is Wednesday. 3:00 PM local time and we decide to take a rest day today as we arrived yesterday up here. And all is well, we're pretty excited. Tony, Parker, Kenzie, and Pete are really strong, healthy, and ready to go. So we will hopefully keep you updated from the summit tomorrow sometime in the early morning and… yeah. You can probably hear our voice from the top of Alpamayo. We'll initiate soon afterwards our descent and the goal we be to actually make it to base camp but that is yet to be seen. [Broken] Hopefully we'll have good news for you. That's all for now, we're going to go to bed pretty soon here and we'll check in tomorrow. Bye.
RMI Guide Elias de Andres Martos

RMI Guide Elias de Andres Martos checks in from high camp on Alpamayo.
---
Posted by: | July 23, 2014
Categories: *Everest BC Trek
There is something to admire around every turn of the 31 mile trail through the Khumbu Valley from Lukla to Everest Base Camp. Monasteries, cultivated fields, grazing yaks, and tiny villages all share the valley, sitting beneath the some of the world's tallest and most stunning mountains. A few of our guides sat down to compile a list of ten things to be sure and experience on the Everest Base Camp Trek:
 
10. View From Kala Patar: It's not widely known, but the view from the top of Kala Patar, a rocky outcropping above Gorak Shep, provides a sweeping panorama from Everest to Ama Dablam and are far better than those of Base Camp.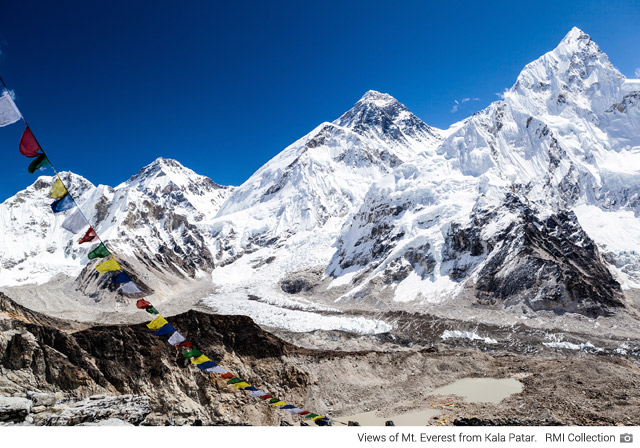 9. Lama Geshe: A renowned spiritual leader living in a small house in Pangboche, Lama Geshe never fails to greet visitors with a deep laugh and broad smile. As he chants prayers in his native Tibetan in a deep but soft voice, he provides a fascinating appreciation and insight into the Buddhist process of embarking on a journey, whether for an Everest Expedition or a trip to visit distant relatives.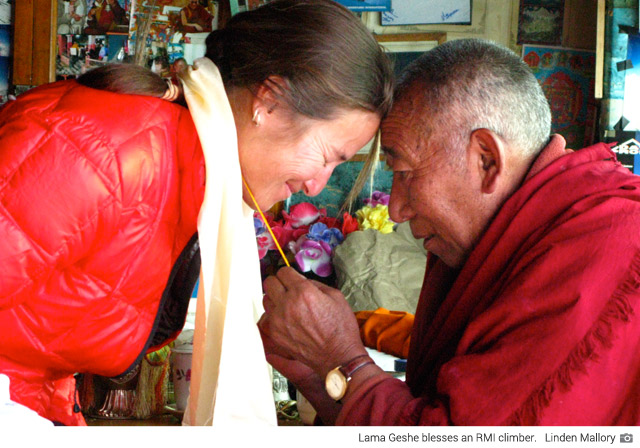 8. Momos: Akin to Chinese dumplings, the Nepalese momo is a delicious treat after a long day on the trail.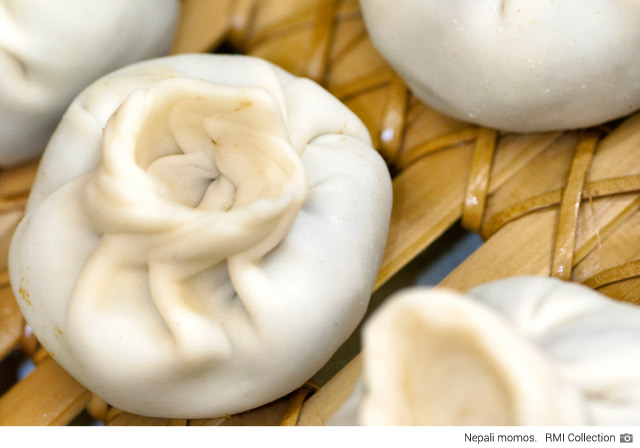 7. Afternoon prayers at the Tengboche Monastery: After making the 1,300' ascent to the ridge top Monastery, find a seat along the edges of the Dokhang (the prayer hall), framed by a two story tall golden statue of Buddha, and listen to the deep chants of the resident monks fill the space.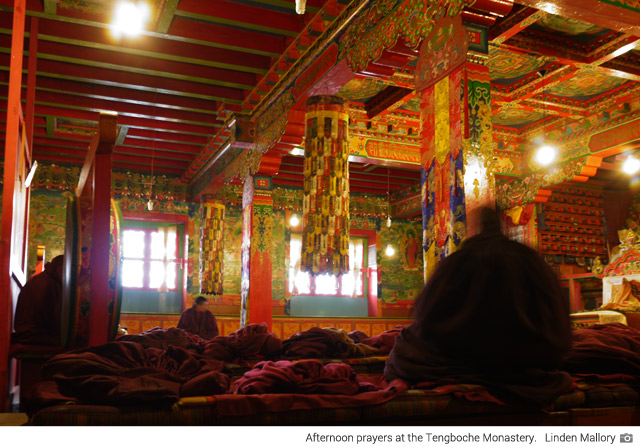 6. Exploring Namche Bazaar: Perched on a hillside in the middle of the Khumbu, Namche Bazaar is the cultural and economic hub of this mountainous region. Yaks, monks, and Tibetan traders share the narrow streets with locals and trekkers alike, and a new discovery can be found around every corner, from tailors to bakeries to monasteries and museums.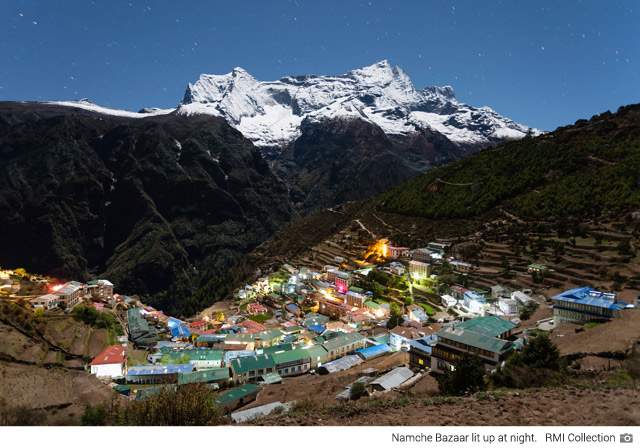 5. The experience of trekking lodge-to-lodge: After a warm breakfast served in a cozy dining room, shoulder a light day pack with only the gear you need for the day, leaving your duffel outside your door, and start up the trail. Spend the day wandering through villages, fields, and valleys, until you reach your next night's teahouse where your bag awaits. The teahouses are simple but comfortable, with cozy community dining rooms to eat, relax, and socialize in and sleeping rooms just down the hall.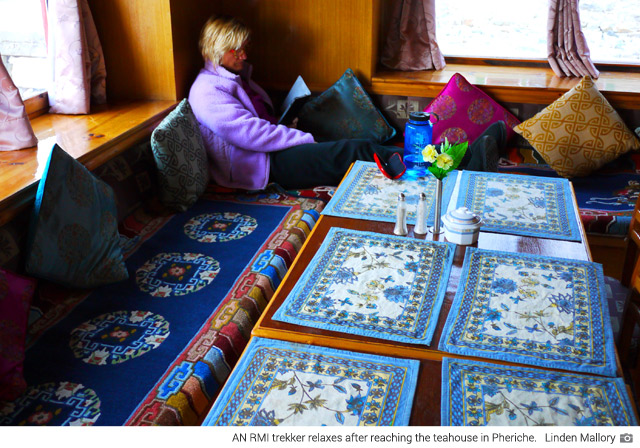 4. The Trail: While the excitement of trekking to Base Camp is reaching  the foot of Everest at the end of the trail, the wonder comes from the entire experience of traveling the trail, where a simple centuries old footpath serves as both highway through the valley and the villages' Main Streets. Slow your pace now and again to look around and take in the shops, homes, and life that all happens right along the path!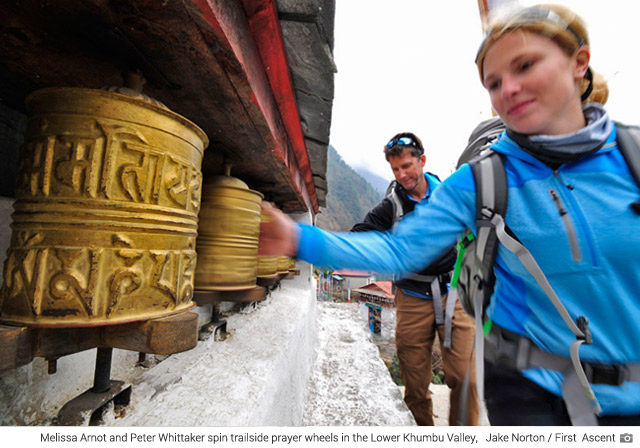 3. Island Peak's summit ridge: Ringed by several of the world's greatest mountains (Nuptse, Lhotse, Everest, and Ama Dablam), the airy summit ridge of Island Peak provides all of the excitement of Himalayan climbing in a short extension to the spring trek.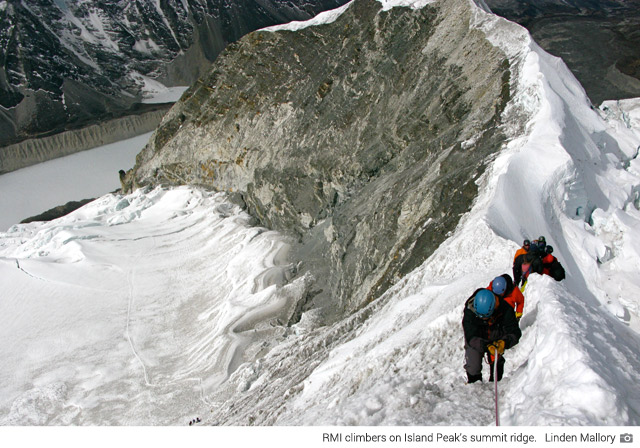 2. Spending the night at Everest Base Camp: you've walked all that way, why turn around and leave again in a matter of hours? Spending the night in Base Camp is a peek into the full experience of embarking on an Everest Expedition and enjoying a cup of tea while watching the sun peak over the top of the Western Cwm is an unforgettable moment.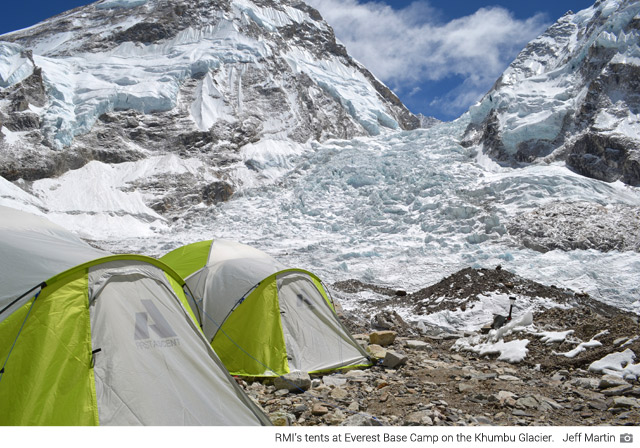 1. Stopping to soak it all in: The Khumbu is simply an amazing place. One of the best things is just being there: stopping to dig your heels into the ground and looking around. There is nowhere else in the world like it.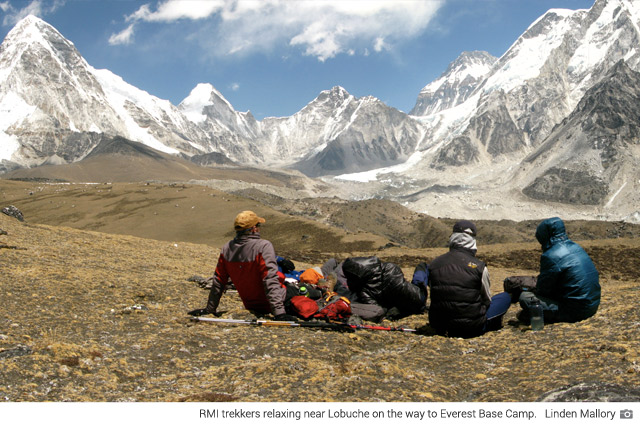 Ready to experience the Khumbu for yourself? Join RMI on a trek to Everest Base Camp!
---
Posted by: JJ Justman | July 23, 2014
Categories: *Expedition Dispatches *Elbrus Southside
Elevation: 12,001'
Hello -
We are checking in live from the huts on Mt. Elbrus at a grand altitude of 12,001 feet. We have settled into our cozy home with gear and clothing splayed out all over!
The team took a hike up to 13,104 feet today and we returned for a great lunch made by our Executive Chef Masha. I'm not lying when I say we had caviar…we did.
We are slowly adjusting to the new altitude. After doing this adventure year after year after year I firmly believe the reason why our teams do so well is our relaxed itinerary. Everyone is doing great and we are soaking in the beautiful mountain views.
On The Map
---
Posted by: Win Whittaker, Tyler Reid | July 23, 2014
Categories: *Expedition Dispatches *Mount Rainier
Elevation: 10,060'
The Four Day Summit Climb teams led by RMI Guides Win Whittaker and Geoff Schellens were unable to make a summit attempt of Mt. Rainier due to poor weather. The teams experienced high winds, hail, rain and lightening overnight, fortunately they remained safely tucked in a Camp Muir.
The teams will start their descent from Camp Muir later this morning and will arrive at Paradise in the early afternoon.
Tyler Reid and the Expedition Skills Seminar Team - Emmons called from Camp Schurman. All is well with the group. They dressed to climb during a small weather window @ 2am this morning but were shut down by hail and lightning. They have around 4 inches of wet snow at Schurman. I estimated about a foot of new up high on the mountain and Tyler says it is probably more.
They are training intermittently today and will head down tomorrow morning.
---
Previous Page
More Entries