Entries By lindsay mann
Posted by: Lindsay Mann, JJ Justman | June 10, 2014
Categories: *Expedition Dispatches *Mount Rainier
Elevation: 14,410'
The Four Day Summit Climb led by RMI Guide JJ Justman along with the Five Day Summit Climb team led by Lindsay Mann both reached the summit of Mt. Rainier this morning. The teams spent some time on top and began their descent around 7:30 am. Both teams will return to Camp Muir to re-pack and then will continue down to Paradise. We look forward to seeing the groups at Rainier BaseCamp later today.
Congratualtions to today's Summit Climb teams!
---
Posted by: Lindsay Mann | November 04, 2013
Categories: *Mountaineering Fitness & Training
When most people think about strength workouts, they think about joining a gym and lifting weights to build muscle mass. I grew up as an alpine ski racer and continue to stay involved in the sport now as a ski coach. If you have watched an alpine ski race, in person or on TV, you know that ski racing is all about leg strength. Although mountaineers don't need to be hitting the weight room to the same extent as a ski racer, strength is a key component to climbing. 
 

Traveling around the world as an athlete, coach, and guide, I do not always have access to a weight room. During the season I still need to do exercises to maintain strength. I make use of local parks or playgrounds (where the entry fee is free) or even my own living room.
 
Below are a couple of key exercises that you can do either in a gym or in the comfort of your own home. Remember, whenever doing strength workouts, it is important to get a proper warm-up and cool-down and listen to your body in order to stay injury-free and get the most from the workout.
 
Warm-Up: This involves 15 - 20 minutes of running or biking to get your muscles warmed up. This is imperative since diving into strength training cold is a great way to hurt yourself. This time can be spent on a stationary bicycle, a couple laps around the neighborhood on a road bike or mountain bike, a few laps around the track or soccer field, or a jog around the neighborhood. 
 
Body Weight Squats: Start your workout with two legged squats, feet hip width apart, with no weight. As you up your training, adding weight is a viable option as long as your form and technique stay correct. Jugs of water, rocks, or chunks of firewood all make good weight additions.  To maintain form and avoid injury, make sure that your knees are stacked over your ankles. Start with doing three sets of 10 reps. I usually go down for a count of 2 - 3 seconds and up for the same count. 
 
One-Legged Squats: These are my personal favorite; still a leg strength building exercise, one-legged squats also add a balance component. In order to protect your knees during any squats, I recommend going no deeper than a 90-degree bend in the knee (doing these in front of a mirror when you first start can be beneficial).  Start out with the non-weight bearing leg parallel to the standing leg. As you master this, play around with the position of the leg in the air. It can be in front, out to the side, or back. Now not only are you working on leg strength but you are also working on balance. Work up to 3 reps of 10 on each leg. Depending on your baseline strength you may start with 2 reps of 5 on each leg and then slowly work up. 
 
Again as this gets easier for you, add weights in your hand or try these on grass or sand. All of this will change your balance and the difficulty. 
 
Wall-Sits: Simply sit against a wall with your knees bent at a 90 degree angle like you are sitting in an invisible chair with your back and butt against the wall. This is a real thigh burner. Start by holding this for 30 seconds to a minute and doing two or three sets, shaking your legs out in between. As you get better at this, increase the time you are holding to up to a few minutes. Another way to increase the difficulty is to hold an object straight in front of you, such as a ski boot or climbing boot. 
 
Lunges: With an emphasis on quad-strengthening exercises it is important to incorporate some hamstring-strengthening exercises as well. One suggestion is lunges. The key to these is that they are done slowly; you are building strength as you lower your body weight and raise it again. Make sure that your knees are lined up above your ankles and feet, and do not push your knee beyond your toes. I usually start with my hands on my hips doing 2 to 3 sets of 10 - 15 lunges on each side (20 - 30 total in a set), and alternate which leg is in front. Again, as this becomes easier for you, you can add free weights. 
 
Pull-Ups: These are nice because they can be done anywhere. Not only is it good arm strength exercise, but it also involves the core. Pull-ups can be done with a pull-up or chin-up bar in your house, or at the local playground on the monkey bars. Start out with 2 sets of five. If this is hard for you, have someone hold your knees to assist you after doing a few on your own. You will be amazed how much you will improve just by trying them on your own and then going through the motion with someone assisting you. 
 
Cool-Down: In order to aid recovery for the following days, do a proper cool-down. Spend another 15 minutes on a bike or finish with a light jog to get out some of the lactic acid. Don't forget that stretching is also an important aspect of the cool-down process. 
 
Listen to your body with any workout.  All of the recommendations of sets are exactly that - recommendations; do what makes sense for you.  Depending on your starting point you may have to start with fewer and work up. That is okay; continue to work on strength exercises and you will see improvements. Set benchmarks and goals for yourself so that you can see the improvements!  Often times the process of seeing yourself improve is all the motivation you need!
______
Lindsay Mann is a senior guide at RMI Expeditions and a NCAA D1 Skiing Champion. She has climbed and guided around the world, from Peru to Alaska. Lindsay is leading a team of female climbers to scale Mt. Rainier on a special Four Day Summit Climb next summer, August 12 - 15, 2014.
Questions? Comments? Share your thoughts here on the RMI Blog!
---
Posted by: Tyler Jones, Lindsay Mann | September 06, 2013
Categories: *Expedition Dispatches *Mount Rainier
Elevation: 10,080'
The Four Day Summit Climbs led by Lindsay Mann and Tyler Jones were unable to leave Camp Muir last night. The team experienced heavy thunderstorms that brought much lightening and 6 inches of new snow to Camp Muir. The teams plan to leave Camp Muir shortly and will be back in Ashford in the early afternoon.
Congratulations to today's teams!
---
Posted by: Elias de Andres Martos, Lindsay Mann, Eric Frank | August 21, 2013
Categories: *Expedition Dispatches *Mount Rainier
Elevation: 14,410'
The Four Day Summit Climb Led By Elias de Andres Martos and Lindsay Mann reached the summit of Mt. Rainier early this morning. The teams had warm, clear and calm conditions on the climb. They are currently descending and stopped at 12,700' feet to do some work on the fixed lines before making their way back to Camp Muir.
Congratulations to today's teams!
---
Posted by: Billy Nugent, Lindsay Mann | August 16, 2013
Categories:
Elevation: 14,410'
The Four Day Summit Climbs August 13 - 16, 2013 led by RMI Guides BIlly Nugent and Lindsay Mann reached the summit of Mt. Rainier this morning. The teams delayed their start from Camp Muir due to high winds but were fortunate that the winds decreased enough to allow them to climb.
They began their descent from the crater rim shortly after 9 am PT. The teams will return to Camp Muir for a short break before continuing down to Paradise.
The Expedition Skills Seminar - Kautz enjoyed of week of training on Mt. Rainier. They spent their final night on the mountain last night. This morning they broke camp and started down to Paradise.
Congratulations to today's summit climbers! We look forward to seeing all teams at Ashford BaseCamp this afternoon.
---
Posted by: Lindsay Mann | August 05, 2013
Categories: *Mountaineering Fitness & Training
Footwork and the ability to "read the terrain" to find the best footing is an important element of being able to climb safely and efficiently. During our Mountaineering Day School, our guides focus their efforts on teaching the "rest step". The rest step is an important efficiency technique where climbers take small steps, pausing between steps with their weight on their back leg. This is a technique that enables climbers to get a "rest" with each step since their bodyweight is resting on their skeletal system instead of their muscles, effectively giving the legs a quick break. 
An important aspect to the rest step is paying attention to your footwork and deciding on your foot placement: finding the right place to set your foot so that you have full control while still benefiting from the small, efficient movements of the rest step. We commonly ask people to "climb with their eyes" by scanning the terrain and other climbers foot placements ahead to spot the best places to set their feet. Instead of getting fixated on only the next step, it is important to anticipate future terrain and foot placement. Thinking a few steps ahead allows you to see all of your options in front of you.
This is something that can be practiced before coming to climb Mt. Rainier or taking part in any of our climbs and expeditions. When going out on your training hikes, whether long or short, take the time to focus on your footwork. Ask yourself, "How big are my steps? Can I take a smaller step? Is there a better flat place for me to put my foot?" Constantly challenge yourself to find the easiest and most efficient foot placement with each step. Combining your focus on footwork with improvements to your balance and body awareness will give you an added measure of comfort, stability, and efficiency in the mountains, especially when you begin to tire. Remember that flexibility is an important part of footwork since you need to be comfortable in your foot placements even when the terrain is not perfectly flat or level. 
The more comfortable you can become with foot placement, reading terrain and climbing in balance, the less energy you will exert on longer hikes and climbs. Often times we get fixated on the immediate step in front of us. Instead, look ahead and challenge yourself to take small quick steps. By being aware of these footwork techniques on your training hikes will enable you to dance your way up the mountain on your climb!
 
________
Lindsay Mann is a Senior Guide at RMI Expeditions and a NCAA D1 Skiing Champion. She has climbed and guided around the world, from Peru to Alaska. Read about her recent sailing and ski mountaineering trip to Norway's Lofoten Islands on the here.
Questions? Comments? Share your thoughts here on the RMI Blog!
---
Posted by: Eric Frank, Lindsay Mann | July 22, 2013
Categories: *Expedition Dispatches *Mount Rainier
Elevation: 14,410'
The Four Day Summit Climb led by RMI Guides Eric Frank and Lindsay Mann reached the summit of Mt. Rainier around 6:30 a.m. The teams spent about an hour on top enjoying what Eric describes as the "best morning all summer:" sunny and warm with light winds. The teams will make their descent back to Camp Muir and will return to Ashford this afternoon.
Congratulations to today's teams!
---
Posted by: Brent Okita, Lindsay Mann, Mike Haugen, Garrett Stevens | July 17, 2013
Categories: *Expedition Dispatches *Mount Rainier
Elevation: 11,200'
The Four Day Summit Climb led by RMI Guides Brent Okita & Lindsay Mann were unable to summit this morning due to a lightning storm. The teams headed out of Camp Muir on two separate occasions but both times retreated to Camp Muir because of the weather. They will descend from Camp Muir around 9 a.m. We look forward to seeing the groups at Rainier BaseCamp this afternoon.
The Expedition Skills Seminar - Kautz led by RMI Guide Mike Haugen reached the summit yesterday morning and returned to their high camp for a final night on the mountain. This morning they are descending to Paradise and will return to Rainier BaseCamp.
RMI Guide Garrett Stevens and the Expedition Skills Seminar - Paradise weathered the storm on the mountain last night in tents. They will be drying out today and doing more training near their camp. Tomorrow they will ascend to Camp Muir and get ready for their summit attempt.
---
Posted by: Paul Maier, Lindsay Mann | July 06, 2013
Categories: *Expedition Dispatches *Mount Rainier
Elevation: 14,410'
The Mt. Rainier Four Day Summit Climbs led by Paul Maier and Lindsay Mann reached the summit at 6:30 a.m. Both teams were able to enjoy the bluebird views for over an hour before beginning their descent at 7:50 a.m.
Congratulations to the summit climbers!
---
Posted by: Pete Van Deventer, Lindsay Mann | June 11, 2013
Categories: *Guide News
I climbed Mt. Rainier with my father last summer. After a memorable summit, my dad - a man of little words - expressed his confidence in my abilities as a mountain guide, a compliment I did not take lightly. He told me that he trusted my decision-making in the mountains and wanted me to be a part of his dream trip: combining his passion for the water and the mountains with a sailing and skiing trip in the Lofoten Islands of Norway.
I immediately approached fellow RMI Guide and good friend Pete Van Deventer to see if he was interested in joining the crew. Without hesitation Pete and his wife committed to the trip. Besides being a great climbing partner, Pete had spent time in Norway in college and was eager to return. Additionally, he suggested that we invite one of his Norwegian friends to accompany us. Magnus had already completed a similar trip and was able to offer great suggestions about boat charters and finding a competent captain for our voyage. The dream trip was starting to take shape.
After months of training and preparation, we headed to Norway in April. My dad and I flew to Oslo where we spent two days sightseeing before flying above the Arctic Circle to a fishing village on the west coast to meet our team. A few hours after arriving in Svolvaer, we heard ski bags rolling on pavement. Pete, Katie, Magnus and Maria, Magnus' girlfriend, arrived at the boat and our seven-day adventure began!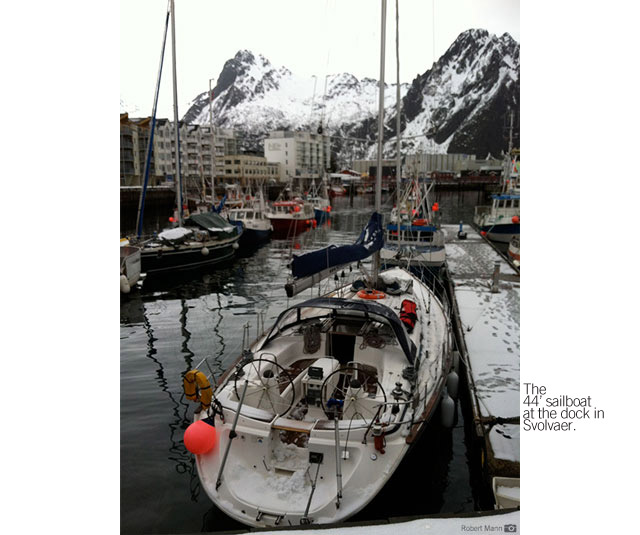 The next morning we woke up to partly cloudy skies and the realization that a 44-foot sailboat is a tight space for ski gear, sailing gear, and eight people. After organizing our gear in waves, we left the boat with skis on our packs and walked toward a favorite local ski touring peak. Successfully navigating the Svolvaer neighborhoods, we finally reached snow. With climbing skins on our skis we began our ascent up the south side of a peak named Blåtind. Partway up the mountain, it began to rain and visibility dwindled. Too excited to turn back on our first day of ski touring, we decided to continue. A few minutes after reaching the saddle on Blåtind the sun came out and we focused our attention on a ski line on east side of the peak. The conditions were spring corn snow. After a close to 2,000' descent we put our skins back on and toured along the water to the nearest road where we hailed a taxi back to the sailboat.
The following morning we set sail to the Trollfjord. The Trollfjord is an area accessible to skiers only by boat. With our sails up and Katie Van Deventer at the helm, we sailed to the entrance of the Trollfjord - a dauntingly narrow waterway surrounded by steep walls. We docked amid howling winds and a mix of rain and snow. Reaching the TrollfjordHyatta, a cabin in the Norweigan Hut System, would have to wait until the next day.
We woke to improved weather and loaded our ski gear and a night's worth of food onto the dock. The boat sailed away promising to return the following afternoon and we spent the morning skinning to the TrollfjordHyatta. The hut turned out to be a small majestic wooden cabin surrounded by peaks in every direction. Inspired by the mountains around us, we headed out to ski Peak 975. We had great views of our climb ahead and discussed our route and ski options. After an hour the terrain became too steep to skin. With skis on our packs, and clouds rolling in, we reached the top of Peak 975. Since the light was flat we used our bootpack to guide us as we skied down the same route we ascended. The visibility improved and we were reminded of the natural beauty of the Trollfjord. Taking advantage of the good weather we added a few laps to finish our day on a smaller peak just above the cabin. From there we could see the dramatic entrance to the Trollfjord and the unlimited ski options for the following day. The night in the hut was filled with wine, laughs, and Ludo, a Norweigan board game. In the morning we were able to get a few runs in on some steep north facing chutes before returning to dock where we met the boat.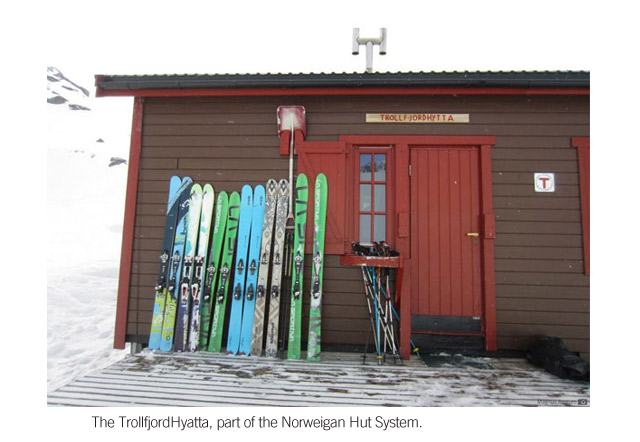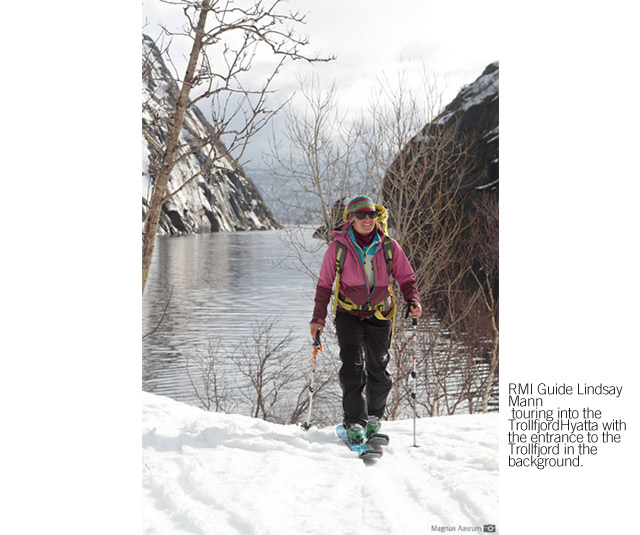 As we sailed away, inspired by the endless quantity of peaks around us, we discussed the multitude of ski options for the day and remainder of the trip. The next few days were unlike any trip I have known. The terrain and sailboat allowed for ultimate flexibility. If the weather was good, we would ski; if the weather was marginal, we would set sail waiting for the conditions to change. Once we decided upon a peak the question then became: how do we get to shore?
This was often time and energy consuming. We would either dock the boat or, if that wasn't an option, we would get ashore via dinghy. If we went by dinghy Frederik, our captain, shuttled us and our gear ashore while Iselin, the assistant captain, handled the sailboat. From the dock or shore we would skin or walk a few miles to a skiable peak, climb and ski it, and make our way back to the boat. This sometimes meant walking, other times we were able to ski within a few hundred meters of the boat. Other times it meant taking a cab to where the boat was docked. Each day was a new adventure with a new set of options.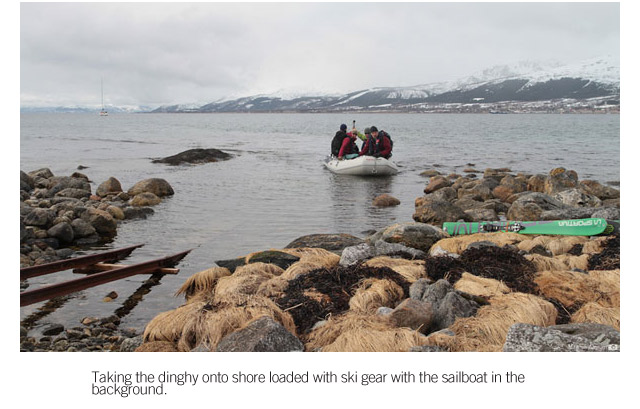 As the days passed, the weather improved and we finally had the perfect Norweigan ski descent on the last day of the trip. For the first time during our adventure we woke up to bluebird skies and decided to ski a peak called Storgalten. Upon reaching the top of the peak could see mountains, water, and our sailboat. Thrilled with the descent, Pete, Katie and Magnus celebrated it with a plunge into the fjord. We then set sail back to Harstad, our final destination, with Storgalten still in view. Weeks later, I'm still amazed by the diversity and accessibility of the terrain found in the Lofoten Islands. I have been lucky enough to ski and climb in mountains all over this world and this trip was truly unique. What made it all the more special to me was being able to share it with my father and a group of close friends that got along seamlessly on a 44-foot sailboat for seven days.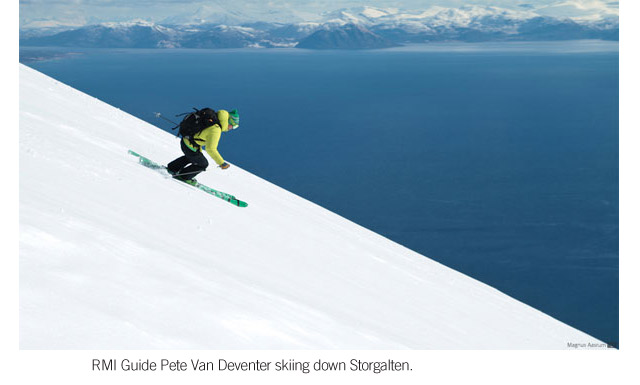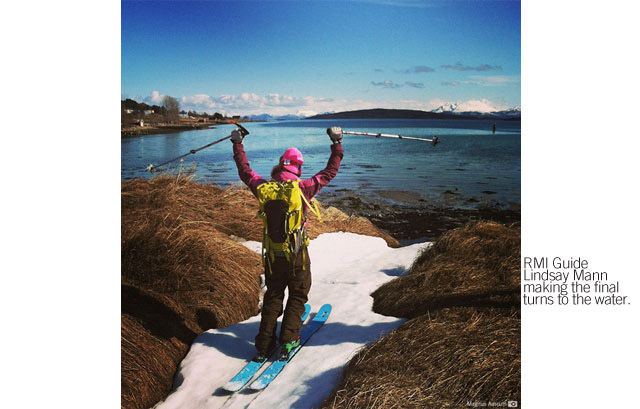 ---
Previous Page
More Entries