---
Mt. Elbrus: Mallory & Team Acclimatize at Base of Mt. Elbrus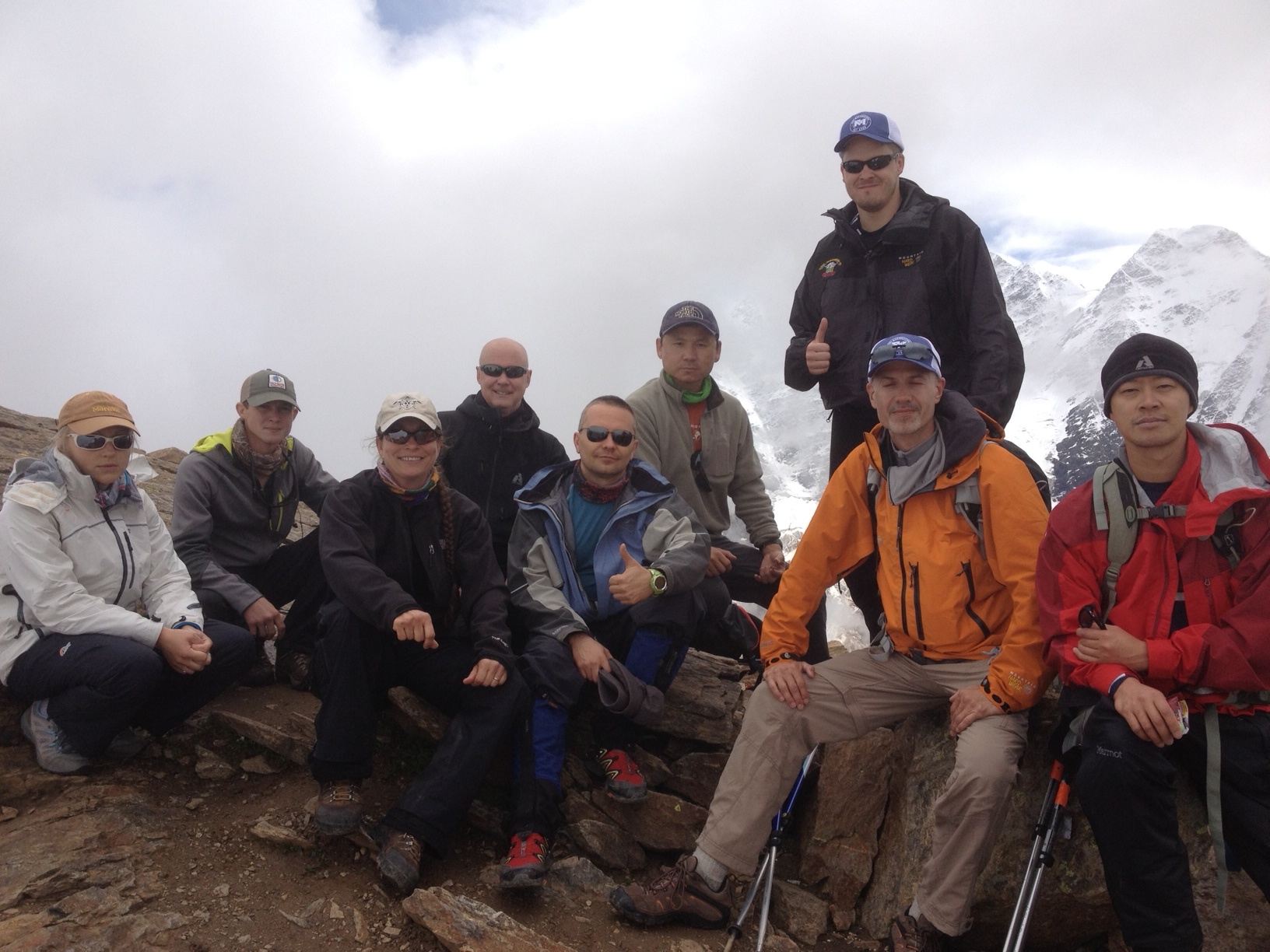 We woke to the steady patter of rain falling on the village of Cheget this morning. The clouds hung low in the valley, all of the mountains above still obscured. But to the west the clouds were thinning and the rain let up as soon as we finished breakfast. We left the hotel and walked over to the base of the ski lifts to catch a ride higher into the mountains. We hopped onto the lift, each chair painted a different color, and slowly rose into the clouds. At one point the lift stretched across a high point and all we could see was the little yellow and red chairs bouncing along into a sea of grey. By the time we passed the switched lifts at the mid station the clouds began to part and soon the views were improving.
Near 10,000' we unloaded from the lifts and began hiking above the resort towards the summit of Peak Cheget. We navigated the narrow climbers' trail, scrambling across the big rock slabs and over boulders, quickly gaining altitude on the narrow ridge. The weather continued to improve and we were soon shedding our rain jackets in favor of sunglasses. Close to 11,500' the skies briefly parted and we caught our first views of Mt. Elbrus across the valley. The view was fleeting, as the window in the clouds quickly closed, but we were able to see our entire route to the summit.
By midday we reached the summit of Peak Cheget near 12,000'. The change in altitude from Moscow (~500') was noticeable, but everyone on the team felt strong. We stayed on the summit for a few minutes before descending back down the trail to the lifts and returning to town for the afternoon.
We spent the rest of the day sorting and organizing our gear in anticipation of moving onto the mountain. Tomorrow we head up to our hut along the edges of Mt. Elbrus' glaciers where we will spend the next four nights. We are excited about getting on the mountain and looking forward to trading our hiking shoes for climbing boots and crampons. We will check in tomorrow from the Garabashi Hut.
RMI Guide Linden Mallory
On The Map
×
Sign Up For Elbrus Southside 2012 Emails
{/exp:mailinglist:form}
---
More to Explore
Mt. McKinley: Hahn and Team Waiting for Stability
July 10, 2012