---
Ecuador Seminar: Knoff & Team Visit the Equator, Explore Quito
Day one of our long awaited Ecuadorian adventure has officially begun. All of the grueling training with unthinkably heavy packs, sweat burned eyes and crippling soreness is finally over and world's finest mountain climbing team is ready. It's been a long time coming, a year at least, for this elite team from Chicago, Minneapolis, San Fransico, Philadelphia and other mountain meccas to unite.
Today in Quito, Ecuador our team took an incredible tour of this ancient city impressing the locals with powerful, athletic bus riding skills, strong gravitational resistance and uncanny focus. This is no joke. Our first stop was 20 miles north of downtown Quito at a mysterious place known as… "The Equator". This unique place has exhibits which make water spin in opposite directions twenty feet from the painted red line, make a seemingly simple DUI test almost impossible and miraculously provide magic nails that somehow can balance an egg, the long way, on their tiny heads. Fortunately, I was able to choose who would be climbing on my rope by each person's performance and strength. Those who got an egg diploma, didn't fall sideways to the south and had the strongest upward pull against our guide's superhuman strength, passed the test.
After our interactive visit to the center of the world, we flexed our bus muscles once again and proceeded 25 miles back into the heart of Quito. The entire ride we were blessed with very rare views of Cayambe, Cotopaxi and Anitsana, three of Ecuadors highest peaks, two of which we are going to climb on this trip. Thankfully I saw no fear in the eyes of my group indicating nerves of steel and complete readiness.
After two hours of enjoying grand vistas of the bustling city, visiting beautiful churches and walking the old town streets, the team made it back to the hotel, not even winded, ready for a power nap. I can't wait to get on a mountain with them!
For now, all is well, the group is healthy and excited so we will sign off until tomorrow.
×
Sign Up For Ecuador 2020 Emails
---
More to Explore
Kilimanjaro: Grom & Team Ascend to Camp on the Shira Plateau
January 8, 2020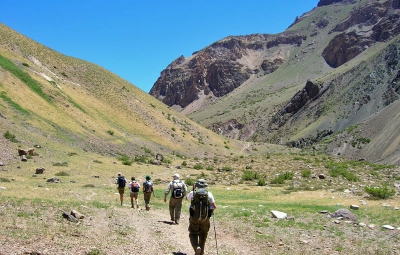 Aconcagua: Smith & Team Hit the Dusty Trail
January 8, 2020