---
Ecuador: Team Returns to Quito After Great Trip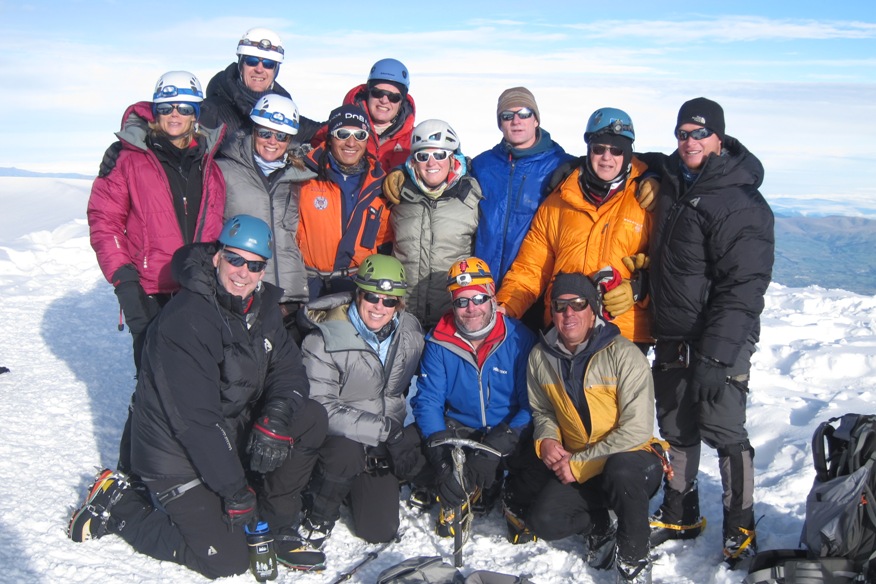 What a wonderful adventure we have had here in Ecuador.
We woke last night to a beautifully clear and warm night. With all of the weather we have been having we were quite surprised to see a sky full of stars. We had our standard morning breakfast of not so delicious oatmeal and washed it down with some nice coffee. We left the hut with many other teams trying to take advantage of the exceptional weather.
The route from the Refugio (climbers hut) was full of surprises nearly the whole way to the summit. With crevasse crossings, steep slopes, and even a snow/ice tunnel to negotiate, the most exciting part for the team was climbing down into and then back out of a crevasse in order to continue on the route. Even with all of these obstacles, the route took us just over 6 hours and we stood on top of Cotopaxi around 7:15am with barely a breath of wind. It was so clear we could see all 10 of the 15,000' mountains in Ecuador. Having no wind and warm temperatures allowed us to linger on top for nearly an hour without getting chilled. Then it was back down to the hut to pack up and leave before the daily hail/thunderstorm moved in. We arrived back in Quito and have just finished up our last supper and have said goodbye to our team mates.
Thanks for following and we'll see you next time.
Team Ecuador
×
Sign Up For Ecuador 2011 Emails
{/exp:mailinglist:form}
---
More to Explore
Kilimanjaro: Martin & Team Summit Kilimanjaro with 100%
August 2, 2011