---
Guide Shack: JJ Justman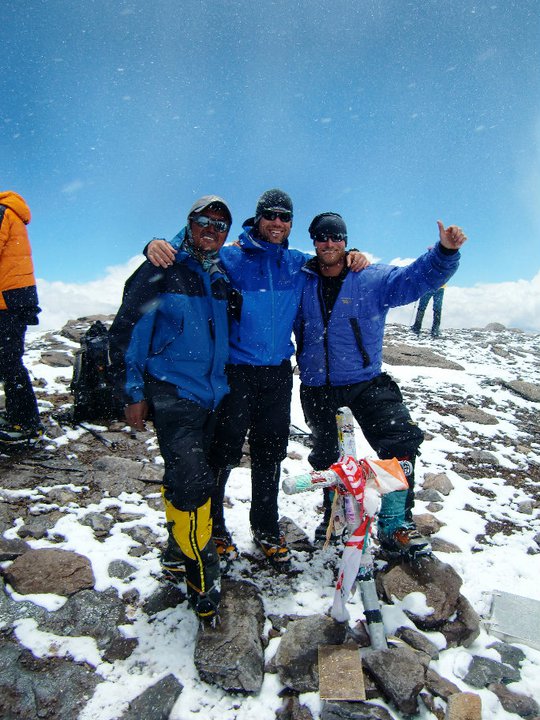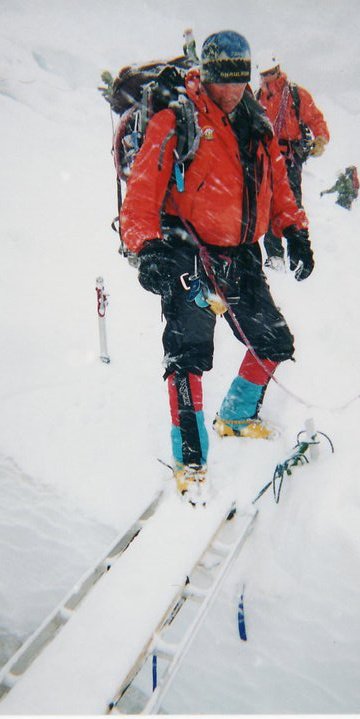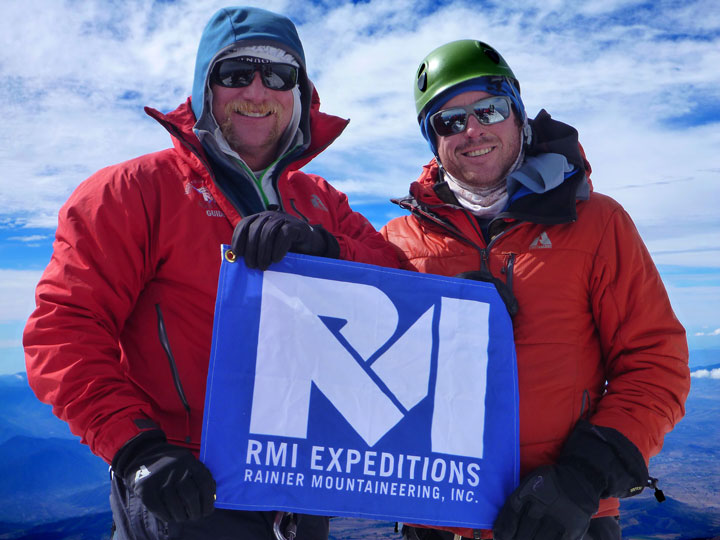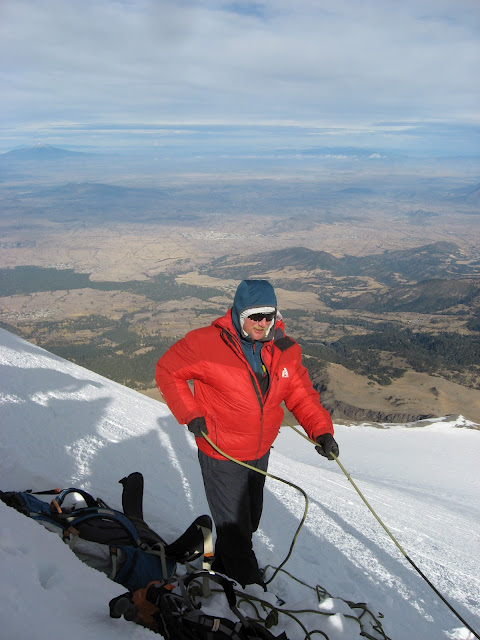 RMI Guide JJ Justman began guiding for RMI in 1998 and his climbing and guiding resume includes a long list of notable peaks from all corners of the world. We recently caught up with JJ to hear about his guiding career and his latest pursuits.
RMI: Where have you been climbing this winter?
JJ: This winter I have been climbing in a few of my favorite places. I first went down to Argentina to lead another expedition on South America's highest peak, Aconcagua. It was nice to stand on top at 22,841 feet and it was my 14th summit. Unfortunately I was only able to do one expedition there. Usually, I like to climb Aconcagua twice. Instead in February I returned to the States and led a Winter Expedition Skills Seminar on Mount Rainier. We had a great team of climbers and in the beginning the weather was fantastic. We made it up to Camp Muir on a beautiful day but in typical fashion, winter crept back in and it was nasty as ever. This may seem like a downer when on a climb but it's actually a lot of fun to be in that kind of weather. You end up learning a lot about how to survive in bad conditions. That winter expedition ended on a Friday and the next day I flew to Mexico to guide the Mexican Volcanoes Ixta and Orizaba, another favorite climb of mine. It had been awhile since I had been down to Mexico and I simply forgot not only how fun the climbing is but how amazing the food is. You don't know Mexican food until you've been to Puebla.
RMI: You've been guiding for the better part of two decades, what are a couple of highlights from your guiding career?
JJ: Boy, that is a great question. I have many highlights. The first is having guided on Rainier since 1998 pretty much day in and day out for the summer season. I have 188 summits but what I love is having shared those summits with literally over a thousand people. I love climbing Rainier so much for that reason. You are always climbing with new folks, many of whom are mountaineering for the first time. Another highlight has been my Himalayan career. I've climbed on 6 of the 14 8000 meter peaks. I did not summit on all of them. On the contrary. However, I've guided and led safe and successful expeditions in some rather inhospitable environments. Simply experiencing those landscapes is something that cannot be explained, you have to literally do it and see it for yourself to understand its beauty. Out of all the Himalayan expeditions I have done, Dhaulagiri, which is the seventh highest in the world stands out for me. It was 2002, my first Himalayan 8000 meter peak. It is a mountain not many people attempt and our small climbing team was the only expedition there that year. Talk about cool! It felt like we were the original explorers in that region to discover and attempt climbing the mountain. It was steep, the weather was relentlessly horrible and we tried to summit on three separate occasions. And every time the weather screamed at us "No". Regardless, we made it up just shy of the summit and our team was one of the greatest teams I have climbed with. A well knit group. I could go on and on but I'll stop it there. Those are a few of my highlights.
RMI: How has guiding changed for you over the years?
JJ: Guiding for me is like any other industry. Things change. Things evolve. For me, I have taken the attitude of being a life-long learner. Every year there are new tips, new tricks, new methods about short roping, anchors, crevasse rescue, and emergency medicine. I enjoy learning new ways to do things and most of the time I am learning these things from younger guides who are going through their own official education in guiding. I don't want to be the "old guy" who is stuck in the past thinking "my way is the best way". There is always something to learn. I've also been fortunate to be mentored by some of the best mountain guides in the world. And I find the most important skill a guide can have and often the most difficult to learn is the "soft skills" of communication. Great guides have great empathy. Personally I learned this on my summit of Everest in 2004. Coming back down off the summit I was utterly exhausted! And I remember thinking, "this is what my clients on Rainier feel like after making the summit!" I climb Rainier so much I am used to it but for someone who has never done it, well, they get exhausted. A good guide can empathize with their fellow climbers because we have all been there, we have all felt that uncomfortable pain of exhaustion. It's a bitter sweet aspect of standing on top of big mountains, whether it is Rainier, Denali, Aconcagua, or Everest.
RMI: You create some great short videos from your climbs, how did you get interested in creating those?
JJ: I became interested in making videos of my climbs because of the dispatches I used to do for my Himalayan climbs: it was fun to share photos and videos of the climbs. Families and friends of the climbers enjoyed seeing their loved ones and the environment they were in. On Rainier, one of the things guides would hear is about how people wish they would have taken more photos. Of course the main objective is to summit and climbers have enough to focus on. So I shoot video throughout the climb and then do a quick down and dirty edit and post the video for anyone to see on a Facebook Page called "The Guiding Life". For me, shooting video on a climb is just part of the job. My camera is connected to my ski pole so all I have to do is push a button so it doesn't distract from my main responsibilities of guiding. And people have really enjoyed and appreciated being able to see themselves in action on the mountain.
RMI: What do you enjoy most about being a mountain guide?
JJ: What I enjoy most about being a mountain guide is taking people into one of the most beautiful environments in the world. When you look at a mountain from down below like 99% of people do, they think it is beautiful. Spectacular even. However, when you stand up on that mountain looking down below, it is a completely different world. And it is amazing. Again, it is something you don't understand until you see it with your own eyes. In order to stand on any mountain's summit a person has to be tough. You must break through that mental barrier that says "I don't know if I can do this." Keeping climbers safe in an environment that can be dangerous and coaching them through tough situations to accomplish great things is what I love about guiding. For some folks climbing Rainier is the most unbelievable thing they have ever done. For some others they get the climbing bug and have to go higher. No matter what, I love sharing the raw power of just being in the mountains. Experiencing one of the most beautiful places you can be.
RMI: You've done over 15 Expeditions to Aconcagua, what advice do you have for climbers looking to climb South America's highest mountain?
JJ: To date, I have done 16 expeditions to Aconcagua, the highest mountain in South America. For many climbers, Aconcagua is the first real "expedition style" climb they do. So there is a little bit of learning you have to do, some subtle differences from a typical climb. One of the biggest obstacles people face is boredom. Expedition climbs like Aconcagua are all about patience. You have to have patience. You have to acclimatize properly, which means on days you are feeling great, you may have to rest and just take it easy. Weather will always come in and you will have to wait out a storm. You have to be patient. Again, it is the mental game that gets most people on climbs. You have to be tough. Tough beats Strong every time. And if you are tough and hang in there you will be rewarded with the most amazing view South America has to offer.
RMI: What does your upcoming climbing season look like?
JJ: My upcoming climbing season for 2012 is another whirlwind but I wouldn't have it any other way. I will be on Mount Rainier from beginning to end, May through September. However, I am excited to have a two week stint where I will be going back to Russia to guide Mount Elbrus. I am really looking forward to that climb because it is with some folks I have climbed with a lot all over the world. I missed that point when talking about what I enjoy most about guiding. I love developing friendships where over the years I get to share in more and more climbing experiences with the same people. After my tour in Russia and on Rainier I will be leading a Mexico's Volcanoes trip in October before I head back to Argentina in late November where I will be leading two expeditions on Aconcagua, one starting December 3 and the other starting January 2. It's still early in the game but there is already talk of the Himalayas, a place I always want to return to.
---
More to Explore