Posts for Guide News
Posted by: Elias de Andres Martos, Jake Beren, Geoff Schellens, Garrett Stevens | April 20, 2014
Categories: *Expedition Dispatches *Guide News
Elevation: 15,584'
Hello, this is the Dhaulagiri climbing team on Sunday, the 20th. First of all we want to apologize for the lack of communication, but we're having serious problems with our SAT phone and charger and we are trying to solve that problem. We are also saddened by the news that arrived to base camp here of the tragedy on Everest. We want to send our condolences to the community of the Sherpa involved in this tragedy. Our progress here on the mountain continues. We have been able to reach almost Camp 2. We have been very unlucky with the weather. Until right now we have been the only team on the mountain, but we were able to make a carry to almost Camp 2 and spend a few nights at Camp 1. Right now the weather looks like it is favorable to us and we are hoping to take a few days of rest and make some more progress up high, hopefully getting to Camp 2 or 3 in the next week or so. Getting ready for a future summit push around the beginning of May. So we'll keep you posted on that and we hope everybody is doing well. We'll try to keep you posted as much as we can with the limited communications that we have here. Regards to all from Dhaulagiri Base Camp.
RMI Guide Elias de Andres Martos

RMI Guide Elias de Andres Martos calls in from Dhaulagiri Base Camp.
---
Posted by: Geoff Schellens | April 15, 2014
Categories: *Guide News
With support from the Eddie Bauer - RMI Guide Grant, RMI Guide Geoff Schellens took part in an American Mountain Guides Association (AMGA) Ice Instructor Course this winter near Ouray, Colorado. Afterward, Geoff sat down and shared some stories from the course.
Ice climbing is a unique discipline of climbing, which poses specific challenges for the climber: ice fall, rock fall, specific equipment needs, over heating, becoming too cold, and avalanche hazards, just to name a few. Guiding ice climbing requires quite a bit of preparation, awareness, and technique to mitigate these challenges.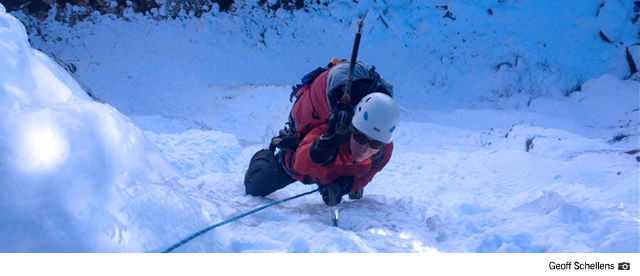 On the third day of my five-day AMGA Ice Instructor Course, we had planned to take two groups to Eureka, Colorado, to climb long multi-pitch ice routes. Avalanches from large snow bowls above threaten many of these routes, like the classic Stairway to Heaven. On this cold, crisp morning we encountered six inches of new snow, and after driving up to Red Mountain Pass we decided that the avalanche risk was too high and opted to go with our back up plan: climbing at Dexter Falls.
Dexter is just north of Ouray, Colorado, and offers excellent multi-pitch ice routes that are exposed to less avalanche hazard. Climbing Dexter Falls with two teams of three climbers posed new guiding challenges. Namely, avoiding knocking ice onto the climbers below. We chose to climb with both teams parallel to each other to protect against this. Parallel rope technique requires that the lead climber is thoughtful about where both following climbers will be ascending. The goal to keep them on slightly separate routes, allowing any loose ice to fall without risking injury to either climber.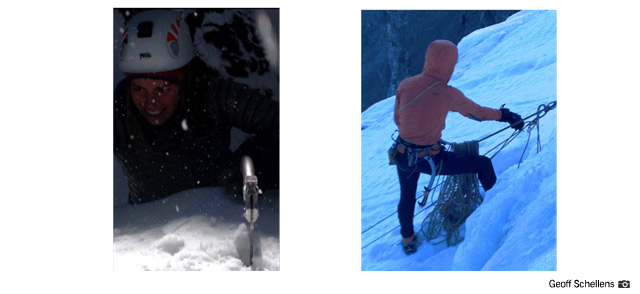 The climbing was fun and we topped out having done it in a safe manner. Climbing ice in Ouray, Colorado, or anywhere for that matter, is easy and enjoyable after acquiring a relatively straightforward skill set.
I hope you enjoy the photos!
____
Geoff Schellens is a senior guide for RMI Expeditions, leading trips in Argentina, the North Cascades, Alaska, and Colorado. Geoff is currently climbing Dhaulagiri, an 8,000 meter peak in the Himalayas. See more of Geoff's mountain photography on his website The Exposed Edge.
---
Posted by: Elias de Andres Martos, Jake Beren, Geoff Schellens, Garrett Stevens | April 12, 2014
Categories: *Expedition Dispatches *Guide News
Elevation: 15,584'
Hello, this is Dhaulagiri climbing team on Saturday, April 12th. We have come back to base camp. We had made a move to Camp 1 and spent last night up there. We were forced to move down because of the bad weather. However that was pretty much the plan after moving up there and caching some gear and spend at least a night for acclimatization. We have about a foot of snow at base camp and we got about 1 1/2 feet at Camp 1 last night. Looks like the trend is going to be like that for the next couple of days and we are going to wait it out down here. We'll keep you posted on the move. So far the "mountain of storms." We will see what happens. Hope everyone is doing well and we'll check in later.
RMI Guide Elias de Andres Martos
---
Posted by: Ben Liken, Paul Maier | April 11, 2014
Categories: *Guide News
RMI is hosting several Prep for Rainier classes over the months of February, March, and April at local REI stores in the Puget Sound area. Join RMI's experienced guides to discuss everything that is needed to prepare for Mt. Rainier, including conditioning, trip planning, route selection, and equipment selection to climb Washington State's highest point!
Come out to your local REI store to hear stories and answer your questions about Mt. Rainier!
---
Posted by: Elias de Andres Martos, Jake Beren, Geoff Schellens, Garrett Stevens | April 10, 2014
Categories: *Expedition Dispatches *Guide News
Elevation: 15,584'
Hello, this is the Dhaulagiri climbing team calling from basecamp on Thursday, the 10th of April. We have been here now for a few days. We made some progress on the mountain. We've moved a couple of caches almost to Camp 1. We have had a few peeks of the mountain, in between a couple of severe storms that have fallen upon us. We were pretty close and a move to Camp 1 has been made. The four of us have acclimatized to that elevation, and we will try to push out there tomorrow and spend a couple of nights. The weather forecast looks favorable to us for the next couple of days. The weather here has been a little weird with really clear mornings and snowstorms pretty much every afternoon, so that has been a little interesting. We are enjoying ourselves pretty well here. Everybody is very healthy and in good spirits. We'll try to make some progress and spend our first night at altitude. We'll keep you posted with more once we make that move. We hope you are all doing very, very well. Regards from Nepal.
RMI Guide Elias de Andres Martos
---
Posted by: Elias de Andres Martos, Jake Beren, Geoff Schellens, Garrett Stevens | April 02, 2014
Categories: *Expedition Dispatches *Guide News
Elevation: 12,139'
Hello this the Dhaulagiri team. We are at the end of our fifth day of our approach to base camp at a location called Italian Camp. We are roughly at 3,700 meters. Everything has been pretty good so far. We have had really good weather on the approach. A couple of snow storms at night. The sunshine at this camp is baking us right now. We are about to have a pretty good meal here. We would like to share also that on the approach, we had a really cool encounter in one of the villages. We shared some of the supplies that we gathered over the last year from supporters who have been pitching in to bring us here. So that was really neat to share these items with a village on our way to Dhaulagiri. Everything is well like I said. We have about two or three more days to get into Base Camp from where we will be checking in once we arrive. So we hope all is well and we will keep you posted. Bye.
RMI Guide Elias de Andres Martos
---
Posted by: Elias de Andres Martos, Jake Beren, Geoff Schellens, Garrett Stevens | March 27, 2014
Categories: *Expedition Dispatches *Guide News
Namaste!
The 2014 Dhaulagiri team has reunited in Kathmandu after the three waves in which all of us arrived. With the last minute of extra food shopping done, we had the mandatory briefing at the ministry of tourism this morning and paid a special visit to Ms. Hawley, the "bookkeeper" of Himalayan climbing. She helped us understand this endeavor even better with some statistics pertinent to our team: among our nationalities, only 14 Americans (2 women) and 28 Spaniards have summited on this mountain with just 300 total ascents. Really exciting!
Tomorrow we fly early morning to Pokhara, and then a six-hour drive will take us to Darbang. This is the trailhead to our week-long approach to base camp. We'll check in next from the trails!
RMI Guide Elias de Andres Martos
---
Posted by: | March 04, 2014
Categories: *Guide News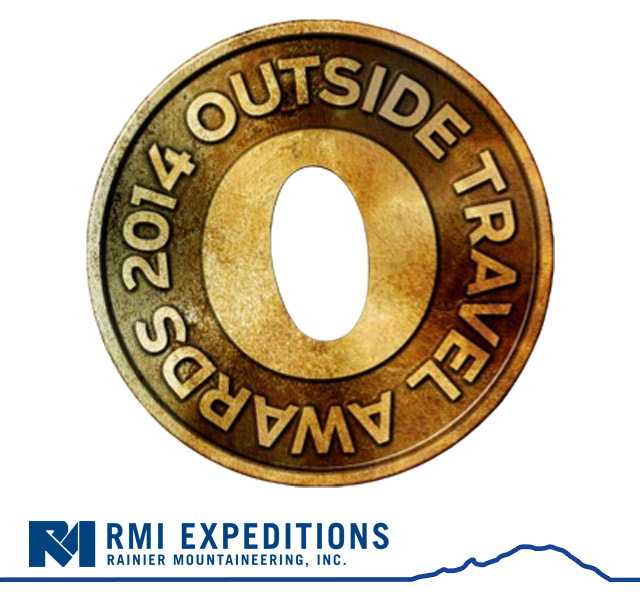 RMI Expeditions is pleased to be honored as Outside Magazine's 2014 Best Outfitter! Outside selected RMI out of dozens and dozens of travel companies to be the recipient of this year's award, recognizing our incredible guide staff, exciting mountain adventures, and dedication to responsible climbing.
"We are honored to receive Outside Magazine's Best Outfitter for 2014. At the heart of our trips stand the incredibly talented guides who lead our adventures. With great passion, experience, and skills, our guides strive to make every trip an exciting and meaningful experience," said Peter Whittaker, guide and owner of RMI Expeditions.
We owe a big "Thank You!" to all of the climbers who have joined us on adventures over the years and our outstanding guides. We look forward to more climbs to come!
Read Outside's Article and see the complete list of Travel Awards winners at www.outsideonline.com/adventure-travel/travel-awards/2014-Travel-Awards-Best-Outfitter or in the April Issue available March 18th.
Read the official Press Release below:

RMI Expeditions honored by OUTSIDE Travel Awards 2014

Ashford, WA (March 4, 2014) –OUTSIDE, America's leading active lifestyle brand, has selected RMI Expeditions as an honoree of their annual Travel Awards, which celebrate the top destinations, companies, products, and travel providers—in the U.S. and around the world—that inspire people to participate in an active lifestyle. RMI Expeditions was honored as Best Outfitter. The entire list of honorees appear in OUTSIDE's April issue (on newsstands March 18), and online at www.outsideonline.com/travelawards.


This year, OUTSIDE tapped its global network of correspondents, who traveled across America, to Belize, Switzerland, Italy, and beyond, identifying the best new adventures, stunning lakes, gorgeous new lodges and hotels, family vacations, secret getaways, high-tech airports, and foodie hotspots. The result is more than 50 spectacular trips, plus the best travel apps, tour guides, gear, tips for traveling green, and advice for traveling solo.


"We are honored to receive Outside Magazine's Best Outfitter for 2014. At the heart of our trips stand the incredibly talented guides who lead our adventures. With great passion, experience, and skills, our guides strive to make every trip an exciting and meaningful experience," said Peter Whittaker, guide and owner of RMI Expeditions.


"Whether you're looking to go big for an expedition, splurge on a luxurious paradise, or plan an epic family trip, OUTSIDE has unearthed fifty travel gems that will inspire you to renew that passport," said OUTSIDE Editor Chris Keyes. 

RMI Expeditions, based at the foot of Mt. Rainier in Ashford, WA, leads treks, climbs, and expeditions around the world, from Mt. Rainier to the the Himalaya. Established in 1969, RMI has built a 45 year legacy of leading exceptional mountain adventures catering to climbers of all abilities. RMI's guides are some of the most accomplished mountaineers and mountain guides in the world, including Ed Viesturs, Dave Hahn, Peter Whittaker, and Melissa Arnot. Every RMI trip is carefully vetted and planned by RMI's guides and climbers receive extensive pre-trip support from the guides and staff before heading to the mountains. RMI's exceptional leadership, focus on safety, personal attention, and dedication to climbing responsibly distinguish RMI as a leader in the mountaineering world.
The complete list of Travel Awards winners will be featured in the April issue of OUTSIDE, available March 18, and online at www.outsideonline.com/travelawards.
.

About RMI: RMI Expeditions (Rainier Mountaineering, Inc) is one of America's most reputable and long-standing guide services with over 45 years of mountain guiding experience. An American Mountain Guides Association (AMGA) accredited guide service specializing in mountaineering expeditions, alpine climbing, trekking and ski touring programs, RMI is committed to leading exceptional mountain adventures.
About OUTSIDE: OUTSIDE is America's leading active lifestyle brand. Since 1977, OUTSIDE has covered travel, sports, adventure, health, and fitness, as well as the personalities, the environment, and the style and culture of the world Outside. The OUTSIDE family includes OUTSIDE magazine, the only magazine to win three consecutive National Magazine Awards for General Excellence, The Outside Buyer's Guides, Outside Online, Outside Television, Outside Events, Outside+ tablet edition, Outside Books, and now Outside GO, a revolutionary, 21st-century adventure-travel company. Visit us online and on Facebook, and follow us on Twitter.
---
Posted by: Jason Thompson | February 08, 2014
Categories: *Guide News
I spent over a decade working as a mountain guide and many days I found myself working in very cold environments, often for weeks at a time. I carried my camera on all of these trips. One of the coldest places I worked was on Denali in Alaska while working for RMI. During those expeditions, climbers often had questions about using cameras in these cold environments. Here are a few tips that I shared with them:
1. Keep multiple batteries available. Keep them close to your body. Sleep with them. If you're not going to be using your camera for long periods of time take the battery out so that it stays warm and it's ready to go.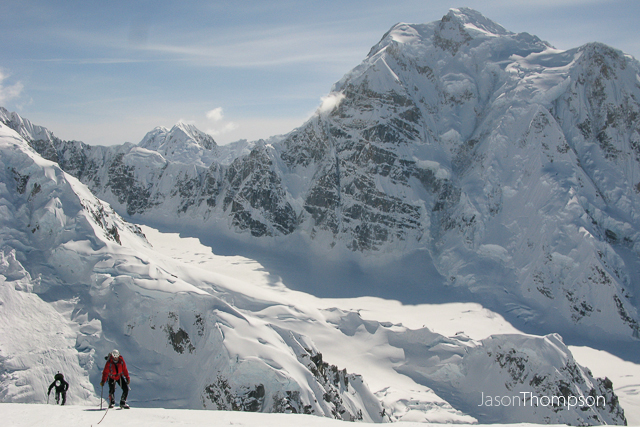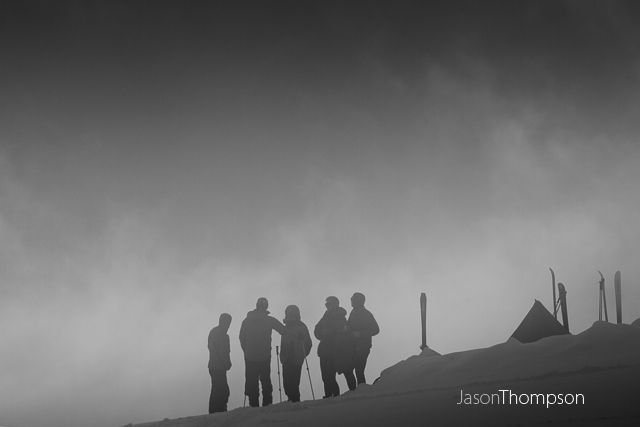 2. Remember that if you bring your cold camera into a warm room that condensation will rapidly fog the glass in your lens. I have found that if I bring my camera into my tent its usually not enough of a temperature gradient to cause condensation.
3. The solar kits these days are very affordable, compact, light and you would be surprised at how much charge they will provide even if it's snowing. Check out the Goal Zero kits, they will have whatever you could possibly need.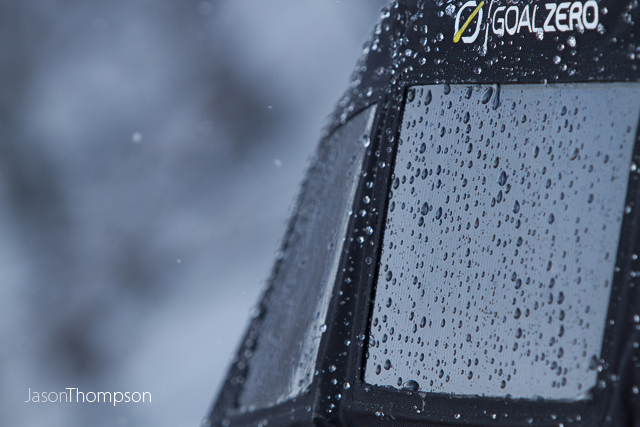 4. Camera technology changes rapidly. One major advantage of the new technology is the size of the cameras available these days offer very high performance while being slightly bigger than your iPhone. A couple of cameras that I have had success with for a pretty good dollar value are the Sony RX-100 and the Canon s100. They are sleek cameras that will fit in your pocket comfortably. Of course one thing to consider in the colder environments is that using the LCD screen will use more battery juice. Having a viewfinder like the Nikon Coolpix 7800 will provide longer battery life.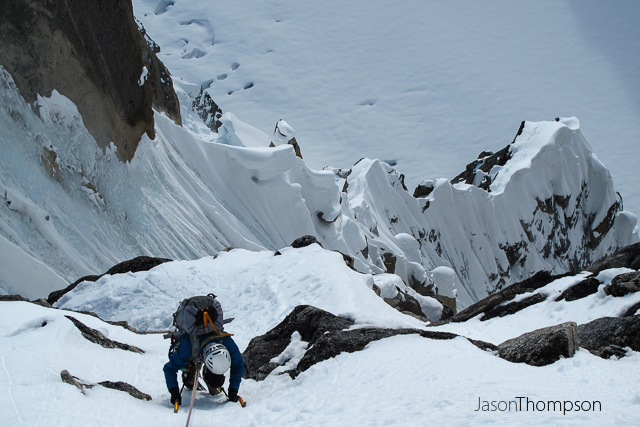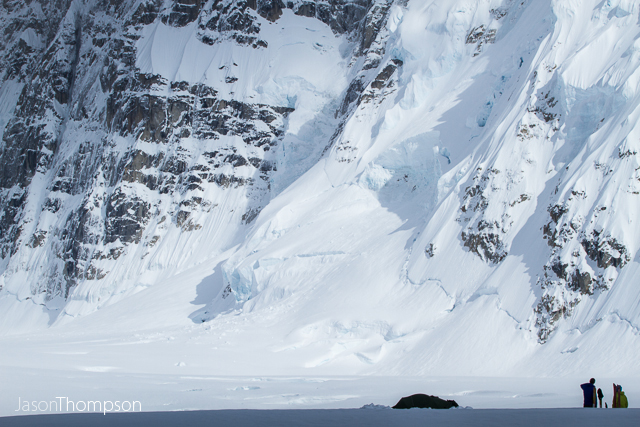 5. Keep your camera handy. The more accessible your camera is, the more images you will capture. I typically will carry my camera clipped to my backpack shoulder strap about chest height and tether it to a small locking carabiner. That way even if I drop it I will not lose it.
6. Safety first. Mountaineering is a team sport. You're tied in with other people. Just because you see a picture that you have to take right then don't forget that it's your responsibility to make sure its safe to capture that picture. Communicate with your teammates.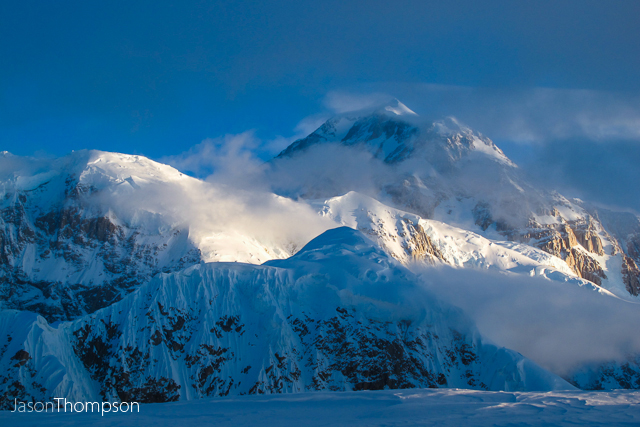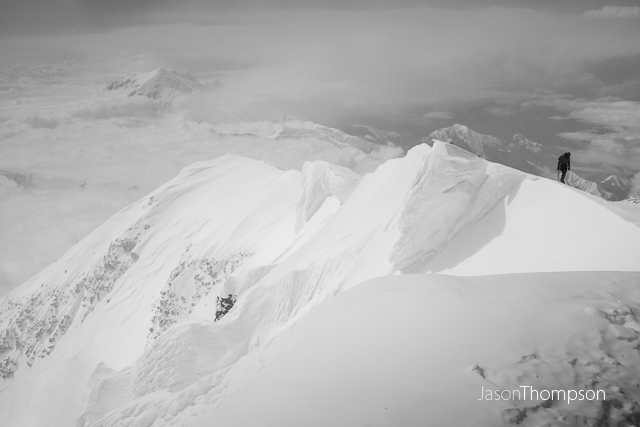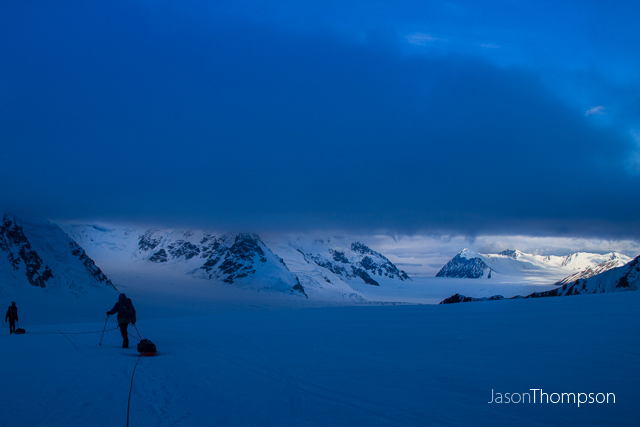 7. Shoot details. Shoot unique angles. Shoot to tell the story. Simply, just dropping to a knee for a different angle will improve your image.
8. IPhones make amazing images. I just recently picked up this iPhone case and modified it by drilling 2 small holes in the side of the case and installed a short tether.
9. My light and fast alpine style camera kit includes the Sony DSC-RX100, Joby Gorilla pod (be gentle with these in really cold environments as they can be fragile), a Hahnel Giga T Pro II Wireless Remote, Sandisk 32GB SD card x2, 1 ziplock bag, 1 dust cloth for the lens and the Lowpro Portland 30 case. This comes in at about just over 3lbs.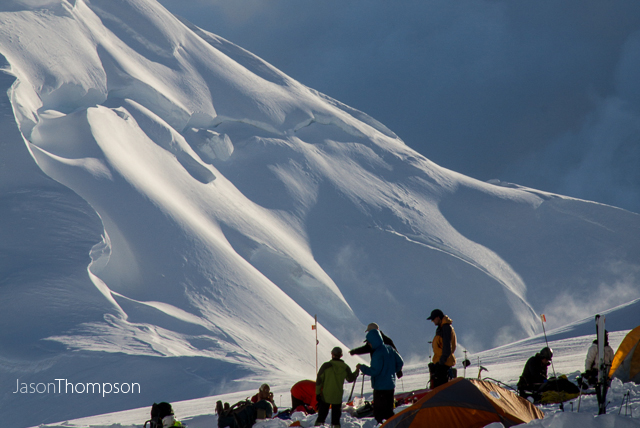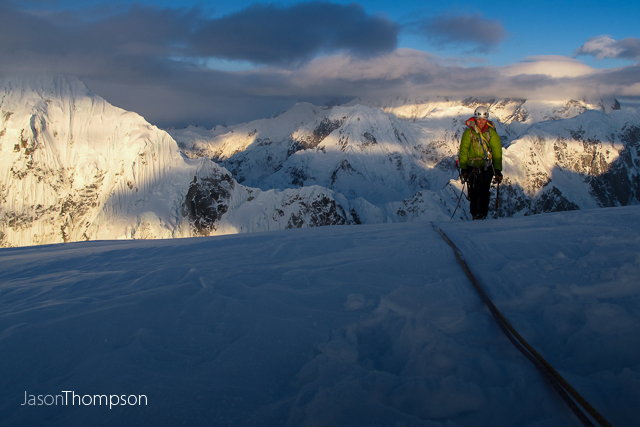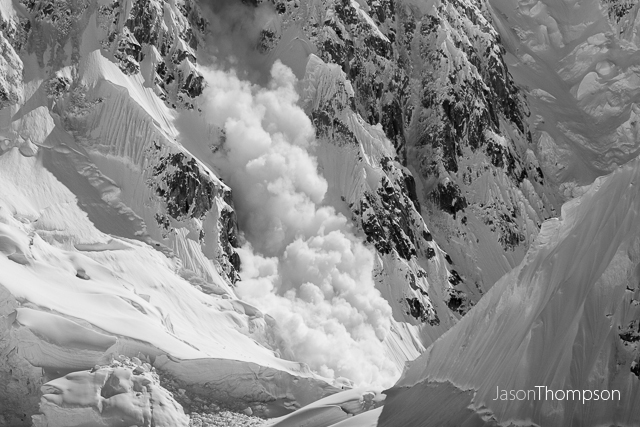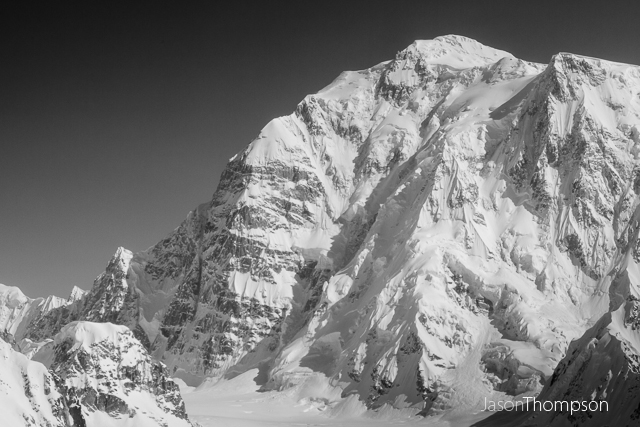 _________
Jason Thompson is a Senior Guide at RMI Expeditions and a renowned photographer. He has traveled the world to places such as Alaska, Patagonia, and the Caucasus Mountains leading climbs and documenting mountain adventures through his camera lens. See his work on www.jthompsonphotography.com. Jason's recent videos include the 2013 Reel // Artist Statement and Wrangelled, which was nominated for a Coldsmoke Award. Follow Jason on Instagram at @_jt_photo.
---
Posted by: Ben Liken | January 02, 2014
Categories: *Guide News
This past November I and several other RMI guides had the opportunity to further hone our guiding skills by participating in the American Mountain Guides Association (AMGA) Rock Instructor Course (RIC). I decided that after five years in the industry it would be enlightening to gain a perspective into this organization and put myself in the position of a student. The RIC is designed to create a foundation for guides looking to pursue a certification in the rock or alpine realm and is a prerequisite for many other AMGA courses. The program was set up as a contract course by RMI and was partially funded by the Eddie Bauer/First Ascent guide grant which kept the tuition costs low and excitement high.
The course took place in the world renowned climbing area of Red Rocks; just outside of the world renowned capital of partying and gambling, Las Vegas, NV. Red Rocks is formed out of beautiful Aztec sandstone that was left behind by sand dunes 180 million years ago in an environment much like today's Sahara Desert. With relatively short but, often complex, approaches and descents to long classic routes this is the ideal place to learn and play. The available climbing ranges from short sport climbs to 2500' big wall routes, however, this course focused on guiding in class 4 terrain and traditionally protected routes to the 5.9 level.
Most of us arrived at least a few days early to prepare for the course and get used to the rock; climbing Washington state granite, Bozeman ice, or glaciers on Mount Rainier doesn't always prepare you for long lines on soft sandstone. I arrived one week early and was thoroughly psyched to leave the soggy sight of the Puget Sound for a sun soaked desert. I quickly found myself back in the rock climbing culture at the local BLM campground, with campfires and some mellow acoustics at night as well as the blow torch sound of a propane stove firing in the morning. It was early to bed and early to rise for the next few weeks to maximize the limited winter light. The sun rose at 6:30 am but left us by 4:15 pm. After 6 great days of climbing and several months of preparation, I was ready to start the course.
It was a crisp Sunday morning and we were all up extra early to make sure our gear was in order and looking good. We had received a rather detailed itinerary via email and a few phone calls before the course but still were not sure exactly what to expect at the Red Springs picnic area that morning. For most of us this was our first experience with the AMGA and none of us had taken a "guide track" program before. I had heard that it was going to be serious and to go in prepared, which led me to have questions like "what will these instructors be like? And expect of us?" "Does my hair look okay?" "How much am I really going to learn?" Upon arrival it was the classic first time meet up. Overall pretty quiet with a few light conversations, introductions, and of course a lot of sipping coffee. At 8 o'clock sharp we began and the mood eased exponentially over the day; by 2pm there were dirty jokes being thrown around. The three instructors were not out to judge or be hardcore; they were clearly there to mentor because they love guiding.
The first part of the RIC was used to make sure we were all on the same page with the basics and begin to learn a few more advanced skills we would need later in the week. By the end of the second day it was becoming clear that some foul weather was in store, so we decided to get on the rock and start tugging as soon as possible. Over the next two and a half days we split into teams of four and got in well over 1000 vertical feet of climbing on a few classic routes. Our management of three ropes and four people on a hanging belay quickly went from obnoxiously poor to…….well…..not half bad. The stoke was high, and we were all excited to be learning from and climbing with some of the best guides in the business. As I was two pitches up on the four pitch "Big Bad Wolf", I looked over my shoulder and saw huge bands of rain pummeling Las Vegas in the valley below. We made the hasty call to link the last two pitches and bring a few ropes at a time to finish the climb before the rain hit us. As the last climber was cresting the top I felt the first drop hit my forehead. We continued with a crash course in short roping off the backside. As the dust turned to mud before my eyes I couldn't have known that the climbing portion of the course would be over. We were in the desert, right?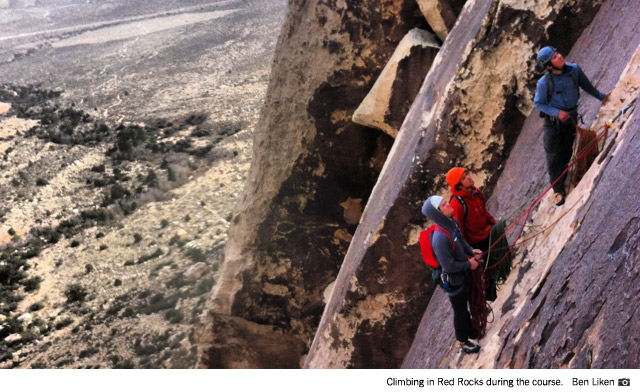 Over the next three days we practiced and perfected rescue and rope skills as the rain fell nonstop all around the pavilion we were under. It was fun to focus purely on the timed drills and creating one handed hitches as they were called out. Looking out we could see the rock getting wetter than it had been in months. The sandstone in Red Rocks is porous and thus absorbs water like a sponge. Even in the warmest months the rock needs 24-48 hours to dry after a soaking rain and we had a lot of soaking rain with cool temps and low sun. The issue with climbing on the damp rock was not going to be its slipperiness but rather the danger of holds breaking and a leader falling onto protection in that same type of rock that just broke. As the sun rose for the last three days of the course we had to turn down perfect climbing weather because of poor route conditions. I sympathized with the climbers I work with on Mount Rainier: they come from across the country after months of training, time, and money spent, only to be shut down by avalanche hazard or icy conditions on a beautiful, sunny day. All was not lost however; we were able to learn and practice new skills in the horizontal plane, on very sunny aspects, and in steep off trail terrain. We agreed that we learned just as much if not more in this manner than we would have high on the rock.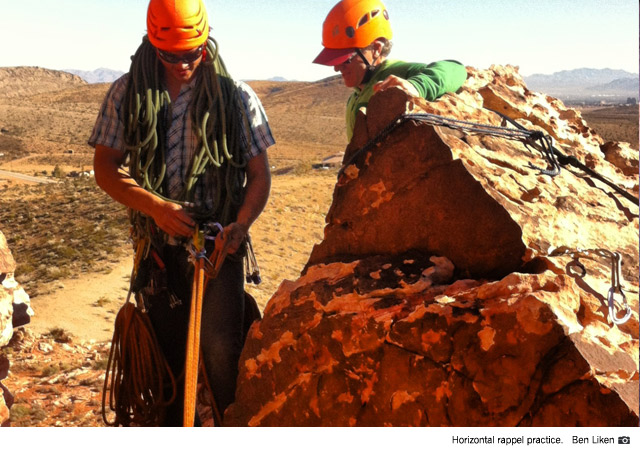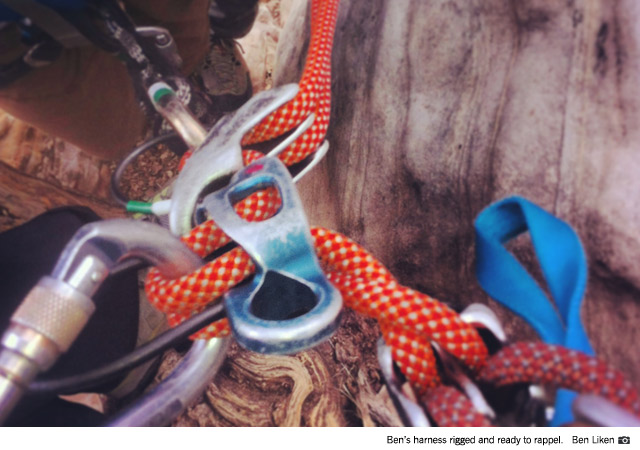 This was my first AMGA experience and it could not have been a better one. It solidified many skills that I can put to use in my current guiding and climbing. It was a great opportunity to develop myself in my profession and has opened the door for more courses and certifications. These courses and certifications are not required for guiding in the United States and many great guides are fully qualified through experience. This program and others offered by the AMGA however, get guides on the same page and forces us to be the best we can be, whether it be on Red Rocks sandstone, Mount Rainier Glaciers, or a remote peak in the Andes. Thanks to RMI, Eddie Bauer/First Ascent guide grant, and all the guides on the course for making this possible. Climb On!
---
More Entries