Posts for Guide News
Posted by: | June 13, 2014
Categories: *Guide News *Kilimanjaro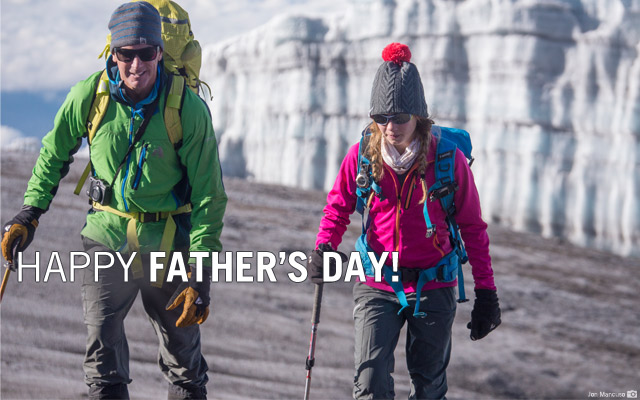 Happy Father's Day! See the video of Peter Whittaker's climb of Kilimanjaro, Africa's tallest mountain, with his daughter Gabriella and on sharing the experience of the mountains, presented by Eddie Bauer/First Ascent.
Whittaker Father-Daughter Kilimanjaro Climb from Eddie Bauer on Vimeo.
---
Posted by: Alex Van Steen | May 21, 2014
Categories: *Guide News *Responsible Climbing
Yesterday, RMI Guide Alex Van Steen joined a host of other local professionals at Columbia Crest STEM School's First Annual STEM Career Fair. The presenters who were invited to speak tied their professions directly into the fields of science, technology, engineering and mathematics and encouraged the approximately 125 first through sixth grade students to see the connection between what students were learning in the classroom and what knowledge and skills professionals required in their careers.
The presenters included geologists, meteorologists, naturalists, biologists, veterinarians, computer programmers, science librarians and a variety of other environmental educators. While Alex tied his roles in environmental management, human resources management, and job place safety to the STEM program, the truly exciting part for the students came when they had the opportunity to put hands on all the climbing and mountaineering gear used for the mountain climbing demonstration. Students crawled around in tents and into -30 sleeping bags, saw short demonstrations of how camming units and pitons (yes, pitons!) worked, and some students even donned an 8,000 meter down suit. Big smiles, lots of questions and fun learning!
---
Posted by: Elias de Andres Martos, Garrett Stevens, Geoff Schellens, Jake Beren | May 06, 2014
Categories: *Expedition Dispatches *Guide News
Hello Everybody,
This is the Dhaulagiri Climbing Team we are calling here from Base Camp. We have to let you know that unfortunately there was no summit for us. As we have said in recent blogs the weather has been pretty bad for us. We have had a lot of snow and we had to turn around at the very last day. We have a few member of the team at Camp 3 and had a decent chance at a summit push, but conditions were no good.
We are currently at Base Camp and will start to hike down tomorrow, and we should be back in Kathmandu in four or five days and we will try to write down details to wrap up our expedition. We have worked very hard and have been the first the first team on the mountain and the one that got the highest. It will be neat to see everybody follow in our steps all the time going up and down the mountain. Like I said, we had a ton of snow breaking trail was very difficult and we made it as high as we could. Other than that everybody is doing pretty well, and we are very satisfied with our work. Again, we were a team going unsupported and did everything on our own. Getting to where we got with day in and out snowstorms dumping up to three to four feet of snow, the work wasn't easy. We are pretty proud of what we have done.
We want to thank everybody for their support given to us, and we hope everything is going well back home. We will touch base from Kathmandu in a few days.
Thanks Everybody! Talk to you all soon!
RMI Guide Elias deAndres Martos

Dhaulagiri Team Checking In.
---
Posted by: Elias de Andres Martos, Garrett Stevens, Geoff Schellens, Jake Beren | April 29, 2014
Categories: *Expedition Dispatches *Guide News
Elevation: 15,584'
The Dhaulagiri team called the RMI Office this morning to check-in. Here is a summary of our conversation:
First and foremost, everyone is healthy and in good spirits. The weather forecast is calling for more of the same—gorgeous, clear mornings followed by afternoon snowstorms. They are refusing to let the plethora of new snow dampen their spirits. A new team has arrived at base camp and everyone is enjoying the new company. The team is getting ready to head to bed for the night. In the morning they will begin heading uphill to get into position for their summit attempt.
The team sends their love to everyone following along! They will keep us posted on their upward progress.
---
Posted by: Elias de Andres Martos, Garrett Stevens, Geoff Schellens, Jake Beren | April 28, 2014
Categories: *Expedition Dispatches *Guide News
Hello,
This is the Dhaulagiri Climbing Team and once again we wanted to apologize for the lack for the lack of communication, but as we said before we have been having a few problems with the satellite "sat" phone. But, right now we can send a dispatch.
We have been discovering the worst weather that we have ever witnessed. This Himalayan peak is pretty much keeping us working really, really hard. We are getting snow storms every day. The only time we have not had afternoon storms have been when we have all day storms! But, that hasn't kept us from climbing. The last two days we have been working very hard being the only team on the mountain breaking trail to establish Camp 2. In the next few days we are going to be looking at the route between Camp 2 and Camp 3 which is one of the hardest parts of the climb. If that is a go we'll have a summit bid.
Like I said, we have been receiving anywhere from a foot to two feet of snow every other afternoon and it has made our job hard. A couple of other teams have arrived, but they are not as ambitious to work up high yet. We are not going to quit until our plane leaves. We have a little bit less than 10 days here to make it happen. We have a really good weather forecast and will keep our fingers crossed that we are going to have a shot at it.
So if the sat phone keeps working for us we will keep you posted as much as we can. So please keep your fingers crossed for us. This is Dhaulagiri and we hope you all take care. We hope to communicate good news soon!
RMI Guide Elias deAndres Martos
---
Posted by: Alex Van Steen | April 25, 2014
Categories: *Guide News *Responsible Climbing
Long-time RMI Guide, Alex Van Steen, visited a local second grade classroom at Columbia Crest STEM School as part of RMI's Community Outreach program. STEM schools, a relatively new concept in Washington State, have a distinct emphasis on hands-on learning and the integration of science, technology, engineering and math into student lessons. RMI has partnered with Columbia Crest STEM to bring our mountaineering experiences right into the classroom. With Alex, the second graders studied the essential question, "What causes a volcano to erupt?" Students thoroughly enjoyed the lesson and learned ways to explain and create their own shield, composite, cinder cone and caldera volcanoes!
---
Posted by: Elias de Andres Martos, Jake Beren, Geoff Schellens, Garrett Stevens | April 20, 2014
Categories: *Expedition Dispatches *Guide News
Elevation: 15,584'
Hello, this is the Dhaulagiri climbing team on Sunday, the 20th. First of all we want to apologize for the lack of communication, but we're having serious problems with our SAT phone and charger and we are trying to solve that problem. We are also saddened by the news that arrived to base camp here of the tragedy on Everest. We want to send our condolences to the community of the Sherpa involved in this tragedy. Our progress here on the mountain continues. We have been able to reach almost Camp 2. We have been very unlucky with the weather. Until right now we have been the only team on the mountain, but we were able to make a carry to almost Camp 2 and spend a few nights at Camp 1. Right now the weather looks like it is favorable to us and we are hoping to take a few days of rest and make some more progress up high, hopefully getting to Camp 2 or 3 in the next week or so. Getting ready for a future summit push around the beginning of May. So we'll keep you posted on that and we hope everybody is doing well. We'll try to keep you posted as much as we can with the limited communications that we have here. Regards to all from Dhaulagiri Base Camp.
RMI Guide Elias de Andres Martos
---
Posted by: Geoff Schellens | April 15, 2014
Categories: *Guide News
With support from the Eddie Bauer - RMI Guide Grant, RMI Guide Geoff Schellens took part in an American Mountain Guides Association (AMGA) Ice Instructor Course this winter near Ouray, Colorado. Afterward, Geoff sat down and shared some stories from the course.
Ice climbing is a unique discipline of climbing, which poses specific challenges for the climber: ice fall, rock fall, specific equipment needs, over heating, becoming too cold, and avalanche hazards, just to name a few. Guiding ice climbing requires quite a bit of preparation, awareness, and technique to mitigate these challenges.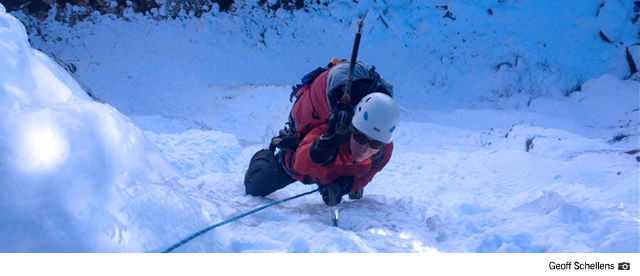 On the third day of my five-day AMGA Ice Instructor Course, we had planned to take two groups to Eureka, Colorado, to climb long multi-pitch ice routes. Avalanches from large snow bowls above threaten many of these routes, like the classic Stairway to Heaven. On this cold, crisp morning we encountered six inches of new snow, and after driving up to Red Mountain Pass we decided that the avalanche risk was too high and opted to go with our back up plan: climbing at Dexter Falls.
Dexter is just north of Ouray, Colorado, and offers excellent multi-pitch ice routes that are exposed to less avalanche hazard. Climbing Dexter Falls with two teams of three climbers posed new guiding challenges. Namely, avoiding knocking ice onto the climbers below. We chose to climb with both teams parallel to each other to protect against this. Parallel rope technique requires that the lead climber is thoughtful about where both following climbers will be ascending. The goal to keep them on slightly separate routes, allowing any loose ice to fall without risking injury to either climber.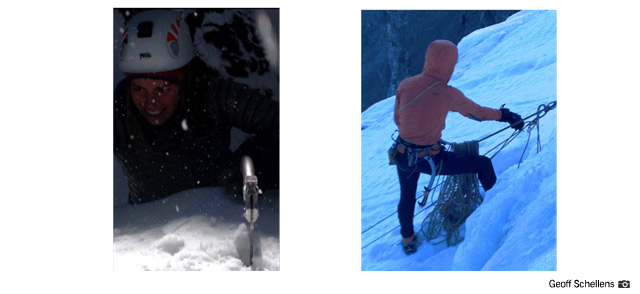 The climbing was fun and we topped out having done it in a safe manner. Climbing ice in Ouray, Colorado, or anywhere for that matter, is easy and enjoyable after acquiring a relatively straightforward skill set.
I hope you enjoy the photos!
____
Geoff Schellens is a senior guide for RMI Expeditions, leading trips in Argentina, the North Cascades, Alaska, and Colorado. Geoff is currently climbing Dhaulagiri, an 8,000 meter peak in the Himalayas. See more of Geoff's mountain photography on his website The Exposed Edge.
---
Posted by: Elias de Andres Martos, Jake Beren, Geoff Schellens, Garrett Stevens | April 12, 2014
Categories: *Expedition Dispatches *Guide News
Elevation: 15,584'
Hello, this is Dhaulagiri climbing team on Saturday, April 12th. We have come back to base camp. We had made a move to Camp 1 and spent last night up there. We were forced to move down because of the bad weather. However that was pretty much the plan after moving up there and caching some gear and spend at least a night for acclimatization. We have about a foot of snow at base camp and we got about 1 1/2 feet at Camp 1 last night. Looks like the trend is going to be like that for the next couple of days and we are going to wait it out down here. We'll keep you posted on the move. So far the "mountain of storms." We will see what happens. Hope everyone is doing well and we'll check in later.
RMI Guide Elias de Andres Martos
---
Posted by: Ben Liken, Paul Maier | April 11, 2014
Categories: *Guide News
RMI is hosting several Prep for Rainier classes over the months of February, March, and April at local REI stores in the Puget Sound area. Join RMI's experienced guides to discuss everything that is needed to prepare for Mt. Rainier, including conditioning, trip planning, route selection, and equipment selection to climb Washington State's highest point!
Come out to your local REI store to hear stories and answer your questions about Mt. Rainier!
---
More Entries