---
Everest Basecamp Trek and Island Peak Climb: Gorak Shep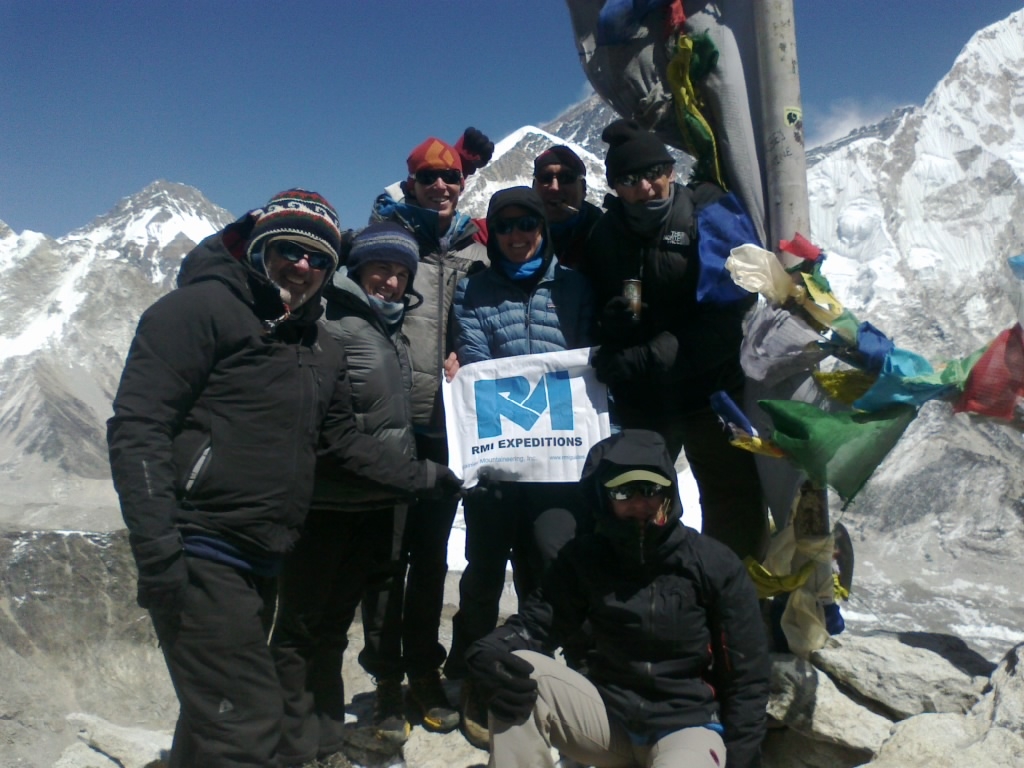 The group was up early this morning, despite encountering the coldest temperatures of the trip thus far - our water bottles lightly icing up even in the teahouse. However, we quickly shook off the cold within a few minutes of starting off, warming up as we walked out of Lobuche. An hour's walk brought us to the edge of the Khangri Glacier, a tributary flowing into the main Khumbu Glacier just to our side. We climbed up the moraine of the Khangri and began the weaving traverse over its rock strewn surface, climbing up and down over the uneven terrain. Part way through we reached a high point and we're treated to fantastic views further up the valley, even catching glimpses of the tents at Everest BC.
By late morning we reached our teahouse at Gorak Shep, the last cluster of buildings before BC. We paused for a cup of tea and after refilling our bottles we set out to climb Kala Patar, a rocky outcropping that sits across the valley from Everest. The team climbed very strongly, the benefits of our acclimatization over the past ten days clearly visible, and within a couple of hours we reached Kala Patar's prayer flag strewn summit. At 18,500' Kala Patar has phenomenal views looking down over Everest BC and the Khumbu Icefall as well as to its summit, the Hillary Step, South Summit, South Col, and part of the Lhotse Face. In addition to Everest, we could see over the Lho La Pass to Changatse in Tibet as well as south down the valley, picking out the peaks of Tamserku, Katenga, and Ama Dablam which we walked past earlier.
Despite the clear skies and amazing views the winds were blowing strongly and we were forced to raise our voices to be heard over the fluttering prayer flags. The temperature was quite cold with the wind and before too long we set off back down the trail, returning to Gorak Shep where a late lunch of soup and tea helped rewarm us.
We've spent the remainder of the afternoon relaxing in Gorak Shep. We had a great day and are thrilled to have had such great weather and views from Kala Patar. Tomorrow we cover the final stretch to Everest Base Camp where we will spend a couple of nights sleeping on the ice in RMI's Everest Expedition camp. We will check in tomorrow from BC.
RMI Guide Linden Mallory
×
Sign Up For Everest BC Trek 2011 Emails
{/exp:mailinglist:form}
---
More to Explore