---
Mt. Everest Expedition: Climbing through the Khumbu Ice Fall to Camps 1 and 2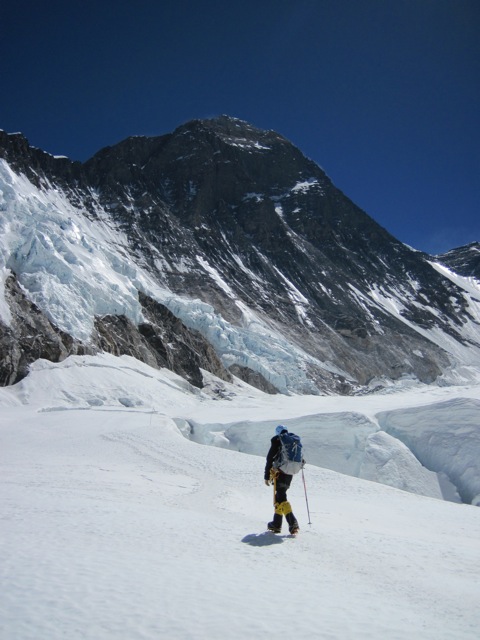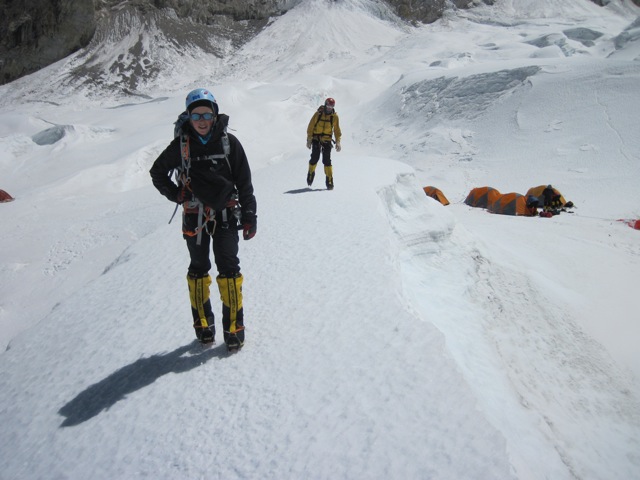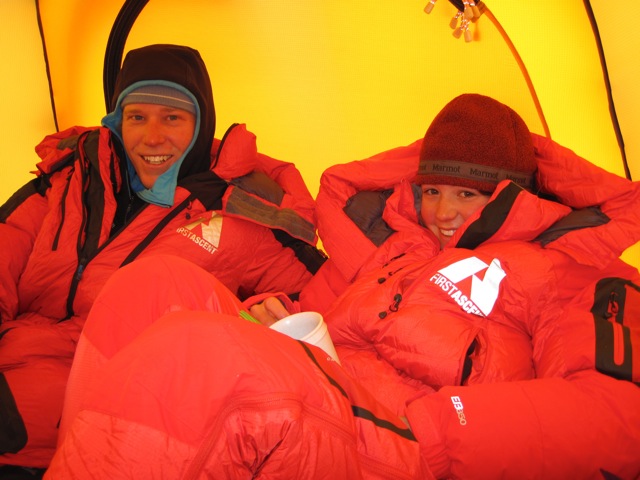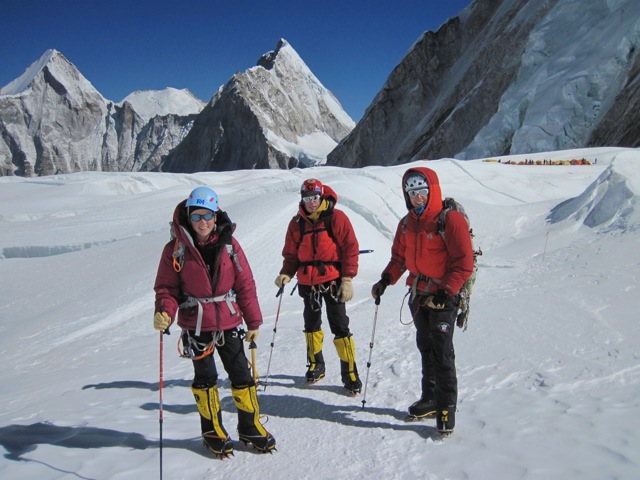 Yesterday we got back to Base Camp from a climb up the Khumbu Ice fall to Camps 1 and 2. The Khumbu was everything it was made out to be. We had previously completed a series of climbs into the ice fall that had provided us with valuable experience. But tackling the ice fall in its entirety was a new ballgame.
We awoke at 4 am to eat breakfast and to prepare so that we could have a prompt 5 am start. We start this early for a variety of reasons, one of which is to have cold temperatures and a frozen solid ice fall. One of the biggest risks in the ice fall is an avalanche. An avalanche in the ice fall would not consist of soft snow, but solid ice (as hard and as brittle as stone). And since the ice fall is a constantly moving, dynamic glacier that is tumbling (in slow motion) down a 2500 foot cliff, this risk is ever present. So, the objective is to climb a solid ice "waterfall" - all of which starts at an altitude of 17500 feet.
The actual climbing is a non stop series of challenges - straight up 30 foot cliffs of ice (assisted by vertical ladders), 20 foot vertical descents in which you repel down "batman" style, 30 to 40 foot horizontal crevasses (which are up to hundreds of feet deep) in which you have to negotiate five eight-foot ladders roped together, etc.. If it wasn't so dangerous and you weren't scared out of your mind, it would actually be fun. The idea is to safely and quickly move through the ice fall in a business like manner, always clipping into safety ropes, and to move quickly. There are only two places that are safe enough for a rest stop. Every so often I would steal a glance at the massive glaciers overhanging us and then just keep moving.
Camp 1 sits at the top of the ice fall and at the end of the Western Cwm (at approx. 20,000 feet). We spent three nights at Camp I, and we were treated harshly at times by high winds, which I estimated (using the "guess method") of up to 70 mph. The winds were strong enough to break a tent pole in our tent (masterly repaired by Dave and Linden the next day). The winds slashed at the sides of the tent, creating a massive roar, which kept me up most of the night. There were times that night that I wondered what I was doing in Nepal at 20,000 feet in a tent in a wind storm. I am quite sure that Hawaii would have been a more pleasant place to be!
The hike up to Camp 2 is quite beautiful and gentle (in comparison to the hike up to Camp 1). It is literally a hike up the middle of glacier. The most similar climb that I can compare it to is the climb on Denali up to Camp 2 (at 11,000 feet). The climb is a gently ascending 3 to 4 hour climb through a beautiful valley surrounded by some of the tallest mountains in the world - almost vertical walls on all sides and at the end of the valley the Lhotse face and Mt. Everest - what a spectacular day! To me this is what climbing is all about - the beauty was endless.
Then, a trip back down from Camp 1 to Basecamp yesterday morning.
As we approached base camp we saw a HUGE banner hung across the entrance to our camp that said "HAPPY BIRTHDAY BILL MCGAHAN - a day late!" Then, last night we had a birthday dinner that insisted of T-Bone steaks, chicken, French fries, cole slaw, all followed by a birthday cake (and included candles and a "B-" singing effort - ha!). The celebration was very appreciated and will be remembered forever.
So, for now our mission is to rest for three days. We will be heading back up to Camp 2 and hopefully Camp 3 by the end of the month, and the idea is to continue to acclimatize and to get stronger for each of the next series climbs as we go higher and higher.
Thank you all for following our blog and for your kind postings. A great portion of this challenge is mental - we are all going to have days that we physically feel bad, or are homesick, or just want to know what is going on in the NBA playoffs - and getting kind words of encouragement means a tremendous amount to keep us going.
So, thanks again
×
Sign Up For Everest 2011 Emails
{/exp:mailinglist:form}
---
More to Explore
Mt. Everest Expedition: The Process of the Climb
April 26, 2011