---
Denali - West Buttress Expedition
Mt. McKinley: Haugen And Team Settle in At 11,000'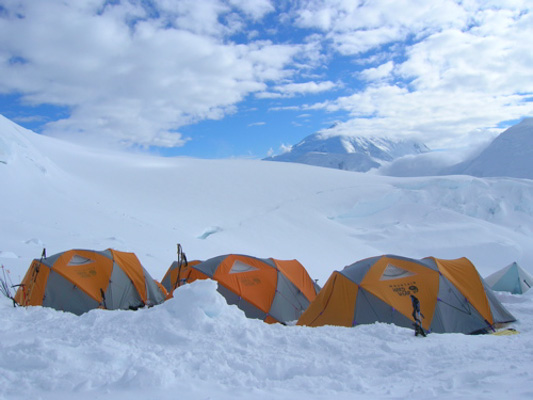 Monday, June 17, 2013
We are on the mountain! After walking up the glacier on our long approach, this camp feels like we are actually starting to make some headway towards the top. We will be at this 11,000' camp for a minimum of three nights, so we are dug in pretty solidly.
The plan for tomorrow is to do a back carry. This means we will walk back down to our cache at 10,000', dig it up, and then bring it back up to our new camp at 11,000 ft. It shouldn't be too hard of a day, but it is very important in our acclimatization scheme.
Although there are no bad views in this place, we have an amazing view from this camp. From a safe distance, we get to watch some giant ice cliffs calving off some large chunks. The heat of the nice weather days has made for some dynamic snow and ice conditions.
Summit Team 6! Led by RMI Guide Mike Haugen
On The Map
×
Sign Up For Mount McKinley 2013 Emails
{/exp:mailinglist:form}
---
More Updates
Previous
June 14, 2013
Expedition Skills Seminar - Emmons
Mt. Rainier: Emmons Skills Seminar at Schurman and Ready for Summit Bid
Next
June 6, 2013
Denali - West Buttress Expedition