---
Mountaineering Training | Playing With Speed: The Fartlek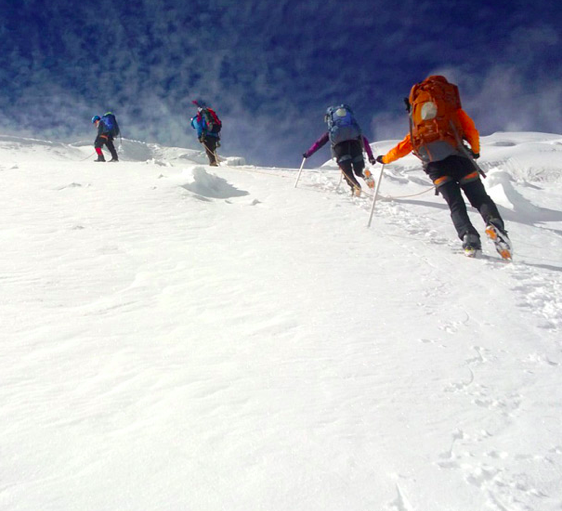 In the 1930s, Swedish running coach Gösta Holmér was trying to find a way to kick start a floundering national cross country running team that had been thoroughly trounced by a strong Finnish team throughout the 1920s*.  Part of his answer was an interval workout with a name that most Americans have trouble saying with a straight face: fartlek.  Fartlek translates to English as "speed play", and the workout is just that.  A free flowing and loose type of interval workout, Fartlek has many incarnations and can greatly benefit climbers as part of a workout plan.  
Fartlek workouts have gained popularity in the sports of running and nordic skiing (both heavily Scandinavian sports) since Holmér's creation, but they can be accomplished in a wide variety of activities: swimming, cycling, and walking are all conducive to playing with speed.  
 
Completed within a continuous workout, such as a longer run, the fartlek portion typically lasts for at least 45 minutes.  After a good warm-up, many people begin the fartlek with a few minutes of a sustained increase in effort.  This effort shouldn't be all out, but a bump of 15 to 20 seconds per mile from your normal distance aerobic pace.  This continues the warm-up process and readies your muscles and body for the gear changes that make up the fartlek workout.  After this period, you are ready to play.  The fartlek consists of increases in pace of varying duration and intensity, always returning to your aerobic distance pace.  This could be a few quick steps thrown in every 50 meters - to simulate a bump in pace or a few difficult steps to get through an awkward section of Disappointment Cleaver - or a sprint of 50-60 meters every few hundred meters, simulating a short stretch of steep climbing.  Longer efforts of one to several minutes can be used, as well as harder efforts up hills, with recovery over the top and on the descent.  One of the main points of the fartlek is that it is continuous.  After your harder efforts, you should return to your aerobic distance pace.  If you can't sustain this and you find your pace slowing, back off the intensity of your harder efforts.  
 
This is a great workout to do with a partner or group.  Switch leaders often, vary the length and intensity, and have fun.  Pick different points to push to; racing to signposts, up hills, and racing mailboxes (push for two mailboxes then back off, then push for four, and back off, etc.) are all great ways to keep the workout entertaining and fun.  Checkout these different fartlek ideas on Active.com and Triathlete.com for inspiration. 
 
Fartlek has benefits for climbers throughout the different phases of a training plan.  Early on in training, the goal is base fitness and building aerobic endurance.  While aerobic endurance is incredibly important to the sport of mountaineering, the long slow nature of these workouts can leave athletes feeling sluggish and with a difficult time increasing the pace.  During this phase, fartlek is a great way to maintain your ability to switch gears mid workout.  As you move into your threshold building phase, fartlek is a great mid intensity interval workout that helps train your body to recover between efforts - important in a sport where a few more difficult steps at altitude can leave you gasping for breath.  Experiment with different formulas, and try throwing these workouts into your plan once or twice a week.  The fartlek workout is a great way to add some creative freedom to your weekly training regimen.  Lastly, don't forget the "play" in "speed play"!  
 
_________
*Source: Wikipedia article "Fartlek".
Questions? Comments? Share your thoughts here on the RMI Blog!
---
More to Explore