---
Mountaineering Training | Training for Vertical Gain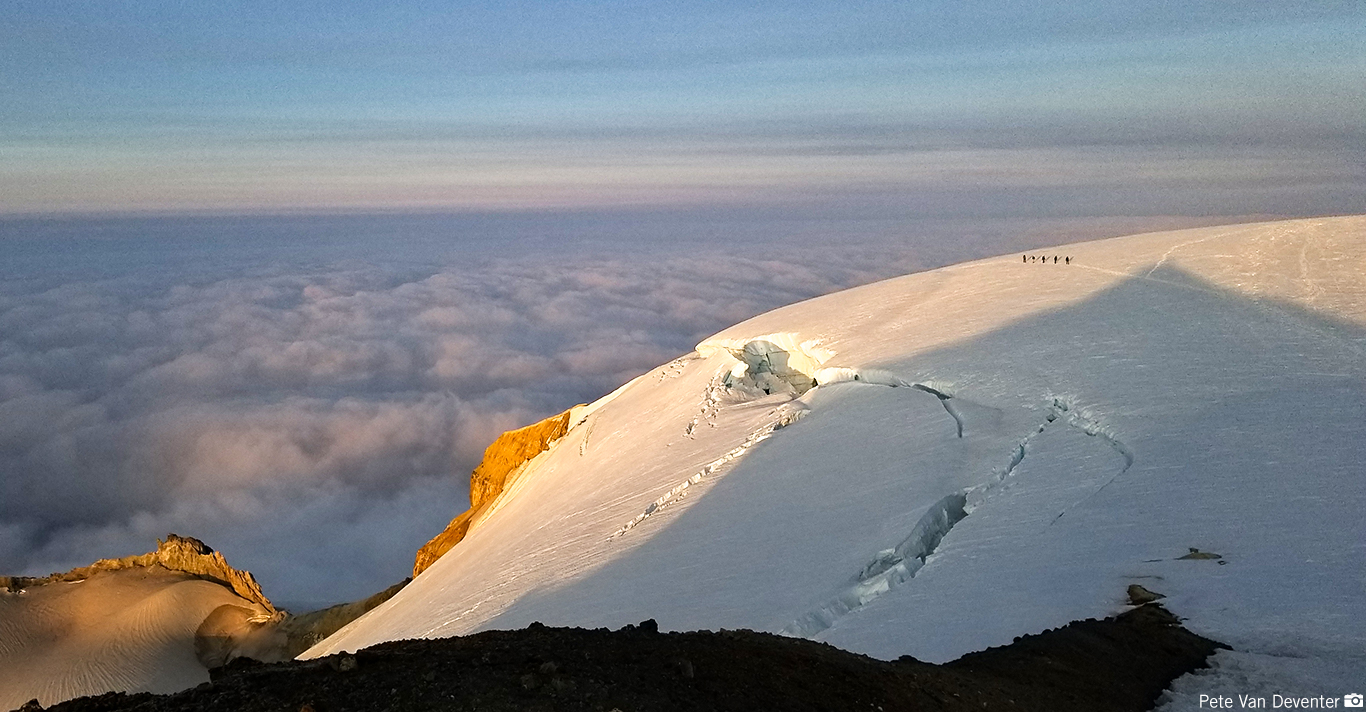 When training for any sport, the best training advice is that you need to "do the sport." If you are training to run a 5k race, you should spend a significant amount of your training running. 24 hour mountain bike race? You are going to spend a lot of training time on a bike. Crossfit competition? You'd better flip a lot of tires, do a lot of burpees, and swing a lot of ropes. So what do we do when our chosen sport is mountaineering?

For the lucky amongst us, we have mountains and hills nearby. We can lace up a pair of boots, put on a weighted pack, and head out the door for a several hour hike. So many of our climbers don't have the luxury of living nearby mountains (for many, not even many hills), yet so much of our training advice relies on gaining vertical elevation throughout the workout. For flatlanders, one of the best options to still achieve vertical distance during a workout is to use a treadmill set at its max incline.

On Mt. Rainier we aim to climb at a pace of about 1000 ft/hour. We use this measure because our pace varies with the terrain. In flatter terrain with less rise per step, we'll up the tempo and move a bit faster. As the terrain gets steeper and the effort increases, we back the speed down somewhat, all in an effort to continue to move efficiently. 1000 ft/hour, therefore, is a useful benchmark in your training.

A treadmill typically has a max incline of 15%. To climb 1000ft. on a treadmill therefore, you need to walk roughly 1.25 miles of horizontal distance (what the treadmill measures). Setting the pace to 1.25 miles per hour on the treadmill will approximate the pace of the climb, at least on paper.

There is a physics argument around frame of reference that argues that a treadmill should be the same effort as hiking outside (the same argument is made for stairmasters), however, physiological studies show that heart rate and oxygen consumption (a way to measure effort) are lower on a treadmill for the same pace on solid ground. This suggests that a treadmill then requires somewhat less effort and is in effect easier. How much easier? This is a difficult question, that doesn't have an answer. With this knowledge, we can simply set our pace to be faster than 1.25 miles per hour and increase the difficulty through speed. If we increase the difficulty enough, we will approach the difficulty of the climb.

Other great options for tailoring your training to the vertical gain involved in climbing include stadium or office building stairs. In this case, you are moving your center of mass uphill, just like in mountaineering, so 1000 ft/hour will feel similar to the actual effort. Embrace the options that are available to you, grab a pack and some weight, and see how much vertical you can incorporate into your training!
_____
Comments? Questions? Share your thoughts here on the RMI Blog!
---
More to Explore
Everest Base Camp Trek: Grom and Team Arrive in Kathmandu
March 16, 2019