---
Exploring Namche Bazaar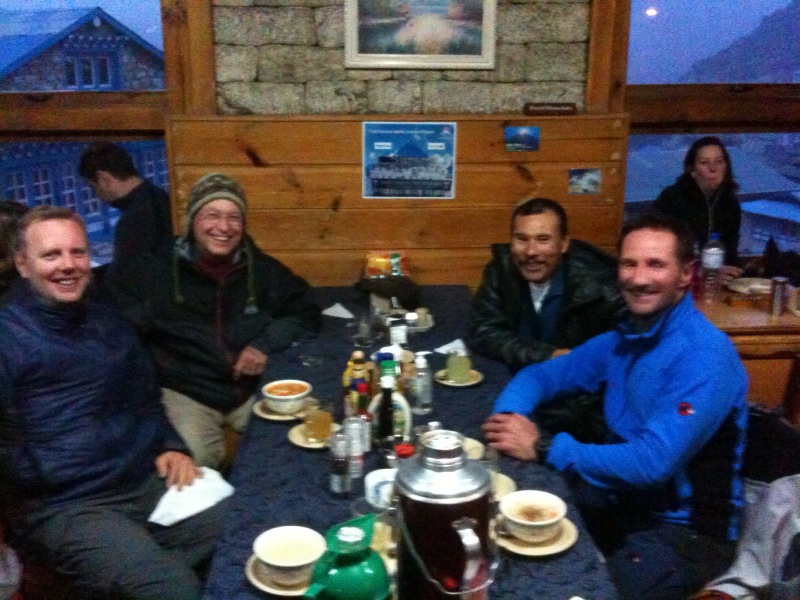 Greetings from Namche,
The clear weather has continued to hold and we were greeted to spectacular views of the three summits Kwangde bathed in morning light across the valley. The weekly Saturday morning market was going on this morning. Ending at 9am in order to allow the Sherpa from surrounding areas to get back home with their goods, the market is perched on a series of three terraces on the eastern side of Namche. Traders spread their goods out along the narrow terraces, bartering over items that range from fresh vegetables to spices to buffalo meat to packaged foods and cheap knockoff running shoes. We wandered amongst the action, admiring both the diversity of goods and the setting in which it all takes place.
As the market began to wind down we climbed up to the Army Post that sits above Namche. From it's hilltop perch we caught our first glimpse further up the Khumbu Valley to the looming Everest massif. Everest's famous pyramidal summit was clearly visible alongside that of Lhotse, Everest's neighbor and fellow 8000m peak. From both summits flew giant plumes of snow and wind, indicating that the jet stream still lies firmly planted over the region and the climbing season is still several weeks off - although expeditions began their approach now to be in position for when the jet finally abates. A small museum sponsored by the National Park sits at the Army Post as well and we took the opportunity to learn more about the regions fauna, flora, geology, and culture. Afterward we dropped by another small museum run by a deaf Sherpa who is a talented photographer and has tirelessly assembled an impressive collection of traditional Sherpa artifacts, relics of former mountaineering expeditions, photographs of many traditional Sherpa holidays and festivals, and a meticulous log of all Everest summiteers, Western and Sherpa alike.
Afterward we had a relaxing afternoon in Namche, wandering it's narrow streets and small shops packed with goods, visiting the recently renovated Monastery perched on the hill at the edge of town, and taking time to relax atop some of the large boulders carves with colorful Buddhist prayers and take in the mountainous panorama in the afternoon sun. While a restful day, today has been important in our acclimatization process and in preparing our bodies for the thin air higher up. Tomorrow we will build upon this by climbing to several villages above Namche to visit them before returning to Namche for our last night here on the ascent. The team is feeling strong and looking forward to tomorrow's day hike.
---
More to Explore