---
Aconcagua: RMI Team Moves to Camp 3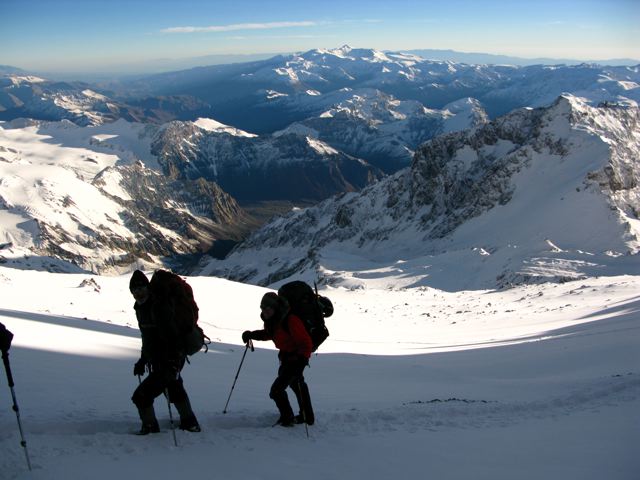 This is Gabi and the RMI Aconcagua expedition checking in from Camp 3 (19600').
This morning we started at Camp 2 with an early breakfast. We started our ascent at 10:20 am and after 3 hours and 20 minutes of hard work we arrived at our high camp.
The weather this morning was awesome, no wind and warm temperatures (well, as warm as it could get at 18,000'). During the ascent clouds moved in and a cold breeze cooled us. At our arrival to Camp 3 a little bit of weather added some spice to our day. It snowed half a inch, but for a good 15 minutes it looked like it was going to keep snowing all night.
Current conditions are better. It is still cloudy, but it has stopped snowing and it looks like we are going to have a clear night. Our plan is to wake up early tomorrow morning (sometime between 3 and 5 am) and we will check the weather. If the weather is as the forecast is calling, we'll have breakfast and start our summit attempt !
Everybody is very excited for tomorrow and the stokemeter is very high (8) at Camp 3!
We'll be in touch tomorrow.
Cheers,
RMI Guide Gabriel Barral and the Aconcagua expedition
×
Sign Up For Aconcagua 2011 Emails
{/exp:mailinglist:form}
---
More to Explore
Winding Down and Waiting to Fly
January 20, 2011
Vinson: Caroline George Enjoys More First Ascents
January 22, 2011