---
Aconcagua Expedition: Carry to Camp 1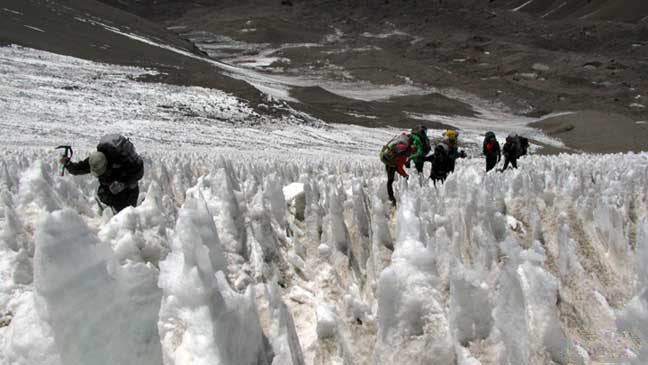 Today's plans called for our first foray onto the mountain above basecamp. After a quick breakfast the crew got busy organizing loads of both personal and group gear, food for nearly 12 days, and a couple of gallons of fuel. We then set out for Camp 1 climbing along a lateral moraine, crossing a glacial remnant, and finally ascending a long scree slope (brutally loose) into the camp at over 16,000'. We put a cache together, took a nap in the sun, and then cruised back down to Plaza Argentina. All in all, we spent a little less than 7 hours in the field and the team performed exceptionally well. The guys were really excited to finally get down to the nitty gritty of climbing this thing.
Tired but happy in Plaza Argentina,
RMI Guides Billy Nugent, Leon Davis, and the gang.
×
Sign Up For Aconcagua 2012 Emails
{/exp:mailinglist:form}
---
More to Explore
Mt. Rainier: Winter Expedition Skills Seminar at Camp Muir
February 7, 2012