---
Everest Base Camp Trek: Acclimatization Hike Above Pheriche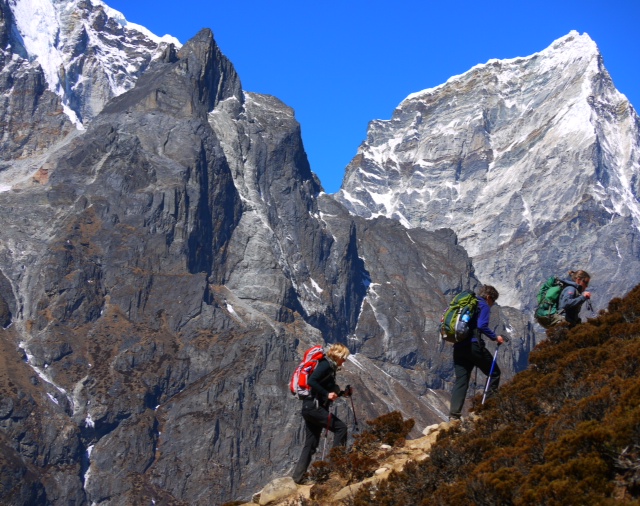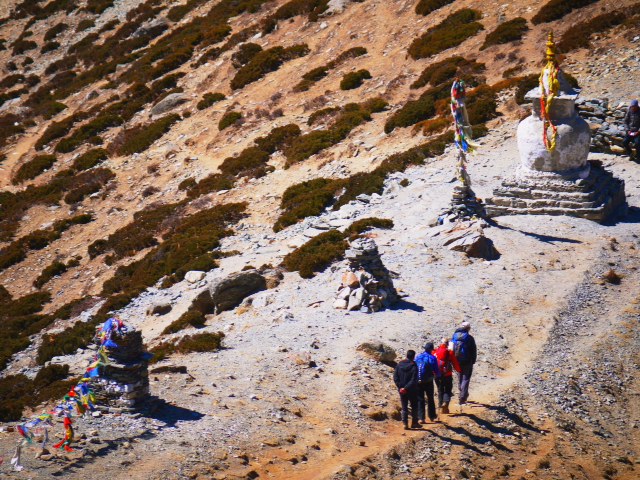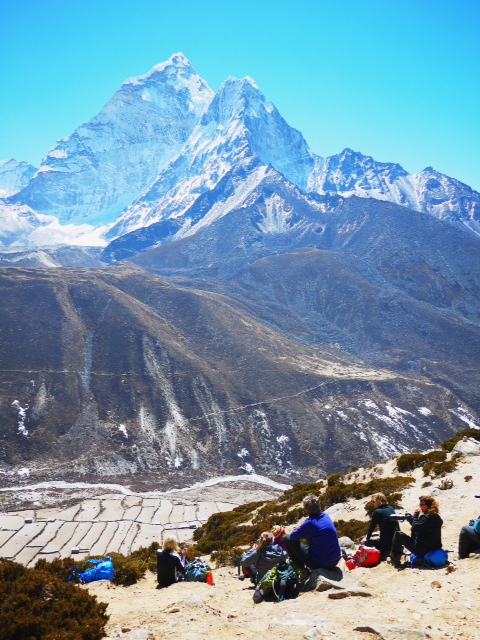 While we were expecting a chilly night of sleep, it was surprisingly warm in Pheriche. The colder temperatures rumored in the valley this spring didn't affect us as much as we anticipated, much to everyone's pleasure. Without needing to reach the next village before the weather set in, we took our time at breakfast, going through several thermoses of tea before we headed out for a hike. Leaving Pheriche, we climbed directly up the tall hillside behind town and across a rolling plateau to a ridge running from the higher hills above. Pausing there we had clear views southwards back down the Khumbu Valley towards Tengboche and eventually Namche. To our west the valley continued up further before turning sharply north and into the final cirque of mountains where Everest Base Camp is. To the east ran the Imja Khola Valley, framed at the top by a ring of mountains surrounding Island Peak - the climbing objective for a few of us next week after we visit Base Camp.
We climbed a bit higher up the ridge, eventually stopping in a spot protected from the gentle but still biting breeze. Staying up there for awhile, we looked at the panorama of great Himalayan peaks and giving our bodies the feel for the higher elevations to come. We descended back to our tea-house by midday and spent a few hours relaxing the the sun room - a greenhouse like room built on the second story that heats up quite quickly during the day - before heading next door to the Himalayan Rescue Association Clinic. Volunteer doctors staff the small medical facility here, offering medical care for the local population as well as trekkers affected by the altitude. They gave us a very informative briefing on altitude and demonstrated the use of a Gamow Bag - a portable hyperbaric chamber used to simulate lower elevations.
The team remains in great spirits, managing the newer altitudes well and keeping the trip lighthearted and convivial. Tomorrow we climb further up the valley to the tiny village of Lobuche, sitting alongside the toe of the Khumbu Glacier. It is exciting to be approaching our destination and we are looking forward to the days ahead.
On The Map
×
Sign Up For Everest BC Trek 2012 Emails
{/exp:mailinglist:form}
---
More to Explore