---
Everest Base Camp Trek: Arriving in Lobuche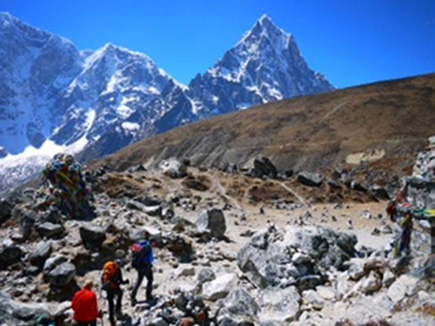 Another beautiful day greeted us this morning. After breakfast we reluctantly said goodbye to the accommodations and staff of our tea-house in Pheriche and set off up the valley. The trail ran through small clumps of juniper and back and forth across streams running down from the hillsides, reaching a collection of stone buildings and fields where yaks are pastured in the evenings. The vegetation continued to thin out, the grass getting shorter and eventually the juniper bushes disappearing from the landscape as we made our way higher. Eventually we began the ascent to Thokla Pass, a climb up the toe of the moraine created by the forward push of the Khumbu Glacier. Although a moderate climb in length and height, the elevation makes it challenging and we spent the better part of two hours picking our way up the hillside.
Partway up is the small "village" of Thokla, in reality little more than two tea-houses sheltered from the winds that blow up the valley, but the perfect breaking spot for trekkers and yak herders making their way up the climb. We sat in the sun for a few minutes resting and sipping on tea before resuming our ascent, reaching the top of Thokla Pass at well over 15,000' by midday. Built along the ridgelines of the pass are dozens of small chortens, each one paying tribute to climbers and Sherpas that have lost their lives on Mt. Everest. With views out to the surrounding mountains and prayer flags streaming from the many memorials, it is a solemn place that commemorates many famous climbers.
Continuing from the top of the pass we ascended into a shallow valley that runs parallel to the Khumbu Glacier, finding our way among the boulders and rocks that border a small stream that was completely frozen over, even in the midday sun. After another hour of walking we reached our tea-house in the village of Lobuche. Tucked into a small recess in the side of the valley, Lobuche was traditionally a summer grazing grounds for herds of yaks but now is more popular with trekkers and climbing expeditions on their way to Everest. Although the landscape is quite barren around us, our tea-house is warm and comfortable in the midday sun. We have all been surprised at how warm the temperatures have been the past few days. We settled into the tea-house and spent final part of the afternoon sipping on tea and reading, focusing on breathing well, even at rest, as we adjust to these higher altitudes.
Tomorrow we head to Gorak Shep, the last village before Everest Base Camp, and hope to climb to the summit of Kala Patar above it in the afternoon if the weather cooperates. The team continues to do well and sends their best to everyone at home.
On The Map
×
Sign Up For Everest BC Trek 2012 Emails
{/exp:mailinglist:form}
---
More to Explore
Everest Base Camp Trek: Team Summits Kala Patar
March 24, 2012