---
Everest Base Camp Trek: Experiencing Everest Base Camp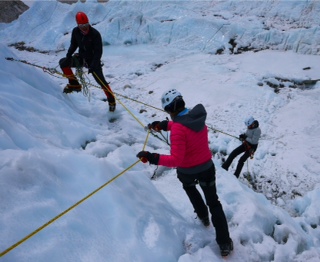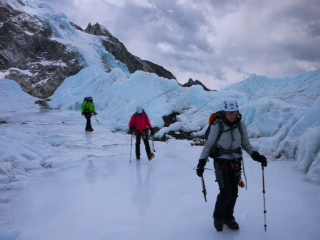 The temperatures at Everest Base Camp were a big concern among the group for the days, weeks, and even months leading into the trip. Knowing that, before dinner last night we pulled out a special surprise for the group: A First Ascent Down Suit for each member of the trip to use while at Base Camp. Needless to say, they were a big hit. We sat around the dining tent toasty warm, discussing the best ways to go about the daily tasks in our new Base Camp attire - from sleeping to brushing our teeth to using the toilet tent.
It was a crystal clear night here last night, every star in the sky shining brightly in the blackness above. Around us the mountain was alive with activity: the glacier creaked and cracked, rocks occasionally came crashing down distant slopes, and chunks of glacier from far off collapsed sending low rumbles through the valley. Despite it all we were comfortable in our tents, cozy warm in our sleeping bags and down suits and the night passed smoothly.
The sun finally roused us this morning and we sat down for a delicious breakfast. Not a cloud was to be found in the sky and we enjoyed the time to sit around and talk, with nowhere in particular to be. Around mid morning I headed out into the lower stretches of the Khumbu Glacier with the three climbers heading to Island Peak and we set up a small ropes course on the ice features of the glacier. We focused on how to climb with crampons on firm glacial ice, the best techniques for overcoming steep obstacles, and then jumped onto fixed ropes and familiarized ourselves with ascending a fixed line, how to use an ascender on the rope, and how to rappel. The climbing team was soon zipping around the ropes course, clambering up and rappelling back down the large ice fin upon which we were practicing. Once we felt comfortable with using the equipment and moving across the terrain, and sufficiently winded from the 17,000' elevation, we headed back to camp to meet up with the rest of the team.
We've spent the rest of the afternoon relaxing in camp, resting from the days of hiking it took to get up here, and preparing for the hike out tomorrow. The team is doing very well, sending our best to everyone at home, and eager to share more stories from the adventures we've had thus far.
On The Map
×
Sign Up For Everest BC Trek 2012 Emails
{/exp:mailinglist:form}
---
More to Explore
Everest Base Camp Trek: Tucker and Team Visit Lama Geshe
March 27, 2012