---
Everest Base Camp Trek: Team Departs Everest Base Camp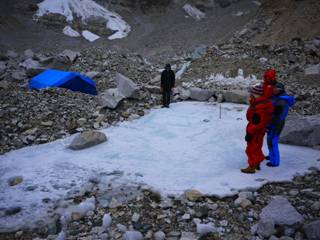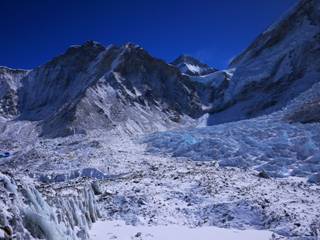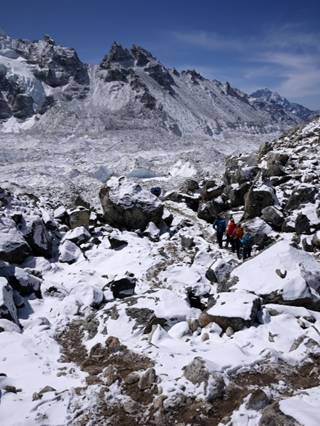 The weather moved into Everest Base Camp yesterday afternoon, the clouds settling in around the peaks and snow beginning to fall. It continued to snow on and off again all evening and into the night. The weather did have a welcome side effect thought: the clouds above and snow on the tents made temperatures a bit warmer and it never got too cold last night. When we woke up this morning everything was blanketed in a couple of inches of fresh snow. We packed all of our gear up, said goodbye to the Sherpa team at Base Camp, and headed back down the valley.
The new snow on the trail actually made the walking on the glacier easier, filling in between all of the loose rocks and smoothing out the trail. After a cold morning in the shadows packing up, we quickly warmed up not long after Base Camp when the sun finally found us and we made good progress. We followed the trail back to Gorak Shep and onwards to Lobuche, where we stopped for lunch. Finally, we descended from the glaciers, rocks, and new snow above back down into the valley of Pheriche, reaching our tea-house here by late afternoon. It was a long day on the trail, with many miles to cover across difficult terrain at high altitudes, and the tea-house was a welcome sight when we finally reached it. The team was amazing today, toughing out the difficult sections of the trail and enduring the long final hours of walking to get here. We are all tired from the walk, and the many days up high, but happy to be here and heading downwards. We had a blast reading all of the comments on the Blog and want to thank everyone for their thoughts.
Tomorrow, part of the group continues descending to Namche as they make their way home while the Island Peak team heads up the neighboring Imja Khola Valley to Chukung, near the base of Island Peak, to begin our climb. We will check in tomorrow from Chukung. The connection up there is sporadic so we will likely be checking in via satellite phone for the next few days.
On The Map
×
Sign Up For Everest BC Trek 2012 Emails
{/exp:mailinglist:form}
---
More to Explore
Everest Base Camp Trek: Tucker and Team Visit Lama Geshe
March 27, 2012