---
Everest Base Camp Trek: Tucker and Team Return to Namche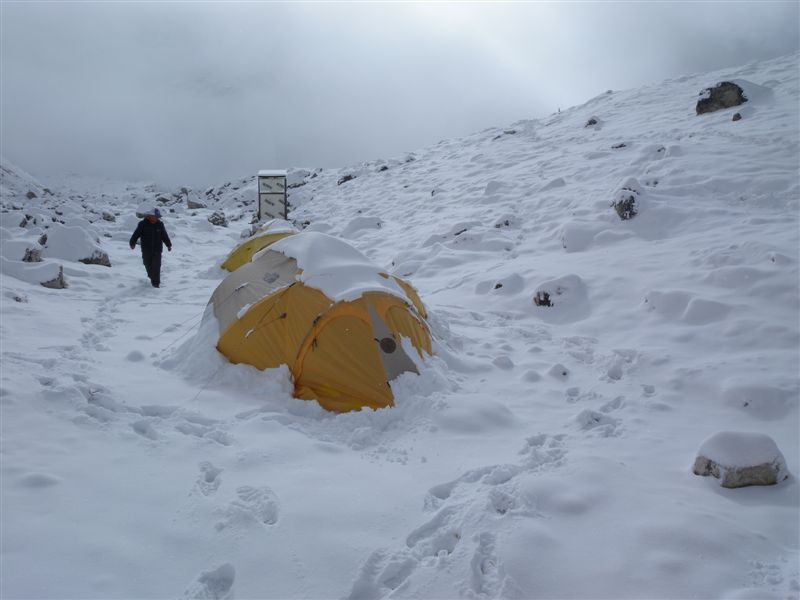 Hello,
We are back in the big city of Namche Bazaar. What a great shower! The feet are a bit tired but here in Namche life is sweet. In fact we just finished our lunch at the bakery topped off with some apple strudel.
What a whirl wind it has been since we left Everest Base Camp. Seems to me that once you get above 15,000' time goes by a bit quicker. We had a grand time at Base Camp. So fun to show the team my office for the weeks to come. We had great training at the base of the Khumbu Ice Fall, such a historic setting and perfect location for technical ice climbing training and team dynamics for the Island Peak climb.
Our travel from one amazing valley to another went without a hitch, once in the Imja Khola Valley with views of Island Peak, the excitement level rose. The storm we had to deal with at Island Peak Base camp was felt throughout the region. Although the conditions on the route were less than perfect, the night we went for the summit was pretty nice. The moon was so bright I didn't need my headlight till we were higher up into the tight rocky area. It is such a unique experience to climb at heights like these in the middle of the night surrounded by bitter cold, working hard and breathing hard with every step. Why do I call this fun? Tough to express what a special time we had looking out at the high Himalaya watching the sunrise at over 19,000'. With so much earth below but amazed at how much still loomed above was hard to take in.
It's been a long march in the last three days to get here. We were just ahead of the big seasonal traveler push up to Everest on the way in, but now it is peak time for large groups. It's been fun to see lots of old friends going up to Everest Base Camp.
After all these miles with no feet problems, my toes go out to Jeremy Foust and the crew at Whittaker Mountaineering for the fantastic job they did fitting me with a great pair of Asolo trekking boots and LaSpotiva climbing boots. Thanks so much.
It's not over yet. We are off to Lukla tomorrow and flights for John and Kim the day after.
RMI Guide Mark Tucker

Mark Tucker checks in after Island Peak Climb.
On The Map
×
Sign Up For Everest BC Trek 2012 Emails
{/exp:mailinglist:form}
---
More to Explore