---
Everest Base Camp Trek: Tucker and Team Return to Lukla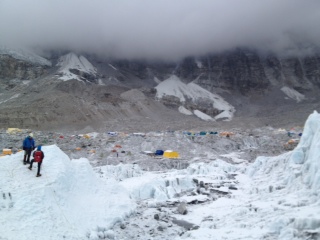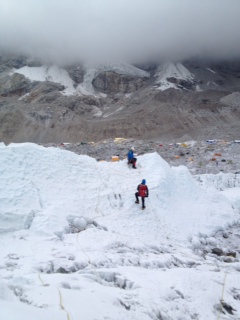 We had a beautiful hike down to Lukla today. Lots of greenery and local folk working away in the gardens that abound down here in the 10,000' region. The airport was shut down early this morning due to clouds but as we approached there were a few flights that went in the afternoon. John and Kim are set for the second flight tomorrow weather permitting. The commute from our lodging for the night to the entrance of the airport is about thirty feet, no excuse for missing the flight.

Kim here. . . wow, this has been quite an experience. It was an amazing adventure that I won't forget anytime soon. There were some hard days, some disappointing days, and some really wonderful days. Overall, it was definitely a worthwhile experience. Thanks to all for the comments and good wishes. I'd like to spend my last blog opportunity answering the questions posted yesterday and March 31st from Mrs. Hartman's and Mrs. Jerome's classrooms:
Q: How high are you? A: We were at different altitudes each day. Today we are back in Lukla where we started which is about 9,900ft. The highest we got was about 19,000ft. That was on Island Peak. Q: Did you summit? A: We did not make it to the summit. I am disappointed about that since I was the one who could not make it. The air was very cold and each time I tried to breathe deep, it hurt my lungs. So, I couldn't get enough air to have the energy I needed to keep going. The rest of the team decided to turn around with me. Q: How high is Island Peak? A: Island Peak is 20,300ft, so we still had a long way to go. Q: Have you used your ice ax and climbing harness? A: We did not use our ice axes or crampons on Island Peak because we didn't get high enough, but we did use them during our training session at Everest Base Camp. I'll try to include a photo from that for today. We did have our climbing harnesses on. Q: Which is higher, Island Peak or Everest Base Camp? A: Island Peak is higher than Everest Base Camp. Island Peak is about 20,300ft, Everest Base Camp is 17,575ft. Q: How are you feeling? A: I was feeling pretty sick up high. It is common for people to not feel good when they get that high because of the lack of air pressure and limited oxygen. I am feeling much better now that we are down low again. Q:How many tea houses have you been in? A: Too many to count. We stopped at one or two each day for lunch and afternoon tea. Then we stayed at one each night. Q: What was your favorite dish to eat? A: It depended on the day. Up high, the only thing that sounded good to eat was popcorn. So, I have been eating a lot of that. Down lower, we all like the chicken chilly (spicy chicken. . .spelled differently on every menu). We also liked to eat daal bhat with pappad and veggie curry. Tell Ranish that I like the curry fine, but I prefer it to be a little more spicy than they make it up here. I also forgot to mention the dumplings that are popular here called mo-mos. We had a lot of veggie mo-mos. Q: Are you staying warm? A: I was SO cold many days up there. It was the coldest I have ever been. . . especially while on Island Peak and at Everest Base Camp. I am warmer now that we are lower. Q: Are you having fun or do you wish you were home? A: Both. I have had lots of fun, but when I was cold and sick, I was wishing I was someplace else. I am still very glad that I went to Everest Base Camp, though. It was an amazing place. Q: Are yaks carrying your bags? A: No. Porters are carrying our bags. Those men are really strong. I am impressed by their strength and speed. Q: What is the name of the peak behind you in the photo from today (4/9/12)? A: We all looked at the photo and we think that was the side of Ama Dablam. We have seen so many peaks, it is hard to tell for sure.
Hopefully we will fly out to Kathmandu tomorrow and then to India for a few days after that. Again, thanks to all for your good wishes and your support. We have enjoyed reading your comments the few times we have had internet service.

John here: It's been a while since I made an update. Too long to try to recap the last few days. Like Kim, this has been an experience of a lifetime for me. The Nepalese people are so genuinely warm and welcoming and the scenery is unmatched by anything I have ever experienced. Kim mentioned that we didn't summit Island Peak. While that is a disappointment for all of us, Kim and I did reach a new high. Along the way I learned a lot about myself, my abilities and what's really important. There will be other peaks in our future and we'll both be better prepared to face them.

We hiked out from Namche Bazar today. It was bittersweet. While it meant this part of our journey was coming to an end, it also meant we had hot showers and clean clothes to look forward to. We also have all the wonderful experiences and memories that we worked so hard over the last few weeks to create. Thanks to Tuck we've also met tons of folks along the way, all who added to the texture of the experience.

Thank you to all of you who followed our journey, we look forward to sharing our experiences and pictures with you when we get back. Pop some corn - we have LOTS of pictures.

Namaste.
On The Map
×
Sign Up For Everest BC Trek 2012 Emails
{/exp:mailinglist:form}
---
More to Explore