---
Mt. Everest Expedition: Dave Hahn Recaps the Summit Climb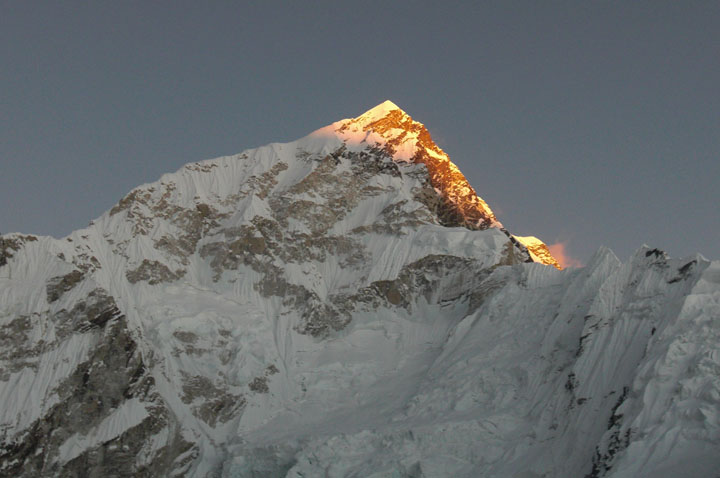 Before sunup on the 24th of May, the RMI Everest climbing team left Camp III at 24,000 ft on the Lhotse Face, bound for a shot at the top of Mount Everest. The only trouble was that everybody else on the mountain had the same idea at the very same time. We were shocked to see how many climbers were already on the fixed lines. Estimates ran to as many as two hundred, although it was later figured that a fair proportion were simply doing carries to the upper camps and weren't intent on staying at Camp IV or climbing for the summit. Suffice to say that we couldn't set our own pace for climbing, but eventually, by keeping going when other teams elected to take breaks, we made it into the open above the difficult Yellow Band at 25,000 ft. The Geneva Spur didn't present a significant barrier to our reaching 26,000 ft by late morning. There we found a steady wind and our Sherpa team building tents on the South Col. It was easy enough for our team to get in and start re-hydrating and resting for a summit climb, but it was tougher trying to get a read on the conditions that climb would be undertaken in. A quick count revealed about fifty other tents pitched on the Col, and a few impromptu meetings with other climb leaders decided us that perhaps in excess of a hundred climbers would be going for the summit that night. The winds continued and the latest forecasts confirmed that a ribbon of 50 mile-per-hour air would still be menacing the mountain for a further 24 hours. We looked at the steep triangular face and saw that its middle third would entail loose rock with a good chance for some of that getting kicked loose onto teams below. So there were three things that didn't work well for us… rock, crowds and wind. We made preparations for a climb, but we also began to explore the possibility of delaying 24 hours and shooting for May 26th as a summit day. We each knew that we'd be putting all our eggs in one final basket by doing such a thing. We had resources for such a delay, but we didn't have unlimited resources. If we skipped the 25th, with its known problems, we'd have to take the 26th with its unknown problems… or go home without a summit. We tried to hedge our bets, telling our Sherpa team that we'd still prepare to get up in the night unless the winds were still blowing. At 10 PM, long after the other teams had left for the top and were to be seen as a Christmas parade all up and down the Triangular Face, the winds were still strong. We committed to the next night.
It was a slightly surreal day, as always, hanging out at 8000 meters on May 25th. We wondered whether we'd missed our shot as the neighboring teams came down with a summit under their belts and not too many bad stories to tell, after all. Yes it had been windy and cold and crowded, but most seemed to have done ok and there certainly weren't new tragedies to report. Finally, in the late afternoon of the 25th, the winds began to die down. That was encouraging, but our headcount for the coming summit day was less encouraging. We'd assumed we'd be up the hill with perhaps fifty climbers, but as we prepared dinner and turned in, we'd become aware of about 80 or 90. And nearly all of these climbers were leaving quite early for the top (as in about 7 or 8 PM). There was no way to beat them out the door without simply aiming to summit in the middle of the night (a bitterly cold and slightly unrewarding proposition). We'd set out afterward and take our chances on being able to pass people when we needed to. Our alarms rang at 10 PM and we ate, drank and geared up for two hours in delightful stillness. The South Col was dead calm and quiet with the wind absent and the vast majority of the climbers already well up toward the balcony. Lam Babu Sherpa would stay at the South Col, just in case, while Tsherring, Kadji and Passang accompanied the four person climbing team. We set out at midnight and four hours later topped the balcony in perfect conditions. A half hour later we experienced an incredibly colorful sunrise and things got slightly easier, even as we took on the steep slopes below the South Summit. At the South Summit around 7 AM we crested to see an amazing and at first, frightening, phenomenon. There were at least a hundred climbers lined up waiting to descend the summit ridge. At any given point there seemed to be about 8 climbers simultaneously on the Hillary Step and dozens upon dozens on the tricky rock features between us and the step. We decided we had no choice but to sit and wait patiently in the small dip past the South Summit. There was no practical way that we could pass so many climbers on such awkward terrain. The wait turned into an hour-and-a-half, which made each of us quite nervous… since such a thing is very much the definition of not being in control of one's climb… but then we each had to remind ourselves that conditions were benign. There was zero wind, the sun was shining and there was plenty of time left in the day. Also, we salivated at the prospect of having the mountain to ourselves after the long conga line of climbers passed on their way down. Finally we stood up, shouldered our packs and shook off the cold. It didn't take long then to scramble across the ridge, up the Hillary Step and onto the summit. It turned out that three or four climbers were on the summit from the Tibet side, but that didn't stop us from thoroughly enjoying about 55 minutes on top. We had unlimited views and a very happy team as we connected with Lam back at the South Col, Yuberaj at Camp II and Mark Tucker down at Basecamp.
The descent took just a matter of hours, since there was virtually no traffic left high on the mountain. We came back into the South Col feeling satisfied, but also knowing that the big work of the day was yet-to-come. We needed to pack up camp and descend a mile to ABC in the Western Cwm. With heavy packs and hot down suits we slid down the ropes for hours and hours. Past the Geneva Spur, past the Yellow Band, past Lhotse Camp IV and Everest Camp III… down to the part of the face that suddenly seemed to be melting under our very crampons. In the space of two days, spring had turned to summer and it seemed the climbing season was supposed to be over. We were greatly relieved to hit the bottom of the wall in safety and to trudge into ABC just after sunset.
Morning still held a little anxiety for us as we each knew we'd have to successfully wend our way through the Khumbu Icefall one more time. The word was that it was crumbling and collapsing and heating up. And that turned out to be true, but we saw that the Icefall Doctors were doing a magnificent job keeping a route cobbled together through the mess. We took our time and placed our feet carefully and eventually hit all of the comfort and safety of base camp by mid-afternoon on the 27th of May.
The 28th was shower-and-pack-and-keep-fingers-crossed-day for the climbing team. Showering and packing for the obvious reasons, but keeping fingers crossed because the Sherpa team still had a final day of working in the Icefall to get all the gear down. Their strength and skill and our finger-crossing worked because they emerged victorious and unscathed by mid-day. The climb was over. By the morning of the 29th, we'd heard that there were long delays for those attempting to get fixed-wing flights from Lukla. The monsoon had worked its way into the lower valleys already and the weather was sloppy with cloud and rain. Instead we arranged a series of memorable helicopter rides from base camp to Kathmandu. There was plenty of hurry-up and wait… there was awe at the beauty of mountains and gorges seen from the air, there was sheer terror at the power of thunderstorms on small aircraft, there was gratitude for the skill of the pilots we'd watched performing miraculous rescues all season long… and at the end of the day yesterday, there was an easy dinner in a Kathmandu restaurant and a comfy hotel bed. Soon there will be home.
Thank You Very Much for keeping track of our expedition.
Best Regards,
RMI Guide Dave Hahn
×
Sign Up For Everest 2012 Emails
{/exp:mailinglist:form}
---
More to Explore