---
Mountaineering Training | The Holiday Workout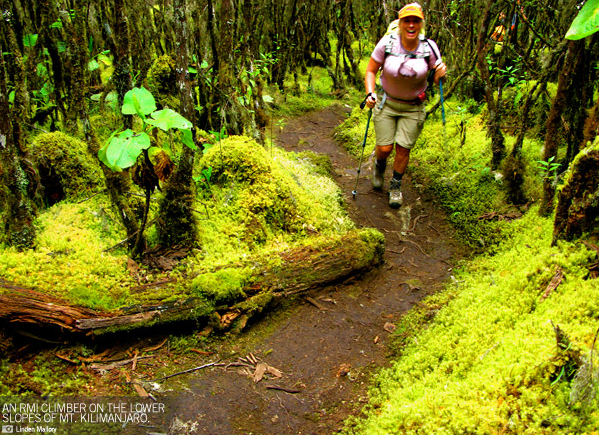 Air and automobile travel, shopping, traffic, in-laws, it's dark, cold and wet outside…the Holidays are here!
Does all of this have an impact on physical fitness? It can, and as a result I need a workout I can do anywhere and in a short amount of time. Here is a favorite, I call it the Four Hundred by Two by Ten. Let's call it the Holiday Workout. Try it two or three times this week.

The Holiday Workout goes like this:
1. Run or walk 400 meters. Conveniently, this is the distance around an athletic track (or around a football field). You can also do it on the trail, even if you have to guess the distance (or use a watch and run/walk for 2 minutes).
2. Do two strength exercises. I suggest ten repetitions of Bicycle Crunch and Push Up, or the Russian Twist and 30 seconds of the Plank. You can chose whatever you like and try to make one an upper body and one a mid-core exercise. For an explanation of the strength exercises, and a list of others, see the Daily Dozen.
3. Repeat ten times and that's it - an all-body workout that trains both strength and cardiovascular fitness! Stay focused and it will only take you about 45 minutes.
You can make it a social activity by doing it with friends and family. If someone is more fit, try to double up on the strength exercises. If someone is less fit, give them a head start on the run/walk section.

Happy Holidays!

- John Colver
John Colver is a longtime climber, former mountain guide, and certified personal trainer with the American Council of Exercise. Colver introduced outdoor fitness classes to athletic clubs throughout the greater Puget Sound region before creating his adventX brand. Currently, adventX leads training programs in Seattle and Colver presents clinics on outdoor fitness at companies such as Microsoft, Boeing, the American Lung Association, and REI. Colver lives in Seattle.
Questions? Comments? Share your thoughts with John and other readers on the RMI Blog!
---
More to Explore
Aconcagua: Justman & Team Descend to Basecamp
December 17, 2012
Vinson Massif: Team #2 Arrives in Antarctica
December 17, 2012