---
Aconcagua: Justman & Team Descend to Basecamp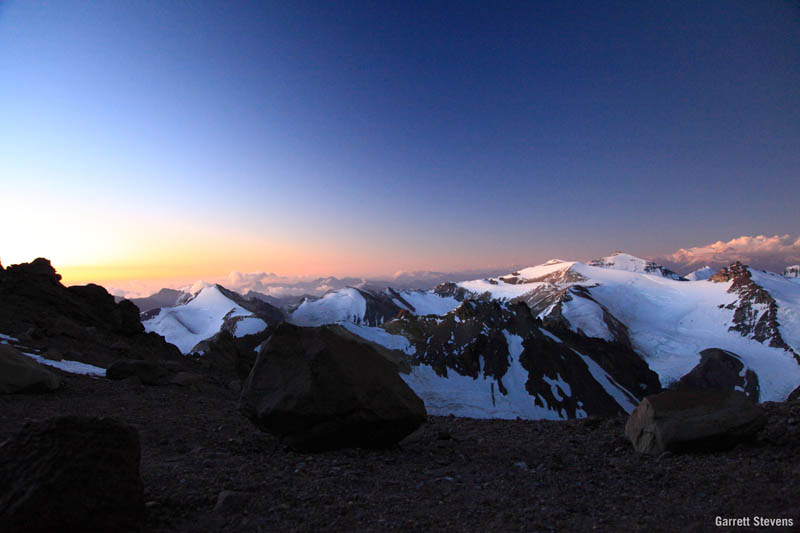 Hello everyone! It's Team One on Aconcagua. Well, it's a bitter sweet. For the good news, the entire team is safe an sound in base camp. For the not so good news Aconcagua is angry. I don't think we did anything to offend her but it is clear she is not in a good mood.
For two days our team survived restless hours in the wind at 18,000 feet. Yesterday, the winds calmed to 35 mph allowing us to climb to 20,118 feet. When we returned the forecast that was given to us came true. The wind picked up again and it was time to batten the hatches.
Our plan was to do our last acclimatization day yesterday, which we did. Then to rest today, then move to high camp, then summit. The winds on the summit currently are close to 100 mph and they are predicted to be stronger through the 23rd. Well past our window of opportunity.
Our team made the decision to head toward safer and calmer territory. We are all in basecamp after a tough day carrying heavy packs downhill.
It may seem disappointing but when the mountain says No, you have to accept the fact there is nothing you can do about it. The team is in great spirits and we are thankful we are down out of the hazardous wind and bitter cold.
On The Map
×
Sign Up For Aconcagua 2012 Emails
{/exp:mailinglist:form}
---
More to Explore
Mountaineering Training | The Holiday Workout
December 17, 2012