---
Everest Base Camp Trek: Grom & Team Visit Lama Geshe for Their Blessing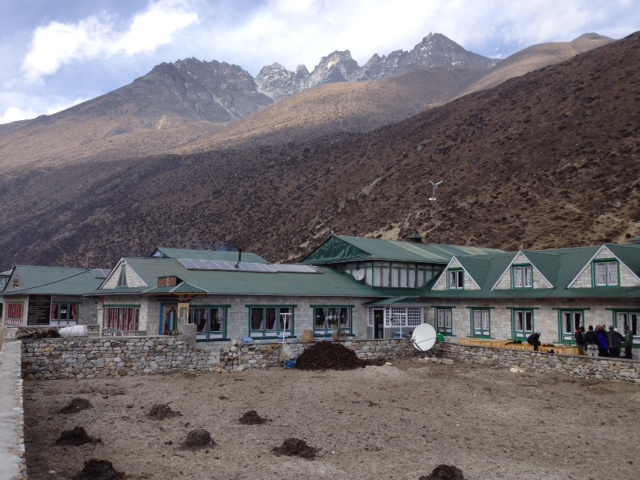 Day five in the Khumbu brings us more wonderful experiences and new heights. We left camp in Deboche and headed further uphill. Our first stop was in Pangboche to visit Lama Geshe, who is the highest ranking Buddhist in the valley. He is a high ranking Lama who is close friends with the Dalai Lama himself. All the Sherpas and smart climbers visit Lama Geshe before attempting any climbing here in the Khumbu. And because some of us will be climbing Island Peak and the rest of us would never turn down a blessing, we stopped by. Lama Geshe is from Tibet and speaks only Tibetan, he chanted and asked the mountains to give us safe passage and then gave us a Kata and tied a small string around our necks called a Sunde.
We stopped off to have lunch and then finished up our hike just as the clouds decided to sprinkle us with a little snow. We are currently resting in Pheriche which sits around 14,000'. Everyone is doing mostly well (a few folks are on the Khumbu weight loss diet, aka stomach issues!) but not to fear everyone is feeling better by the hour.
Looking forward to resting.
RMI Guide Casey Grom and crew
On The Map
×
Sign Up For Everest BC Trek 2013 Emails
{/exp:mailinglist:form}
---
More to Explore
Everest Base Camp Trek: Tucker & Team in Pheriche
March 27, 2013