---
Mountaineering Training | Fit To Climb Debrief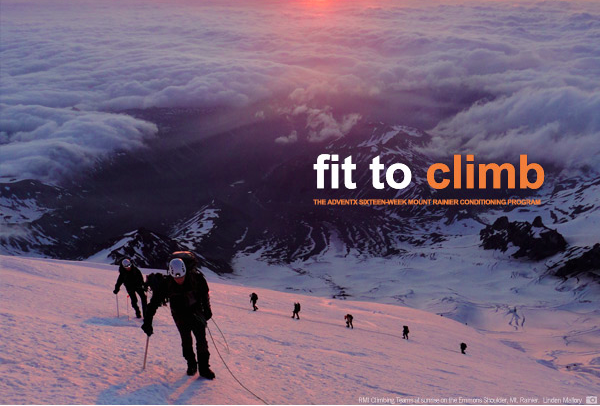 As the climbing season on Mt. Rainier gets underway, I want to acknowledge the hard training that has been logged. For climbers attempting mid or late season expeditions, I also want to offer encouragement for the remaining weeks and months ahead. 
 
The Fit To Climb training program is rigorous and to complete it in its entirety requires a substantial commitment of time and effort. Do people follow it to-the-letter? Sometimes yes, often no - people become ill, work or family situations come up and the best plans work on the basis of flexibility. 
 
A quote I find useful is, "My current circumstances do not determine the outcome, merely the point from where I begin." No matter where my fitness is today, my job is to make the best of the remaining time between now and my climb. Practically, I'll assess things in order of importance and re-evaluate strengths. For example, I have a Mt. Rainier climb on July 11th. I'll be a little short on training time during the next month so I need to improvise and adapt. I feel that I have the muscular strength I need now and I'd like to be better prepared to 'go long' and to improve hiking efficiency. So, in order of importance, long hikes, back-to-back long hikes, and stair intervals will go in my calendar as priorities. I'll also pay close attention to rest and nutrition to ensure that I can recover well.  
 
I'll also make sure that I focus my attention during training to ensure that I'm doing each session in a way that ensures quality results. For me, that means attention to detail; everything from gear to food - and a full effort, especially on interval training. 
 
A paradox of training for a major climb is that we want to set the bar high in training in order to replicate the demands we'll have during the expedition, however, we also want to maintain confidence if we fall short of a training session or goal. It's rarely a linear process; sometimes we feel awful just when we expected to be strong, sometimes our perfect plan goes sideways, and sometimes we feel doubt when everything has been completed perfectly. 
 
As you start the final push, think of the key elements of success: Maintain momentum, rest when you need to, push hard when you feel strong, and constantly think about how you can recover well. And most importantly, be confident that your efforts will pay off; many people have climbed and succeeded in their goals while having not completed all of the training or while feeling sub-par. I remind myself that one can miss a few classes and still graduate. It's progress, not perfection, that counts.
- John Colver
Have a question? See the Fit To Climb FAQ for explanations of specific exercises and general pointers to help you through the Fit To Climb Program.
John Colver is a longtime climber, former mountain guide, and certified personal trainer with the American Council of Exercise. Colver introduced outdoor fitness classes to athletic clubs throughout the greater Puget Sound region before creating his adventX brand. Currently, adventX leads training programs in Seattle and Colver presents clinics on outdoor fitness at companies such as Microsoft, Boeing, the American Lung Association, and REI. Colver lives in Seattle, and is working on his second book, Fit to Climb - a 16 week Mount Rainier Fitness Program.
---
More to Explore