---
Mt. McKinley: Haugen & Team Turn Below the Summit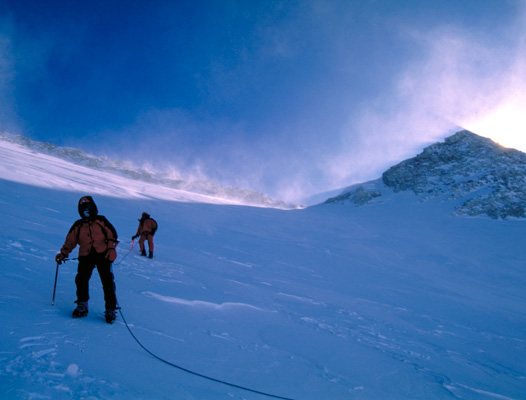 Wednesday, June 26th, 2013
We woke up around 7:30 with clear skies and no winds. We set off towards the summit with all of the crew feeling great. We experienced a little bit of wind and clouds at Denali Pass, but that is pretty normal. The climb was going smoothly and the weather was about as perfect as you can get. We were about 150 feet below the summit ridge when the clouds came in and blocked out our sun. All of a sudden we heard a crack of thunder and all of the metal around us began to buzz. We hightailed it down to a depression in a feature called the football field where things seemed to be calm. By calm, I mean a whiteout snowstorm came out of nowhere! We hunkered down and waited to see if things would settle down. When we were certain they would not, we worked our way down the mountain with GPS and some wands that mark the trail. After a fourteen hour climbing day, our whole team is back in camp happy, healthy, and fed having come a few hundred feet short of the summit but without a permanent stutter from electrocution!
Our plan is to rest tomorrow and perhaps give the summit another go in the next few days. We will see.
Goodnight!
RMI McKinley Summit Team 6

RMI Guide Mike Haugen calls in from 17 camp after their summit attempt.
On The Map
×
Sign Up For Denali 2013 Emails
{/exp:mailinglist:form}
---
More to Explore
Mt. McKinley: Hahn & Team Get Ready in Talkeetna
June 27, 2013
June 27, 2013