---
Aconcagua: Stevens and Team Trek to Pampa de Leñas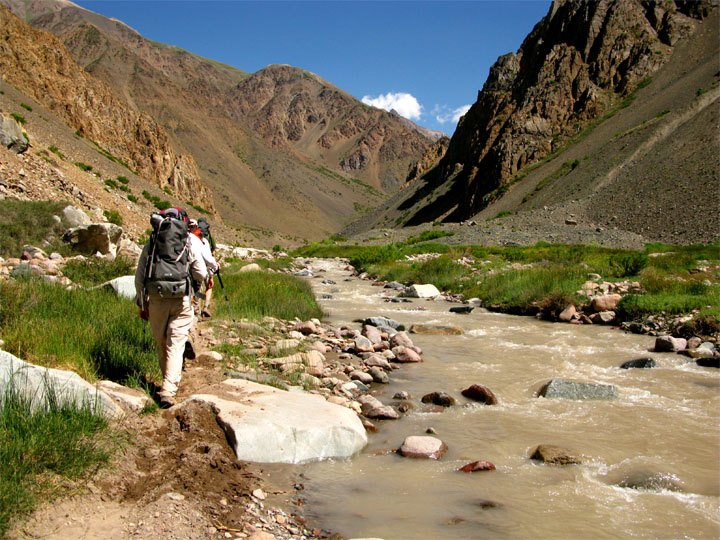 Today dawned with crystal blue skies and high energy for the team at the hotel in Penitentes. We made our way to a delicious breakfast of bacon, eggs, cheese and ham, washed it all down with coffee and orange juice, and headed over to the staging area for last-minute preparations.
Within a half hour, we had the duffels fully locked and loaded, trekking packs ready, and were on our way. Everybody was ready for the exercise after a couple of days of bife de chorizo and Malbec, and within the first half hour we had hit our stride. Steady hiking took us further and further up the Vacas valley, along the west side of the turbid and roaring Vacas river.
The scenery and stories kept our minds off the strong sun, and within a few hours we arrived here at our first camp, Pampa de Leñas. A few other folks have moved in next to us. They are friendly and excited as we are to be here in this beautiful place. We are currently watching the sun slide behind the mountains, with dinner the next immediate goal. Everyone is healthy, strong, and stoked to continue up the valley tomorrow.
Thanks for watching our progress; stay tuned!
RMI Guides Nick, Ben, and Garrett
×
Sign Up For Aconcagua 2013 Emails
{/exp:mailinglist:form}
---
More to Explore