---
Aconcagua: Stevens & Team Packed in at Piedras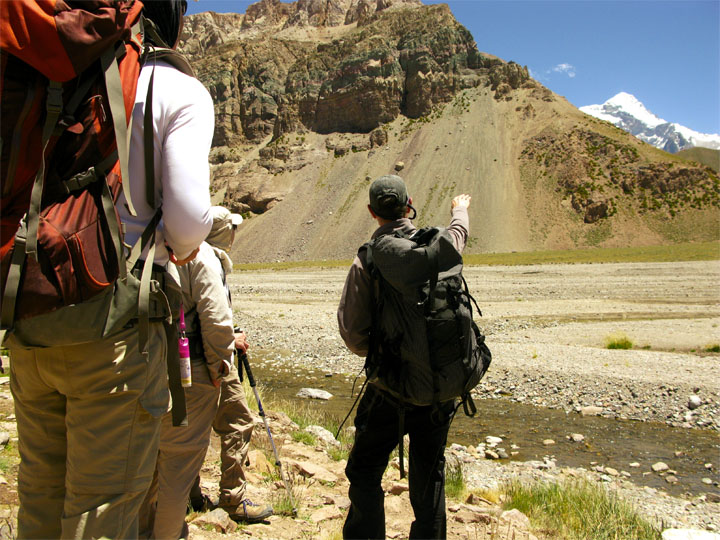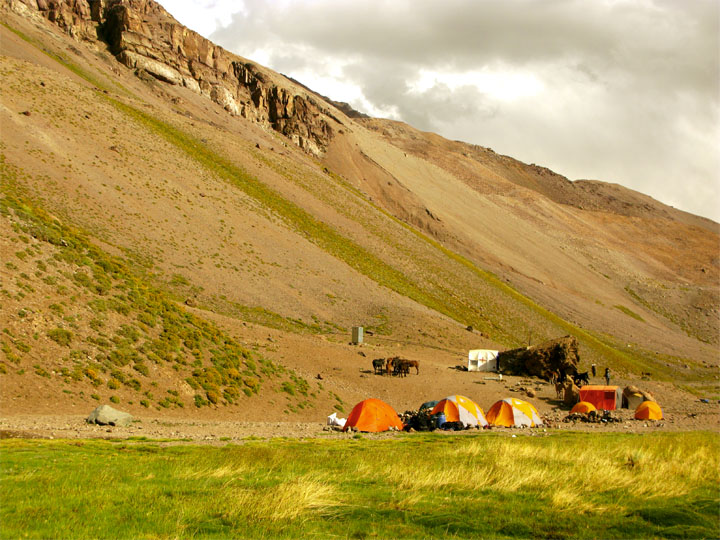 Today the team woke to another perfect blue sky, light winds, and zero clouds in sight. We took advantage of the cooler morning temps to get breakfast eaten, get packed up, and head further up the Vacas valley towards our home for tonight at Casa de Piedras.
The early shade was a welcome relief from yesterday's sun, and for the first hour or so we moved smoothly uphill and further upstream. As the day stretched on, the sun came over the horizon in full force and we were soon wishing for the light breeze from yesterday.
Well, you definitely have to be careful what you wish for, because about halfway to our destination the wind got quite strong, with big gusts blowing huge clouds of dust and sand down the valley and into our faces. But this tough team just kept going, undeterred. If anything, spirits got higher as we moved together towards our goal, and smiles abounded (albeit a little gritty from the sand flying all around).
The crew got to test their tent erecting skills in strong winds, and were soon nestled into bomber shelter. We've been hydrating and hiding from the sun, ready for an early launch tomorrow up the Relinchos valley towards our base camp at 14,000'. Stay tuned for more!
RMI Guides Garrett, Nick, and Ben
On The Map
×
Sign Up For Aconcagua 2013 Emails
{/exp:mailinglist:form}
---
More to Explore
Aconcagua: Justman and Team back at Base Camp
December 31, 2013
Aconcagua: Beren & Team Move to Camp 2
January 1, 2014