---
Aconcagua: Stevens & Team Push to Camp 2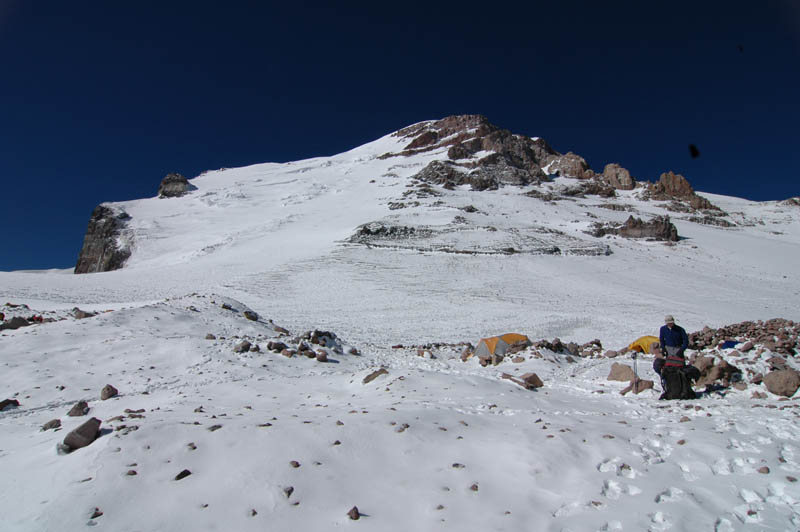 The team has now trekked into the thin air of Camp 2. With an elevation of 18,000' nothing proves to be easy up here. Even the simple tasks like setting up tents, inflating a sleeping pad, or heading to the bathroom take twice as long, but the team is handling it perfectly!
After a relatively short hike up and now having camp established, the goal is to breathe, sip water, and feel good. With the views of this proudly positioned camp it can at least aid in the task of feeling 100%. It looks in one direction northward over the impressive crest of the Andes Mountains, with glaciers pouring out of the high valleys. In another direction, is our next goal, Camp 3, 1,600' above our current location. And in yet another, the top of Aconcagua, around 4,800' above us.
As the summit draws closer, it is tough to just lay in the tent and let our bodies adjust to this unforgiving environment, but very key to our success. The team is strong, positive, and amped to be in one of the highest places in the world.
On The Map
×
Sign Up For Aconcagua 2014 Emails
{/exp:mailinglist:form}
---
More to Explore
Aconcagua: Nugent & Team Trek to Casa de Piedra
January 7, 2014
Ecuador Seminar: Adam Knoff & Team Start Off in Quito
January 8, 2014