---
Kilimanjaro: Martin & Team Continue to Karanga Camp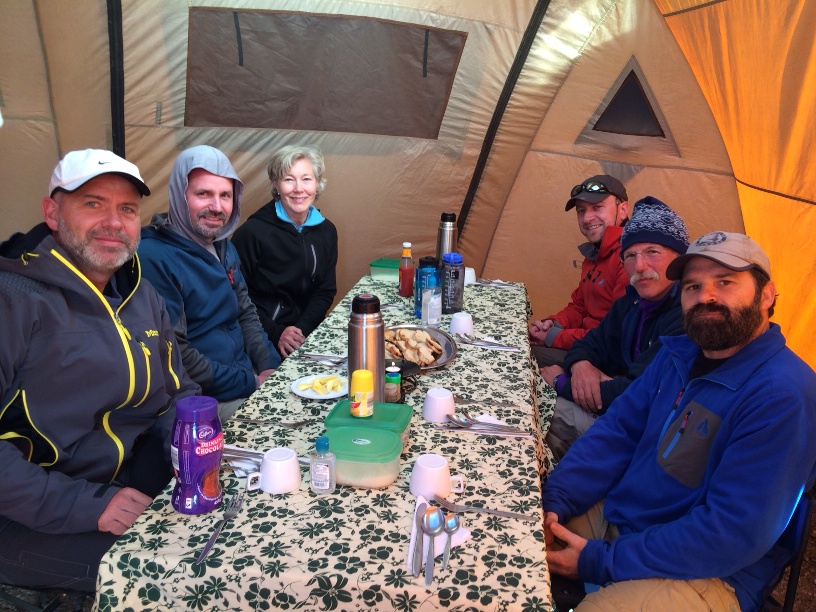 Jambo from Karanga Camp,
The team did great again today and the good weather continues. Right out of camp this morning we started our climb of the Barranco Wall. While viewed by most people as one of the more difficult parts of the trail, it was a breeze for this group. And it wouldn't be a stretch to say that they actually enjoyed it! We had the usual stopping and starting along the trail as climbers and porters negotiated some of the more tricky sections, but this did not slow us down and we topped out in just 1 hour and 20 minutes.
With the elevation gain behind us, we continued east towards Karanga Valley, traversing below the last of the southern ice fields. We also took advantage of some good terrain along the way to practice some walking techniques that we will use on summit day. By 1:00 we were pulling into camp, just in time to sit down to a spaghetti lunch. Such a treat! Now we are continuing the routine of the past few afternoons and just hanging out in camp enjoying our time on the mountain. The sun has been battling the clouds for most of the day. Lucky for us, the sun is refusing to give up.
Tomorrow is a short climb to Barafu Camp, our high camp. We'll get into camp by early afternoon with plenty of time to get ready for our summit day.
Best regards,
RMI Guide Jeff Martin
On The Map
×
Sign Up For Kilimanjaro 2014 Emails
{/exp:mailinglist:form}
---
More to Explore