---
Kilimanjaro: Martin & Team on Safari at Lake Manyara National Park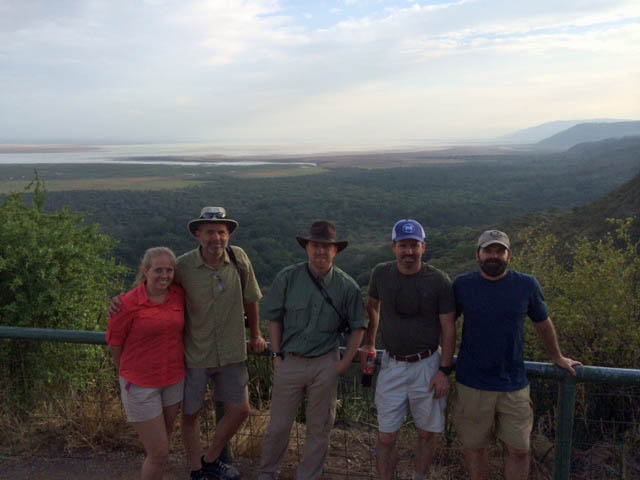 Hello from Plantation Lodge,
Today we did not have to break camp or walk anywhere. Instead, we switched out our climbing clothes for cameras and binoculars and started our four-day safari in northern Tanzania. The first stop was Lake Manyara National Park. Created in 1960, and the second designated national park in the country, it is most well known for tree climbing lions. Fortunately, we were not disappointed by the elusive lions. Not too long into our game drive, we spotted four lions who had just finished a big meal and took to the trees to get a little relief from the sun and heat. We were about 15 feet away from one of them, with an unobstructed view of this impressive creature. Just down the road, we came across a big family of elephants that were anything but camera shy. Throughout the day we saw at least 25 different species of animals, which is a real treat for such a small park.
Now we are at the Plantation Lodge, a small luxury lodge, that is located on the highlands above Lake Manyara. It is absolutely beautiful here!
Tomorrow we head to Ngorongoro Crater to see what many call the eighth wonder of the world. We are all excited to see what the day has in store for us.
Best regards,
RMI Guide Jeff Martin
×
Sign Up For Kilimanjaro 2014 Emails
{/exp:mailinglist:form}
---
More to Explore