---
Kilimanjaro Climb & Safari
Kilimanjaro: Martin & Team Back at the Dik Dik to Celebrate their Success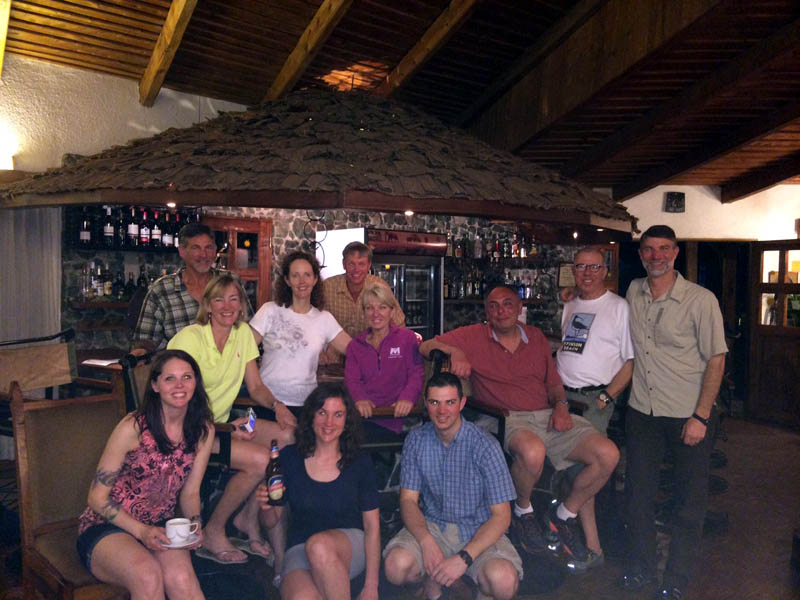 Hello from the Dik Dik,
Our mountain adventure ended today with 10 very happy climbers. Even though we had a very long day yesterday, the team wanted to get an early start and hike down to the Mweka Gate. You could tell that everyone wanted showers as we made record time descending the 4,400' to the end of the trail. You can feel it is the last day as porters are ready to get paid, and the climbers are still on the high of summiting yesterday. We had a big lunch spread waiting for us at the gate and then we tipped out our mountain crew for all their hard work over the last seven days.
Now we are back at the hotel and sitting down for drinks before our celebration dinner. We are all cleaned up and have packed away all our mountain gear.
Tomorrow we are heading out on our safari. The perfect way to recover from the physical effort expended to reach the top of Kilimanjaro. First stop is Lake Manyara!
Best regards,
RMI Guide Jeff Martin
×
Sign Up For Kilimanjaro 2014 Emails
{/exp:mailinglist:form}
---
More Updates
Previous
February 13, 2014
Ecuador's Volcanoes
Next
February 13, 2014
Ecuador's Volcanoes