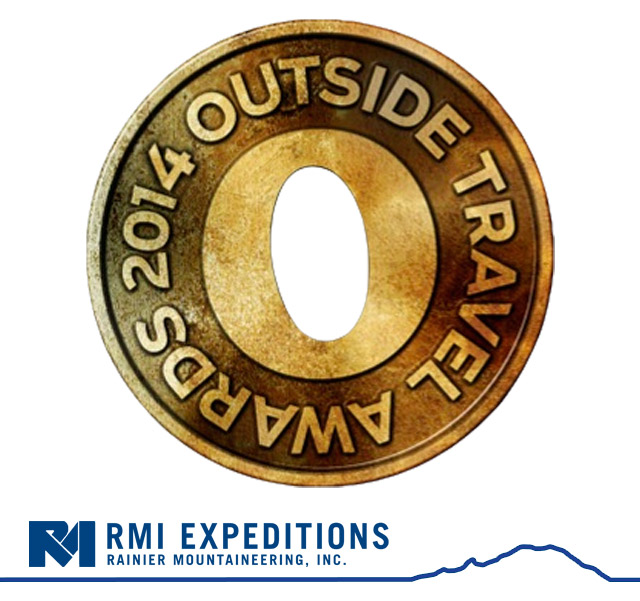 RMI Expeditions is pleased to be honored as
Outside Magazine's 2014 Best Outfitter
! Outside selected RMI out of dozens and dozens of travel companies to be the recipient of this year's award, recognizing our incredible
guide staff
, exciting
mountain adventures
, and dedication to
responsible climbing
. "We are honored to receive Outside Magazine's Best Outfitter for 2014. At the heart of our trips stand the incredibly talented guides who lead our adventures. With great passion, experience, and skills, our guides strive to make every trip an exciting and meaningful experience," said Peter Whittaker, guide and owner of RMI Expeditions. We owe a big "Thank You!" to all of the climbers who have joined us on adventures over the years and our outstanding guides. We look forward to more climbs to come! Read Outside's Article and see the complete list of Travel Awards winners at
www.outsideonline.com/adventure-travel/travel-awards/2014-Travel-Awards-Best-Outfitter
or in the April Issue available March 18th. Read the official Press Release below:
RMI Expeditions honored by OUTSIDE Travel Awards 2014

Ashford, WA (March 4, 2014) –OUTSIDE, America's leading active lifestyle brand, has selected RMI Expeditions as an honoree of their annual Travel Awards, which celebrate the top destinations, companies, products, and travel providers—in the U.S. and around the world—that inspire people to participate in an active lifestyle. RMI Expeditions was honored as Best Outfitter. The entire list of honorees appear in OUTSIDE's April issue (on newsstands March 18), and online at
www.outsideonline.com/travelawards
.

 This year, OUTSIDE tapped its global network of correspondents, who traveled across America, to Belize, Switzerland, Italy, and beyond, identifying the best new adventures, stunning lakes, gorgeous new lodges and hotels, family vacations, secret getaways, high-tech airports, and foodie hotspots. The result is more than 50 spectacular trips, plus the best travel apps, tour guides, gear, tips for traveling green, and advice for traveling solo. 

"We are honored to receive Outside Magazine's Best Outfitter for 2014. At the heart of our trips stand the incredibly talented guides who lead our adventures. With great passion, experience, and skills, our guides strive to make every trip an exciting and meaningful experience," said Peter Whittaker, guide and owner of RMI Expeditions. 

"Whether you're looking to go big for an expedition, splurge on a luxurious paradise, or plan an epic family trip, OUTSIDE has unearthed fifty travel gems that will inspire you to renew that passport," said OUTSIDE Editor Chris Keyes. 

RMI Expeditions
, based at the foot of Mt. Rainier in Ashford, WA, leads treks, climbs, and expeditions around the world, from Mt. Rainier to the the Himalaya. Established in 1969, RMI has built a 45 year legacy of leading exceptional mountain adventures catering to climbers of all abilities. RMI's guides are some of the most accomplished mountaineers and mountain guides in the world, including Ed Viesturs, Dave Hahn, Peter Whittaker, and Melissa Arnot. Every RMI trip is carefully vetted and planned by RMI's guides and climbers receive extensive pre-trip support from the guides and staff before heading to the mountains. RMI's exceptional leadership, focus on safety, personal attention, and dedication to climbing responsibly distinguish RMI as a leader in the mountaineering world. The complete list of Travel Awards winners will be featured in the April issue of OUTSIDE, available March 18, and online at
www.outsideonline.com/travelawards
. . 
About RMI: RMI Expeditions (Rainier Mountaineering, Inc) is one of America's most reputable and long-standing guide services with over 45 years of mountain guiding experience. An American Mountain Guides Association (AMGA) accredited guide service specializing in
mountaineering expeditions
, alpine climbing, trekking and ski touring programs, RMI is committed to leading exceptional mountain adventures. About OUTSIDE: OUTSIDE is America's leading active lifestyle brand. Since 1977, OUTSIDE has covered travel, sports, adventure, health, and fitness, as well as the personalities, the environment, and the style and culture of the world Outside. The OUTSIDE family includes OUTSIDE magazine, the only magazine to win three consecutive National Magazine Awards for General Excellence, The Outside Buyer's Guides, Outside Online, Outside Television, Outside Events, Outside+ tablet edition, Outside Books, and now Outside GO, a revolutionary, 21st-century adventure-travel company. Visit us
online
 and on
Facebook
, and follow us on
Twitter
.
---
More to Explore