---
Ecuador's Volcanoes: Walter & Team Thwarted by Rain & Winds on Cayambe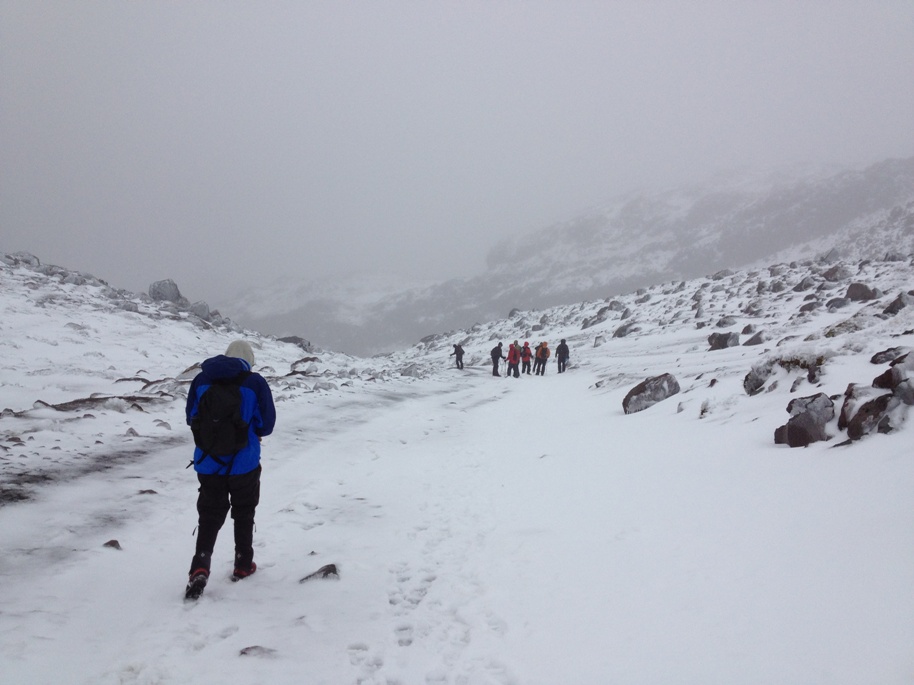 We had an alpine start this morning, waking up in the middle of the night for our summit attempt on Cayambe. At midnight the winds were moderate and there was a beautiful, clear, and starry sky above us. We were psyched to see the clear sky, and we hoped that the winds would subside a bit throughout the day.
By the time we left the climbing hut (15,300') at a little before 1 a.m., a cloud had settled in on us and it was raining lightly. As we ascended, the wind and rain increased in intensity and the temperature kept dropping. After about a thousand feet of climbing, we were soaking wet and the wind speed was strong enough that it made climbing difficult. With another couple thousand feet more to climb, we turned around and headed back to the comfort of our climbing hut. Wet and cold, we drank some hot tea and then crawled in our sleeping bags for a few hours of well deserved sleep.
We are all off of the mountain now and headed for the Hacienda Chilcabamba, located just outside Cotopaxi National Park. We will take a rest day there tomorrow, drying out our clothes and getting ready for our climb up Cotopaxi.
We will be in touch again tomorrow.
RMI Guide Mike Walter
On The Map
×
Sign Up For Ecuador 2014 Emails
{/exp:mailinglist:form}
---
More to Explore
Mt. McKinley: Nugent & Team Carry to 17,000' Camp
June 23, 2014
Mt. McKinley: Jones and Team Wrap it Up
June 23, 2014