---
Mt. Elbrus: JJ and Team Enjoy Time on the Mountain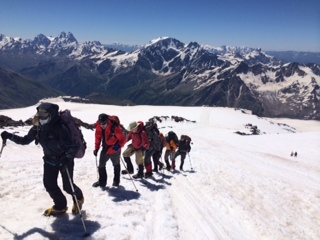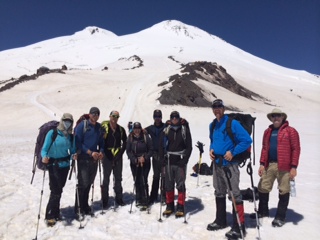 Hello from Mt. Elbrus! Our team awoke from a good nights sleep to a beautiful, clear sunny day. After a great Russian breakfast with great American Starbucks coffee we threw our spikes on and went for a walk.
The higher you get the slower things become. As our team approached 15,000 feet many of us began to feel the air getting just a bit thinner. However, we accomplished the goal and the high altitude was a great welcome for us to become stronger for summit day.
Everyone did a great job and even though towards the end it got a little tougher, everyone is having fun and in good spirits. However, no one is still laughing at any of my jokes!
On The Map
×
Sign Up For Elbrus Southside 2014 Emails
{/exp:mailinglist:form}
---
More to Explore
Fisher Chimneys: Walter and Team Check In
July 23, 2014