---
Mt. Elbrus: North Side Teams Moves to Camp 2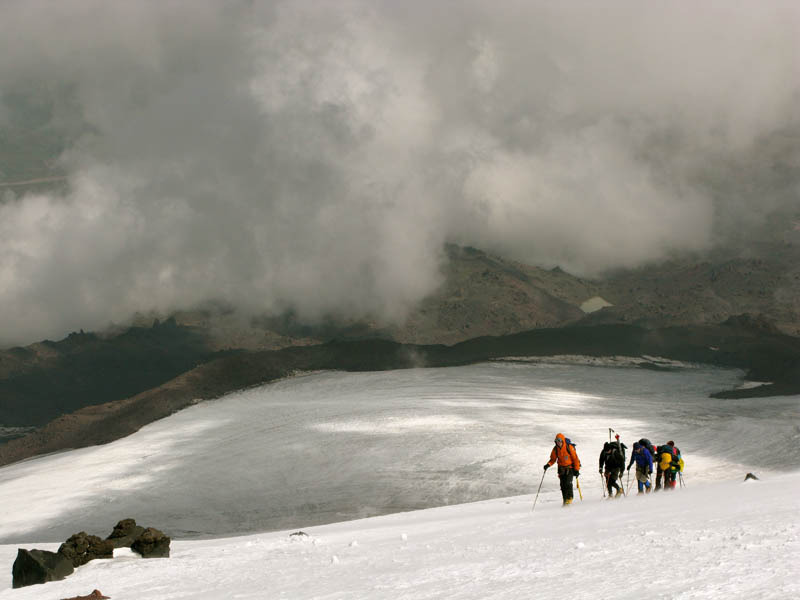 Hello from Camp 2 on Mt. Elbrus,
Our plan for today was to wake up early to get a head start and try to get to Camp 2 before the potential afternoon weather moved in. Well, this morning was not like the last three mornings. It was snowing pretty hard at camp, so we once again had a weather delay. This time though, our delay worked. By 9:30 the snow had stopped and most of the clouds had dissipated and we could actually see the twin summits. We were walking shortly after and made it to camp with beautiful weather. The clouds that did remain worked with the sun to create a perfect solar oven. The walk up was very hot and there was literally no escaping the heat until we reached camp.
We set up camp in the lower Lenz Rocks, 3000' above Camp 1. Fortunately, the weather cooperated while we established a camp that was ready for the windy reputation of Lenz Rocks.
If the weather continues to improve, tomorrow should be our summit day. We are all packed and the team is strong, healthy, and ready for our attempt.
We are now tucked into our tents just as the sun is setting over the western flanks of the mountain. The views just get better and better.
RMI Guides Jeff Martin and Pete Van Deventer and the Northside Team
On The Map
×
Sign Up For Elbrus Northside 2014 Emails
{/exp:mailinglist:form}
---
More to Explore