---
Denali Expedition: Hahn & Team Let Go of The Summit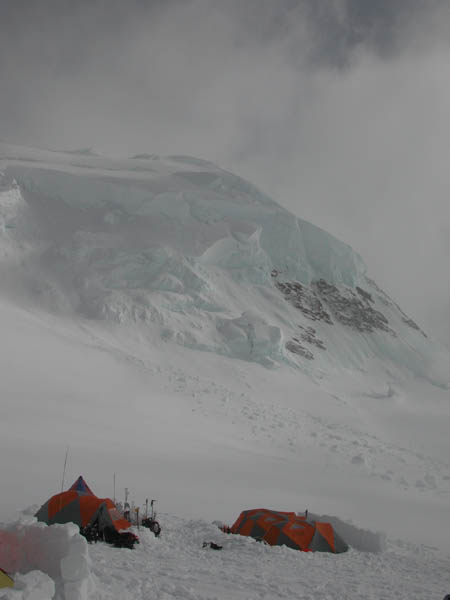 Saturday, July 7, 2018 2:37 AM PST
Some days you eat the bear…
We're down at 11,000 ft. We had lofty ambitions this morning but Denali played hard to get. There was a mean wind blowing through much of the night and sadly right through the morning. We waited it out as long as we could but called it at mid day. Tough as it was to let go of the summit, it was pretty obvious that it was out of reach under the circumstances. We broke camp at 17 and got moving down -as did every last climber on the mountain. A storm is moving in, according to the forecasters. For that though, today was spectacular once we were on the move. There is a bunch of forest fire smoke creating a haze, but we still got great views down to the Kahiltna Glacier as we carefully walked the ridge crest, dropped down the fixed lines, dug out our sleds at 14k and pushed on around windy corner with heavy loads. We piled on down the squirrel hills and motorcycle, and came into 11,000 at 9:30 PM. Our tents went up fast and dinner wasn't far behind. The air down here is chock full of oxygen and it isn't nearly so cold as we've gotten used to. We'll get some low altitude sleep and plot our final escape to the airstrip soon.
Best Regards,
RMI Guide Dave Hahn & Team
×
Sign Up For Denali 2018 Emails
---
More to Explore
Peru Seminar: Young & Team Summit Nevado Ishinca!
July 7, 2018