Posted by: Dave Hahn | September 05, 2015
Categories: *Expedition Dispatches *Kilimanjaro
Elevation: 12,800'
This was a great day of climbing. It dawned crisp and clear at Shira Camp. Kibo, Kilimanjaro's main peak, was visible in all it's glory. We still couldn't see much out to the west because of clouds and murk, but everything was nice and blue up above. We got walking at 8:30 AM and made good, steady progress climbing toward Kibo. Inevitably, the clouds formed up as we went along, but we still enjoyed dramatic views of the hanging ice fields and steep mountain flanks ahead. We reached the 15,000 ft Lava Tower in early afternoon, and shattered everybody's previous altitude records in the process. Then our long descent into the Barranco Valley began. The good weather held for us and we even had a few sunny moments again as we got into the garden-like surroundings of our camp for the night. We passed under 30 ft high Giant Senecio plants… Seemingly straight out of a Doctor Suess book, and reached camp at 13,000 ft shortly after 3 PM. We are now camped below the Great Barranco Wall, but that of course, doesn't need to be climbed until tomorrow.
Best Regards,
RMI Guide Dave Hahn
On The Map
---
Posted by: Zeb Blais | September 04, 2015
Categories: *North Cascades
Sahale Mountain is the perfect place to start your alpine climbing career. The climb has it all: a thick, forested approach to the Boston Basin Camp on a tough climber's trail, low angle rock slab climbing, a intricate glacial navigation and even a pitch or two of 5th class rock climbing. While this may sound daunting, the relatively low mileage and vertical gain for the trip make it a very accessible climb for those looking to improve their movement skills and get a taste of alpine climbing. For experienced mountaineers, it's pure fun. Late this August, the constantly changing terrain and the remote setting of Boston Basin provided a stunning backdrop for four days of climbing for our small group of four climbers, fellow guide Robby Young, and myself.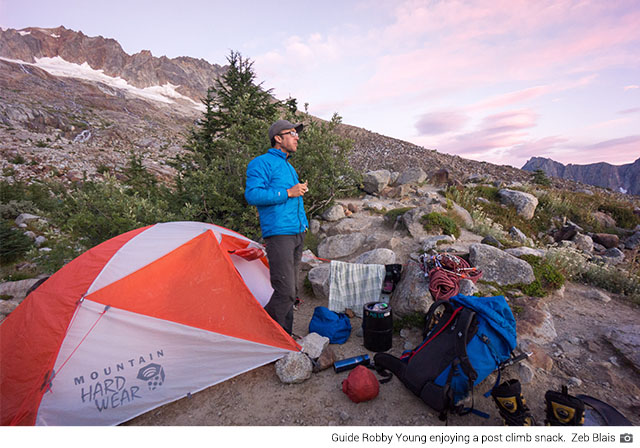 While Sahale Mountain is a good introduction to the North Cascades, it is still a physically demanding climb that requires climbers to show up prepared. The approach is arduous. With heavy packs full of food, fuel, tents, climbing gear and layers, the thin climbers' trail winds through the forest about 3 miles and around 3,500' vertical up to the lowest camp in Boston Basin. One of our team counted crossing over 300 downed trees on the approach (he claimed to be accurate, but my hunch is that he cooked the books a little on that number). Regardless of the actual number, this wasn't a well-maintained city sidewalk!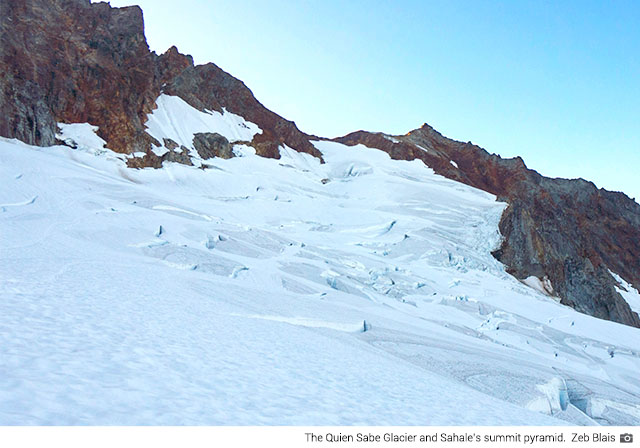 Once we emerged from the thick forest, Boston Basin greeted us with spectacular views of granite peaks in all directions. North of camp Mount Torment and Forbidden Peak look as intimidating as their names imply. East of camp, Sharkfin, Boston Peak and Sahale fence in the Quien Sabe—Spanish for who knows—Glacier. Simply camping in this setting is worth the price of admission, but at this point the fun was just beginning.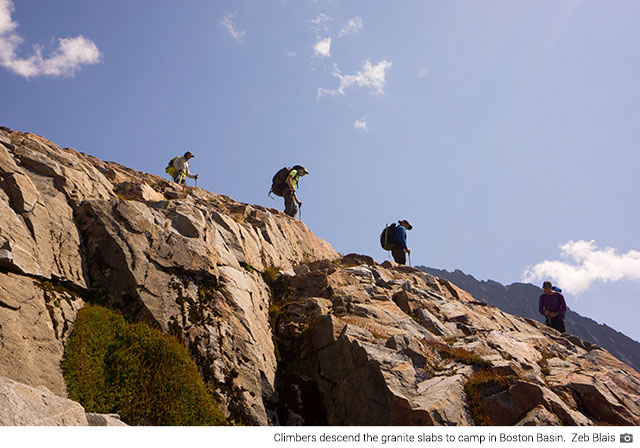 After setting up camp, we rested for the remainder of the day to get an early start on a day of training for our summit bid. Much of the climbing on Sahale consists of moderate rock, so our team focused on rock movement for much of our training day. Between camp and the Quien Sabe Glacier lies 1,400' of low and moderate angle granite slab walking. Moving on this terrain requires skillful footwork and good balance. After practicing smearing, edging and route finding on rock we gained the glacier. Donning crampons, harnesses and ice axes we delved into efficient movement techniques for snow, ice and glacial travel. With our team's improved movement skills, we headed back to camp ready to tackle our objective the next day.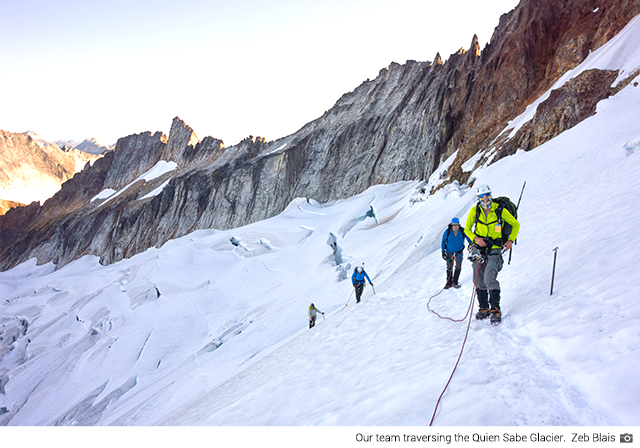 We rose early, in full darkness, to set ourselves up for a potentially long summit push. Due to light snow accumulations over the winter and a hot summer, the Quien Sabe had very little seasonal snow remaining. The route wound from the far north edge of the glacier to the south where the glacier bumps up against a rock arrete at 8,200'. The climbing was straightforward and there was only one section of glacier where we needed to walk with absolute focus on each step.
At the south end of the glacier, we moved onto rock for about 50' vertical feet and then climbed directly up a steep snow face. We had watched teams navigating the bergshrund (the largest, highest crevasse on a glacier) just north of this area the previous day while we were training. We decided the jumbled ice plugs and snow bridges they had crossed were not something we wanted to tangle with unnecessarily, and we believed that we had spotted a smoother route to the South that eliminated the hazard of walking through broken ice of the "direct" route.
Above the bergshrund, we found smooth climbing onto the ridge. Often a moat can form between the glacier and the rock, which can make the transition from glacier to rock difficult, but this wasn't the case for us. A small step off the glacier onto the solid rock of Sahale's summit ridge was all it took. 50' of 3rd class scrambling put us on the ridge headed for the summit pyramid.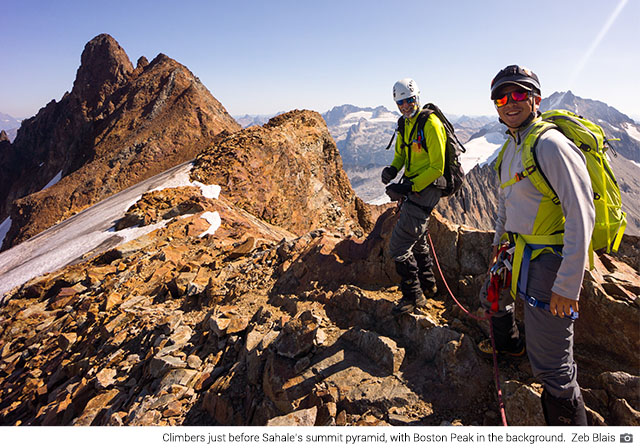 Robby and I short roped our teams along the narrow rocky ridge until we arrived at the last steep pitch leading to Sahale's pointy summit. This pitch presents a 4th or low 5th class move or two to get to the highest block of granite on top. We pitched out this section, running our rope out to the top and belaying our climbers up the short step. What a great way to top out! Without a breath of wind on the summit, our team enjoyed the high perch for a full half hour before starting the descent.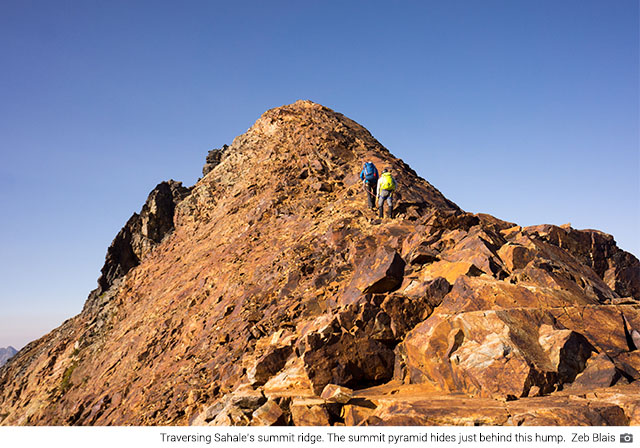 Our team moved well across the softened the surface of the glacier, and soon we were back on the rock slabs above camp stripping crampons. We just had a couple of short stretches of slab to down climb to get back to our tents. The team pulled it off in great style and we finished the climb telling stories and watching a beautiful sunset.
With gravity and the motivation of a meal in town helping us, we descended the climbers' trail back to our cars. Soon we were enjoying cold beer and Marblemount's best barbecue, Que Car BBQ!
Whether you've done a pile of 14ers or this is your first mountaineering trip, Sahale is a great trip.
_____

Zeb Blais is a senior guide at RMI Expeditions. He has climbed and skied mountains across the globe. In the spring of 2014, he set out to traverse Tajikistan's Fedchenko Glacier on skis. Find Zeb on Instagram at @zebblais.

---
Posted by: Dave Hahn | September 04, 2015
Categories: *Expedition Dispatches *Kilimanjaro
Elevation: 12,500'
Jambo from Shira Camp at around 12,500 feet. We enjoyed a rain-free day from start to finish. Early risers back down at Machame Camp claim to have seen Kilimanjaro's main peak before clouds hid her cliffs and glaciers. We ate breakfast at around 7:30 under partly cloudy skies and got walking at 8:15 under sunny skies. It was a day of serious altitude gain as we covered half of yesterday's distance but still got up 2,500 vertical feet. There were dramatic changes in vegetation as we came out of the forests and through various zones of plant life flourishing in arid conditions. A large part of the day was spent working up along a ridge of old and weathered lava. Eventually we saw our first Senescu and Lobelia plants. The first of what will be many. The climb finished with a traverse out to the west, where ancient lava flows built a broad flatland between Kibo- Kilimanjaro's main peak and Shira, its western satellite. The gang are all climbing well and continue to marvel at just how much dirt and dust will fit under human fingernails in this environment. Temperatures aren't so cold yet, despite our having pushed up to roughly 12,500 feet.
Best Regards,
RMI Guide Dave Hahn
On The Map
---
Posted by: Eric Frank, Zeb Blais | September 04, 2015
Categories: *Expedition Dispatches *Mount Rainier
Elevation: 11,800'
The Mount Rainier summit climb teams, led by RMI Guides Eric Frank and Zeb Blais, were unable to summit this morning and turned on the Disappointment Cleaver. Although the weather was clear, calm, and cold, the avalanche danger and new snow kept the team from continuing their summit bid. Both teams are safely back at Camp Muir and are planning a 9:00 a.m. departure to begin their descent to Paradise.
---
Posted by: Dave Hahn | September 03, 2015
Categories: *Expedition Dispatches *Kilimanjaro
Elevation: 9,800'
The climb is underway. We were up early today, carrying bags and packs to the magic bus/truck for the ride to Kilimanjaro. We enjoyed a last comfortable breakfast at the Dik Dik Hotel and said our goodbyes to the staff there as we climbed on board the great expedition vehicle. We were on the road just after 7 AM and at our destination, the Machame Gate to Kilimanjaro National Park by around 9 AM. Our expedition staff sorted loads and hired porters as we snacked, drank water and shooed monkeys from our staging area. Our climb began around 10:15 as we set out through the forest at nearly 6000 ft above sea level. Gaining 4000 feet over the course of about five and a half hours, we were encouraged to be on dry ground and good trail. There was significant cloud cover, but no rain until we'd very nearly reached Machame Camp at 9890 ft. Even then we only had a few minutes of sprinkles as we moved into our tents. An afternoon snack and a delicious dinner in our dining tent took us to darkness and the end of a fine first day. We were all happy to be finally walking in a pretty place after so many less than fun days of packing, traveling and preparing.
Best Regards,
RMI Guide Dave Hahn & Team
---
Posted by: Mike Walter, Pete Van Deventer | September 03, 2015
Categories: *Expedition Dispatches *Mount Rainier
Elevation: 11,200'
The Four Day Summit Climb led by RMI Guides Mike Walter and Pete Van Deventer turned at Disappointment Cleaver due to fresh snow on the route with high avalanche conditions. The teams have left Camp Muir and are en route to Paradise.
---
Posted by: Dave Hahn | September 02, 2015
Categories: *Expedition Dispatches *Kilimanjaro
Our Kilimanjaro climbing team has come together at the Dik Dik Hotel on the outskirts of Arusha, Tanzania. The team actually assembled 24 hours ago, but it took until today for the guide to catch up and join the party. Couldn't get my rickety old 747 to start for the hop across the Atlantic. The team, in the drowsy grip of jet lag and the tranquility of the Dik Dik gardens, barely noticed my absence. Today was a day of rest and recovery… and of preparation for a great adventure. Eleven of us introduced ourselves and began the fun "work" of building a climbing team. We went through the various details of packing and getting organized for a journey through multiple climatic zones and a hoped for shot at the 19,340 ft high point of Africa. With just a few wonderful meals together, we're well on our way to being spoiled by the kitchen and dining staff at the Hotel. Our intention is to break away from all of this luxury in the morning…To get on the road by 7 AM, with the hope of being walking a few hours later. It will be great to replace the images of crowded airports and long security lines with visions of paths in lush forests and glimpses of distant snow-capped peaks.
Best Regards,

RMI Guide Dave Hahn & Team
---
Posted by: Casey Grom, Leon Davis | September 02, 2015
Categories: *Expedition Dispatches *Mount McKinley
Elevation: 10,060'
RMI Guides Casey Grom and Leon Davis along with their Four Day Summit Climbs remained at Camp Muir overnight due to high winds. The teams were unable to make a summit attempt and will start their descent from Camp Muir later this morning. We look forward to seeing the teams at BaseCamp later today.
9:00 am PST
Guide Casey Grom checked in with the RMI office. With a bit of a break in the weather the team was going to take a walk on the upper mountain and plan to depart Camp Muir at around 11:30 am today.
---
Posted by: Jake Beren, Mike King | September 01, 2015
Categories: *Expedition Dispatches *Mount Rainier
Elevation: 12,600'
The Four Day Summit Climb teams led by RMI Guides Jake Beren and Mike King turned around at Camp Comfort on Mt. Rainier this morning. While climbing, the teams encountered moderate winds and knee to thigh deep snow. We look forward to greeting the climbers in Ashford this afternoon.
---
Posted by: Brent Okita, Zeb Blais | August 31, 2015
Categories: *Expedition Dispatches *Mount Rainier
Elevation: 11,400'
RMI Guides Brent Okita and Zeb Blais lead their Four Day Summit Climb teams to approximately 11,400 on the Disappointment Cleaver route before turning around due to avalanche danger higher on the route.
The teams returned to Camp Muir and will begin their descent to Paradise this morning. We look forward to seeing them at Rainier BaseCamp later today.
---
Previous Page
More Entries