---
Everest Base Camp Trek & Island Peak Climb: Exploring Kathmandu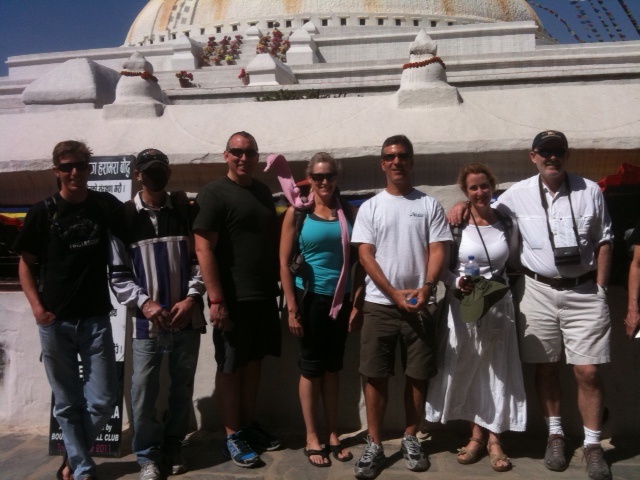 We spent our first full morning here in Kathmandu in the Yak & Yeti's gardens, enjoying rare clear skies here in Kathmandu while discussing the final trip details, logistics, and equipment review. By midday our bags were sorted, our climbing gear and trekking gear separated and repacked in preparation for the mountains.
After finishing we plunged ourselves into Kathmandu's maze of streets to visit some of the city's most famous destinations. First visiting the Boudhanath Stupa, one of the largest Buddhist Temples in Kathmandu and the starting place for any pilgrimage taken by Nepali's practicing Tibetan Buddhism. The sprawling stupa is alive with devotees circumnavigating its base, softly chanting while spinning the hundreds of prayer wheels lining the stupa walls.
We next ventured to the hills to the east of Kathmandu's center where Sawayambu sits, known as the Monkey Temple for the hundreds of monkeys that call the stupa home. Today the afternoon heat kept the monkeys in the shade, the younger ones choosing to wrestle and swim in the small fountain near the stupa's base. From the Money Temple the clear skies afforded us amazingly clear views across the city. From above Kathmandu's complicated web of streets takes on an amazingly orderly look, the faint sound of horns being the only indication of the chaos below.
At last we dove into the very heart of Kathmandu's center, Durbar Square – literally the Palace Square that has been the center of Kathmandu for centuries. There, ancient Hindu temples crowd the streets, each with it's own story and significance in the city's heritage. Milling throughout are vendors of fruits and vegetables along with those hawking souvenirs to the tourist. It is a wildly busy and exciting place yet remarkably intimate given it's cultural and historical prominence for Kathmandu and all of Nepal.
After a full day of packing and taking in the sites we returned to the hotel as the sun sank lower in the hills. We head to Kathmandu's domestic airport tomorrow for an early morning flight out of Kathmandu and into the Khumbu.
- RMI Guide Linden Mallory
×
Sign Up For Everest BC Trek 2011 Emails
{/exp:mailinglist:form}
---
More to Explore
Everest Base Camp Trek & Island Peak: Team Arrives
March 22, 2011