---
Mt. Everest Expedition: Dave & Linden Rest Day at Camp 2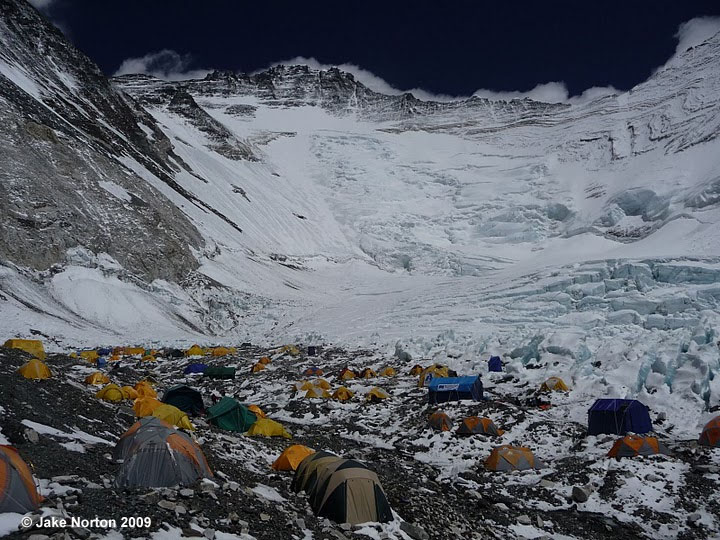 Dave and Linden are resting at Camp 2. Kaji and Dawa up to Camp 2 with last loads of equipment to help support the summit push. Dave, Linden, Kaji, Dawa, and Tsering up early tomorrow for the climb from Camp 2 to the South Col. Yubarj will support the effort from Camp 2 and one of the three climbing sherpa are slated to stay at the South Col in support of the Summit team.
Bill, Sara and myself made the early morning trek to the Heli pad with a ship headed our way till it ran into clouds. It started in Lukla, then returned to Lukla without Sara and Bill, but still on standby. At these altitudes, and good sized mountains near by, best to fly a bit conservative, you know what I mean. So Bill and Sara along with Lam Babu started hiking to Pheriche after lunch. They kept an eye on the weather and a hand on the phone in case they could fly from either Gorak Shep or Lobuche. Neither option happened and last I heard they were getting near Pheriche. They were enjoying the hike today and have no problem trekking all the way to Lukla in three days. Maybe tomorrow, weather permitting they will fly out of Pheriche enjoying one of the most spectacular flights you can imagine. Base Camp keeps getting less and less tents around but that's what happens around this time of the season.
We are all getting very excited about the next couple of days. Forecast is good. Team healthy and strong. Camps in place. A bit of luck, will make good
chance at the summit.
RMI Guide Mark Tucker

Linden checking in from Camp 2
On The Map
×
Sign Up For Everest 2011 Emails
{/exp:mailinglist:form}
---
More to Explore
Mt. McKinley: Brent Okita begins his 21st expedition
May 19, 2011