---
Cotopaxi Express: Acclimatization Hike on Rucu Pichincha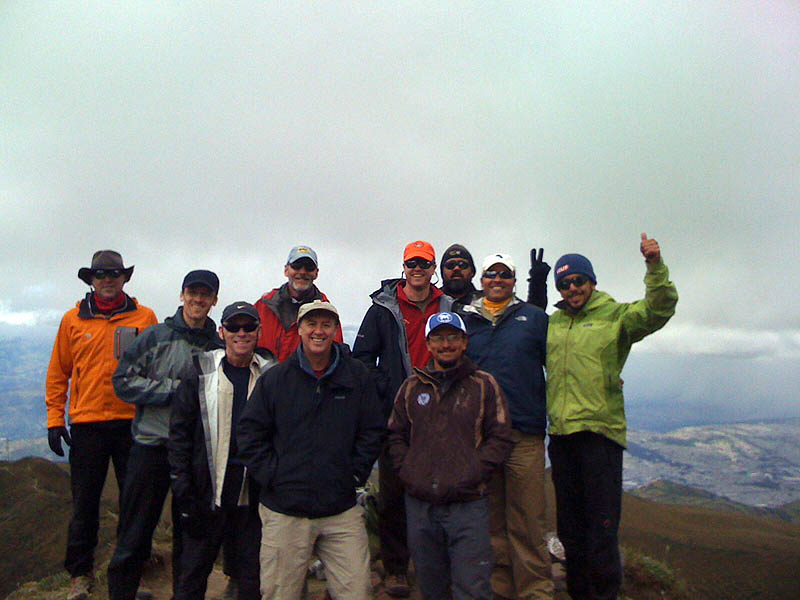 Happy 4th of July from Ecuador! We hope that everyone back home is having a fun and safe Independence Day.
Today we took our first acclimatization hike. We started the day with breakfast in the hotel and were then joined by our two local mountain guides Esteban and Robinson. After a short drive to the base of the Quito Teleferico we took the gondola to 13,100 feet. From there we embarked on our hike on the slopes of the Pichincha volcano. The weather was mostly cloudy today but that was actually very nice as it kept us nice and cool for our hike. We hiked up for about 2.5 hours and topped out at almost 15,000 feet! We enjoyed our lunch there along with a great view of Quito. After descending back to the top of Teleferico we had a nice cup of tea and then rode back down to the city.
Everyone is now having a little down time before we meet up for our last dinner in the city. Tomorrow we are going to head up towards the Illiniza peaks and overnight at the Hacienda Chilcabamba.
RMI Guide Seth Waterfall
×
Sign Up For Ecuador 2011 Emails
{/exp:mailinglist:form}
---
More to Explore