---
Dave Hahn's Memories of Nawang Gombu Sherpa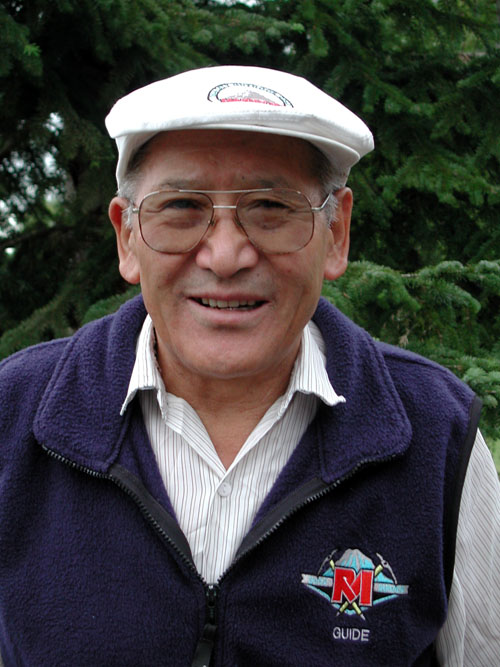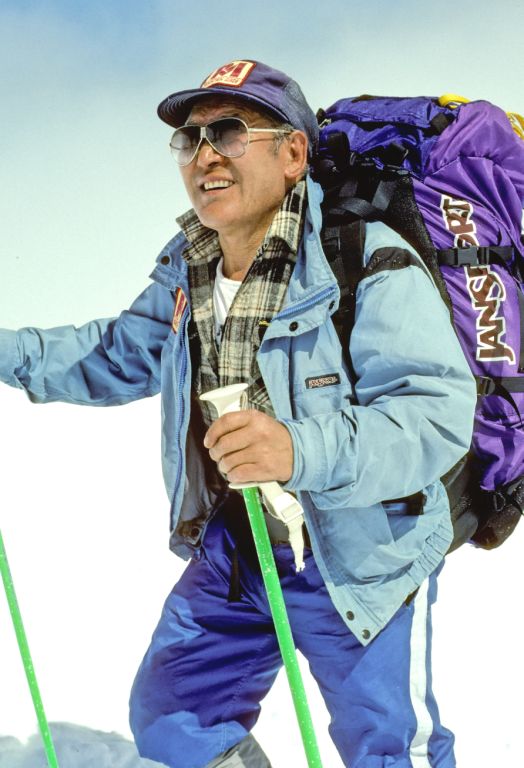 The most famous RMI guide that ever lived was also a profoundly humble man in an arena not known for fostering humility. Nawang Gombu Sherpa was a man of many such contrasts.
My memories of working with Gombu aren't unique or privileged. I wasn't seeing some side of him that others weren't privy to. But because of his unassuming nature, casual acquaintances might have mistaken his stature in the world. Certainly not, if they'd studied mountaineering and 20th century world history. Gombu was the first man to summit Mount Everest twice. He was the longtime director of the Himalayan Mountaineering Institute and he was nephew to Tenzing Norgay. He was the youngest Sherpa on the successful 1953 British Mount Everest Expedition and was one of the last surviving climbing Sherpas of that heroic era.
Nawang Gombu had met the queen of England on several occasions. You can find a picture of him in a 1963 National Geographic magazine placing a silk scarf of friendship around John F. Kennedy's neck in the Rose Garden. But if you worked and lived with Gombu around Mount Rainier in the 70's, 80's or 90's… you probably don't remember him doing a whole lot of explaining as to why he was so special. More likely you remember him working very hard. And as he got a bit older and less capable on the mountain, some may remember that he also worked hard down around the guide shop, pushing a broom or helping with rental gear.
Despite his unfailingly open and friendly personality, it wasn't the easiest thing for a young guide to get to know Gombu. He was from a different generation and a vastly different culture and so he talked and acted a little differently… and often times he was a bit needy since he was somewhat isolated in Ashford without a car. So, while everybody called him a friend… that was pretty easy with Gombu, it took a little extra effort for someone to actually be his friend and include him in activities and routines. But for that Gombu was always profoundly grateful. I'm embarrassed now to remember how many times he cooked me dinner and then didn't allow me to wash dishes afterward. There wasn't even any question on that… he'd just push you out of the way (and he never lost that particular strength). We did have some fun together… but not enough to justify all of that dishwashing on his part. I'd take him into the suburbs for haircuts and shopping trips to the malls. We'd go into downtown Seattle so I could obsess over shiny climbing gear in the stores. We went rock climbing out at Leavenworth (Gombu was better than I was, not surprisingly) and we even went to the soldout Kingdome to watch Ken Griffey Jr. hit a homerun (his ninth in nine games… it was a big deal). I recall how amused the people in the stands around us were to hear me trying to explain baseball to a Cricket fan… if only they'd known who he was. But I thought that a lot back then, since, as I say, Gombu didn't go out of his way to let people know he was famous.
Which brings me back to the guide shop and a typical start to a day on Mount Rainier in which I'd meet a bunch of new climbing enthusiasts. They'd introduce themselves and detail their previous successes and immediately I'd find out about the banks and corporations they headed, and I'd hear about their ambitions for high places and their admiration for those that had already been to those places. And amidst all the introductory chest thumping (not just theirs… my chest got worked as well) I'd look over to see Gombu sweeping dust off the rental counter and I'd pause to consider that those captains of industry - and I - might not ever meet a greater mountain climber than the small, friendly, quiet legend who'd just fitted them for boots.
RMI Guide Dave Hahn, June 17, 2011
---
More to Explore