---
Everest Base Camp Trek: Trekking to Deboche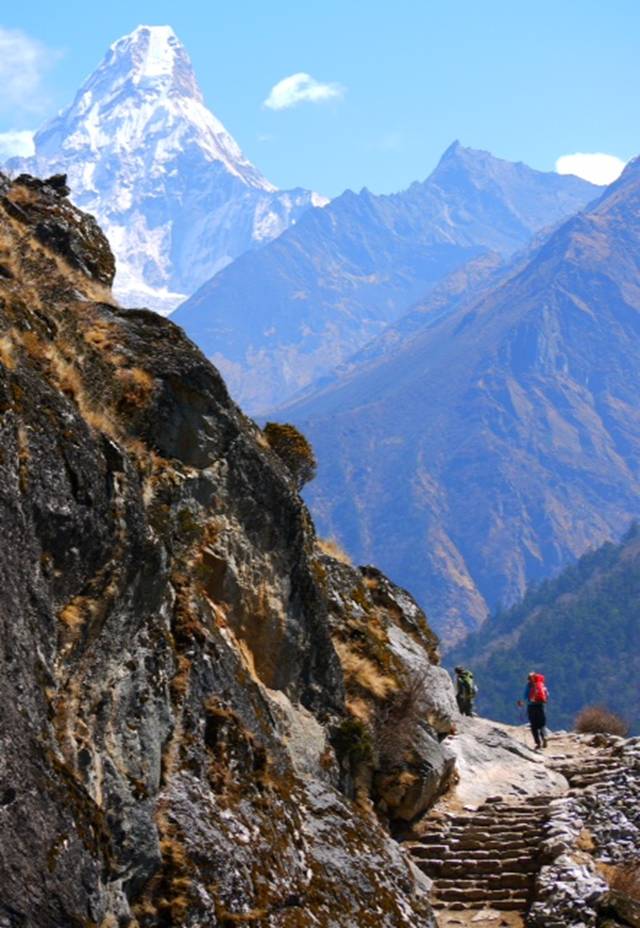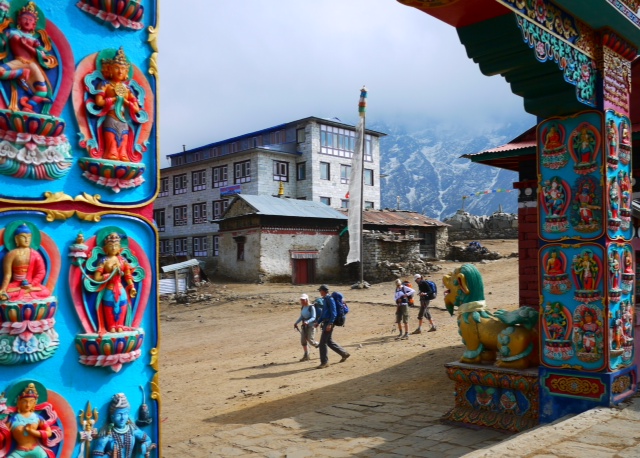 It was again very chilly this morning as we packed up our bags and prepared to leave our teahouse in Namche, but as soon as we started hiking the steep steps that lead out of Namche warmed us up quickly. The first few hours of the trail traversed along the hillside beyond Namche, contouring along the steep slopes above the river far below. Occasional stupas with prayer flags streaming for their gold topped spires dotted the ridge lines we traversed. The trail was bustling with activity; trains of yaks carrying loads to and from the villages higher up the valley plied the narrow path along with children heading to school, trekkers, and the average Khumbu "commuter" walking between the villages. It was another crystal clear morning and the views of Everest and it's neighboring mountains were incredible.
Finally reaching the end of the traverse in the village of Kyangjuma, we paused for some tea, much to the delight of the local Sherpani women selling jewelry along the side of the trail. With our packs a bit heavier, we descended through the pines to the river crossing at Phunki Tanga, a small village of only a few buildings sitting at the base of our big climb for the day. The trail from there ascends through pine forests, rhododendron trees, and into junipers in a seemingly endless series of switchbacks. The southern exposure of the hillside is fully exposed to the midday sun and we were soon very hot, hiking in t-shirts and shorts - a drastic change from the cold temperatures of the morning. We settled into a steady pace, slowly ticking off the switchbacks one by one, until all 1800' of the climb lay below us and we created the ridge into the village of Tengboche. Tengboche is dominated by the large monastery overlooking the center of the village, and equally by Everest and Ama Dablam which loom largely in the distance. A breeze was blowing down from the valley above and we quickly pulled on our warmer coats as we passed the monastery's front gate.
In Tengboche we treated ourselves to a slice of apple pie at the local bakery before descending the other side of the ridge a few minutes to our next tea-house in the village of Deboche, tucked away in the forest of rhododendron just below the monastery. The team is acclimatizing well and everyone felt strong today on the trail, easily navigating the trail while keeping up the light hearted jokes and banter which has become the norm on the trail. We are sending our best to everyone back home and appreciate all of the comments and good wishes left on the blog.
On The Map
×
Sign Up For Everest BC Trek 2012 Emails
{/exp:mailinglist:form}
---
More to Explore
Everest Base Camp Trek: Exploring Around Namche
March 18, 2012