---
Everest Base Camp Trek: Exploring Around Namche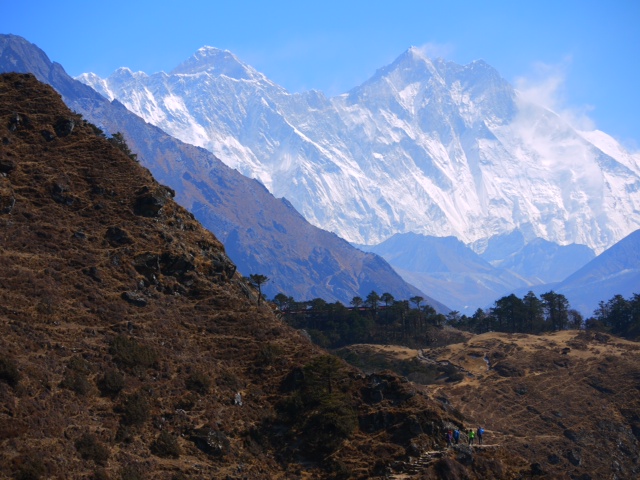 Taking advantage of the clear weather this morning we took a day hike above Namche. The steep steps right out of the door of the tea-house quickly got hearts pumping and we climbed out of the cold morning shadow in Namche into the morning sun above. The trail we followed ascends steeply up the hillside, making dozens of short switchbacks as it gains the flat plateau above. By the time we arrived the top, at over 12,000', we were breathing hard, feeling the effects of the new elevation. Thankfully, the trail flattened out and walked across the gentle plateau through clusters of juniper trees and fields of grass cropped short by grazing yaks.
We reached the edge of the broad bench of Namche and were greeted to incredible views of the mountains higher up the valley. Hardly a cloud hung in the sky and we could clearly see Ama Dablam, Lhotse, Nuptse, Taboche, and Cholatse - all famous peaks of the region. Above them all stood Everest, it's recognizable triangular summit hanging in the sky above. The winds in the upper mountains were blowing strongly this morning and the peaks had plumes of blown snow trailing off their summits and ridges. We gazed out at the mountains for a bit and then continued walking to the Everest View Hotel where we found a seat on the back patio and treated ourselves to a cup of tea while enjoying the views.
Afterward, we continued on to the village of Khumjung, a large village near Namche and where the Sir Edmund Hillary School is located - serving kids all over the region. The school was quiet since they are in the midst of their final exams but a few young boys were outside playing in the school grounds. We passed through the school and made our way back along a stone lined trail to the edge of the bench above Namche and dropped back down into town, completing a large loop.
We spent the afternoon back in Namche, taking advantage of the down time to grab a hot shower, track down an espresso at the local bakery, and peruse the many small shops on Namche.
Tomorrow we leave Namche and head further up the valley to the village of Deboche.
On The Map
×
Sign Up For Everest BC Trek 2012 Emails
{/exp:mailinglist:form}
---
More to Explore
Everest Base Camp Trek: Team Arrives at Namche Bazaar
March 17, 2012
Everest Base Camp Trek: Trekking to Deboche
March 19, 2012