---
Everest Base Camp Trek: A Visit with Lama Geshe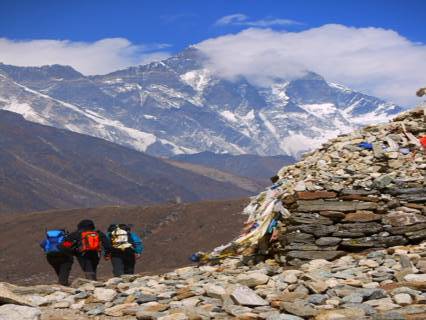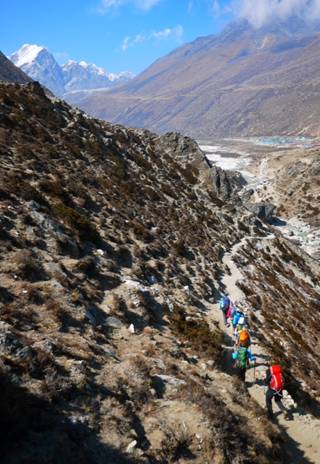 The weather is settling into a predictable routine here in the Khumbu Valley, the morning breaks clear and calm and by late afternoon the clouds sweep up from lower in the valley and settle in around us. This morning was no different as were found a beautiful and clear day awaiting us when we awoke. We packed up our bags and headed up the trail, leaving the forest of Deboche behind us. The first stretch of walking was cold as we traversed the shaded side of the valley, but after crossing a short bridge above the raging river below, we found the morning sun and quickly warmed back up. The trail climbs from Deboche, gradually ascending along the hillside past row after row of mani stones - the rocks carved with Buddhist prayers - and through occasional archways, decorated with paintings of ancient stories.
We entered the village of Pangboche where we stopped to visit Lama Geshe, a renowned Buddhist Lama of the region. Formerly living at the Tengboche Monastery, he now lives in a small unassuming building in the small village and is frequented by climbers, trekkers, and travelers alike seeking his blessing before their journey. We sat down in the small living room of his home with him and he offered us a blessing for the rest of our journey, chanting the prayers, tossing rice in the air, and draping a kata scarf (prayer scarf) around our necks along with a small piece of red rope into which he has sent his prayers. It was a very lighthearted ceremony, Lama Geshe breaking his rhythm every so often to laugh in a deep voice, or chuckling as he tried to pronounce our names. I always feel calmed by time spent at Lama Geshe's and we emerged from his home ready to continue onwards.
We continued up the valley, gradually gaining elevation as we ascended above the river. After several hours we began the steep but notable climb over a small saddle well over 14,000'. The winds picked up by this point and were whipping past us as we crested the gap and descended the other side into Pheriche. Just as we reached our tea-house here the clouds crept over the pass as well and soon settled in around us. Our tea-house is one of the nicest to be found in the Khumbu and the owner Ang Nuru worked hard on improvements over the winter. Needless to say, the group was thrilled to find hot showers, warm rooms, and a beautifully decorated and comfortable dining room. We will spend the day here in Pheriche tomorrow, helping our bodies acclimatize to the new elevation before we move higher. The group continues to do well and sends their best to everyone back home.
On The Map
×
Sign Up For Everest BC Trek 2012 Emails
{/exp:mailinglist:form}
---
More to Explore
Everest Base Camp Trek: Enjoying a Rest Day
March 20, 2012