---
Everest Base Camp Trek: Into Gorak Shep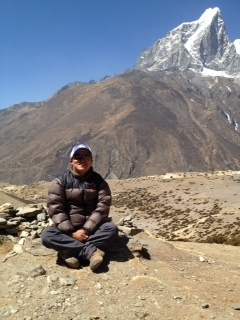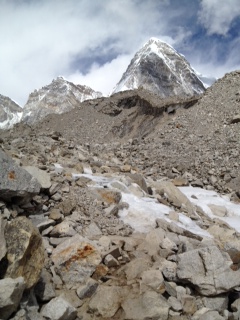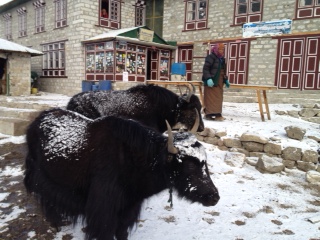 The body is following the mind at this point.
Given the option, our bodies would be back at Phag Ding, by the river breathing that thick 9,000' air. Lounging under a nice tree ,eating fresh fruit. We are now at that altitude that makes you realize we do not belong here. For years now the draw of this barren space of rock, snow, ice and thin air has attracted many a soul. A heart with a bit of wander lust, a will to put up with moments of uncertainty and discomfort have always been a prerequisite for travelers abroad. This is definitely the case trekking in the Himalaya: but the rewards are worth the effort! A special place this is indeed and sharing it with such a diverse group of fellow hikers is a blast. I count four different languages spoken here in our tea house in the last five minutes. So nice to see the world getting along, take the geo-politics out of the loop and we aren't that different. The trail is ultimately a rope that binds us together. We really are a small world. And are team is so thankful and happy to be so lucky to be here.—RMI Guide Mark Tucker
From Kim: The word Sherpa actually means "east people." These people have worked as porters in the Himalayas since the 1900's. Today I would like to introduce you to a member of our team who has not been previously mentioned. We have a Sherpa guide traveling with us and two Sherpa porters carrying our things. Our Sherpa guide is named Pemba. Pemba usually hangs back behind the last person in the group to assure that we are always safe and supported. On this trek, Pemba has acted as a guide, concierge, geography expert, translator, waiter,and sometimes even our bus boy in the teahouses. A man of few words, when he speaks he usually has something important to say. Pemba's parents died when he was five years old. He had to quit school to work when he was 15. He was initially a porter and eventually worked his way up to being a guide. Pemba is now 33 years old. He has a wife and a 12-year-old daughter. He lives near Lukla and is away from his family often during the spring and fall as he guides people into the mountains. During the monsoon season, Pemba is a farmer. He and his family grow all kinds of vegetables including cabbage, carrots, cauliflower, corn, and potatoes. They sell them in Lukla and Namche Bazaar. We are grateful to Pemba for all that he is doing to help us on this journey.
John here: It looks like today is another team effort on the blog. It's not a bad approach either as we all seem to take different things away from our day.
Today I had my first craving for some of the creature comforts of home. The first being pizza from Fondi. The food here is pretty good but does lack diversity. It's super high in carbs, which is what we need here to keep our energy high and bodies warm - but boy, a nice Margherita pizza would be yummy. The craving was the ability to sleep sprawled out. Our sleeping bags are warm and comfortable; but they are called mummy bags for a reason…
We heard that April 11th was the day of the Everest Ultra-Marathon. I think it's a 65km course between Base Camp and Lukla. The notion of running on these trails for any distance seems a bit mad - but 65km. The drop in elevation from 17,250' to 9,330' may be the first prize. Sadly, we leave Lukla that day, so we probably won't be able to experience any of it.
Finally, we spent the majority of today hiking along the Khumbu Glacier. The size of the the lateral moraine was impressive to say the least. It's amazing what nature can achieve given a few hundred years. As we rolled into Gorak Shep we got our first glimpse of the tail-end of the ice fall. Even only seeing a small part of it at a distance it looked imposing.
On The Map
×
Sign Up For Everest BC Trek 2012 Emails
{/exp:mailinglist:form}
---
More to Explore